Crispy cauliflower quesadillas meet creamy, savory avocado in this deliciously healthy recipe.
These cauliflower quesadillas are baked until golden brown and crispy around the edges, while still soft enough to fold. Filled with a creamy, fiber-rich avocado filling, these dairy-free quesadillas will calm any craving, no cheese necessary. Best of all, they're ready to enjoy in under an hour!
Cauliflower steps in for corn and flour, to create a thin tortilla with a dose of amino acids and vitamin-C. Cassava flour mixed with egg binds the tortillas, making them pliable enough to stuff with ingredients and even slice. Tip: Arrowroot flour can also be subbed for cassava flour in a pinch.
Add power-packed superfood veggies to every meal with these easy cauliflower recipes.
Click here to get your FREE copy of our Cauliflower Recipe Guide!
Avocado adds a velvety texture that perfectly compliments the crispy cauliflower "tortillas". Lime juice, chili powder, cilantro, and salt are stirred in to add a smoky flavor and herby brightness.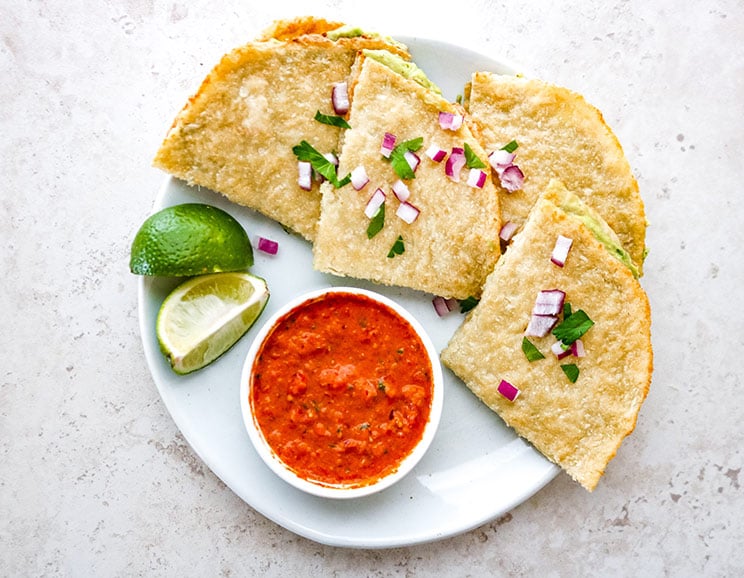 Fresh cauliflower is pulsed until fine and crumbly so it blends seamlessly into the dough. Next, the flour is salted to help draw out moisture before being wrung out using a clean towel. This is an important step to prevent soggy tortillas.
Now it's time to create the dough by combining cauliflower with cassava flour, egg, and avocado oil forming a moist texture. The dough is divided into two mounds on parchment paper and pressed to form thin circular tortillas. Tip: Slightly dampen your fingertips with water to make the pressing process less sticky. The tortillas are then baked for 25 minutes or until the edges are crispy and the center is set.
These tortillas are perfect for filling with scrambled eggs and chopped bacon for breakfast or piling with your favorite veggie fillings!
Jennafer Ashley
Avocado Cauliflower Quesadillas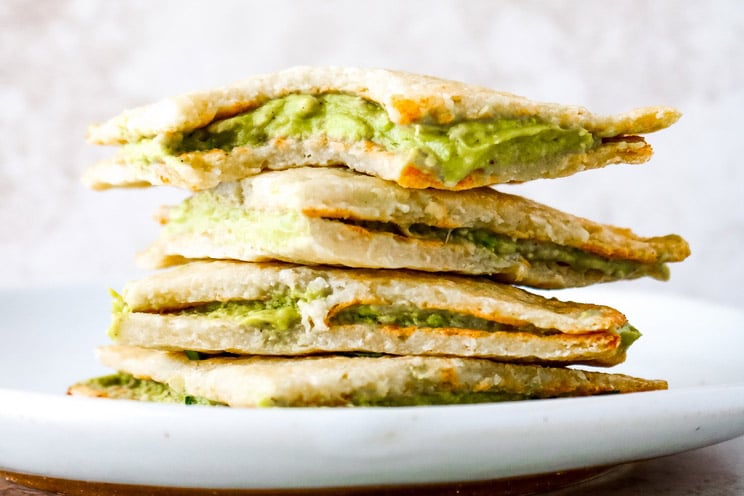 Inactive Time:
20 mins
20 minutes
Cook Time:
25 mins
25 minutes
Prep Time:
10 mins
10 minutes
Avocado Cauliflower Quesadillas
Crispy cauliflower quesadillas meet creamy, savory avocado in this deliciously healthy recipe.
Tools
Medium mixing bowl

Parchment paper

Large baking sheet
Ingredients
For Tortillas:
4 cups cauliflower florets

1/2 t salt

1/2 cup cassava flour

1 large egg

1 T avocado oil
For Avocado Filling:
2 small very ripe avocados

2 T fresh lime juice

2 T finely chopped cilantro

1/2 t chili powder

1/8 t salt
Instructions
Add the cauliflower florets to a food processor and pulse until finely crumbled and fluffy, about 15 seconds.

Transfer the cauliflower to a medium mixing bowl and sprinkle with salt. Stir and let sit for 20 minutes. Place the cauliflower in a clean kitchen towel or cheesecloth and squeeze over the sink to release excess moisture. Transfer the cauliflower back to the mixing bowl and add cassava flour, egg, and avocado oil. Stir well to thoroughly combine.

Preheat the oven to 375ºF and line a large baking sheet with parchment paper. Divide the cauliflower mixture into two mounds of dough on parchment paper and press to form into very thin circular tortillas. Bake for 25 minutes or until the edges of the tortillas are golden and the center is set.

While tortillas cook, mash the avocados and lime juice in a small bowl until smooth. Add the lime juice, cilantro, chili pepper, and salt. Stir to combine.

Remove the tortillas from the oven and cool for 3 minutes. Spread the avocado filling onto one tortilla and top with the other. Slice into triangles. Serve immediately.
Looking for Paleo ingredients? Here are a few we'd recommend:
Sea salt (REDMOND)
Avocado oil (Bella Vado)
Ancho chili powder (Simply Organic)

(You'll Also Love: Homemade Spinach Tortillas – Corn-Free, Grain-Free)