Grab your skewers: we have the perfect excuse for a fondue party!
Dunk these antioxidant-rich fruits, Paleo-approved pastries and other fondue dipper ideas in melted dark chocolate for a fun twist on dessert.
Fondue is one of those desserts that is more fun when shared over great conversation. Whether you're entertaining a large crowd or having a quiet date night in, these dark chocolate fondue dipper ideas have something to please everyone.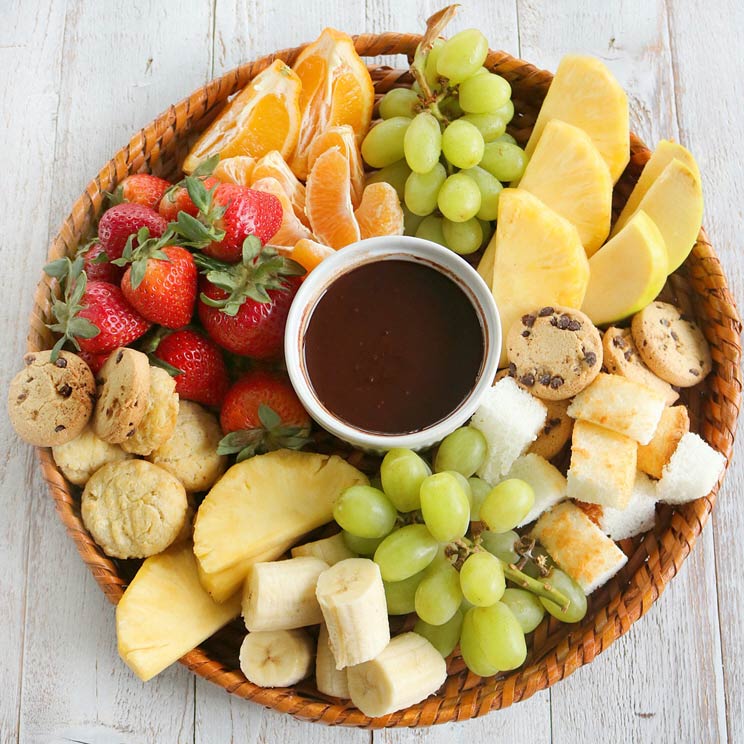 Just about any treat is taken to the next level when it is dipped in warm melted dark chocolate, but our favorites are the ones that are strong enough to be easily skewered and can withstand the hot plummet. Start with high quality unsweetened dark chocolate chips and melt them down over a double boiler along with a little bit of pure maple syrup (full recipe below). Serve with any or all of these Paleo dippers!
Love Paleo Desserts? Get our FREE Paleo Dessert Cookbook here!
1. Apples

Crisp, juicy apples are perfect for smothering with chocolate. Leave the peel on to reap the benefits of the fiber content in apples. Since apples start to brown quickly, hold off on slicing until serving.
2. Banana

Chocolate-covered bananas are a match made in heaven, so it should be a no-brainer to have this potassium-rich fruit on hand. Like apples, wait to peel and slice bananas until you are ready to serve to avoid browning.
3. Mini Chocolate Chip Cookies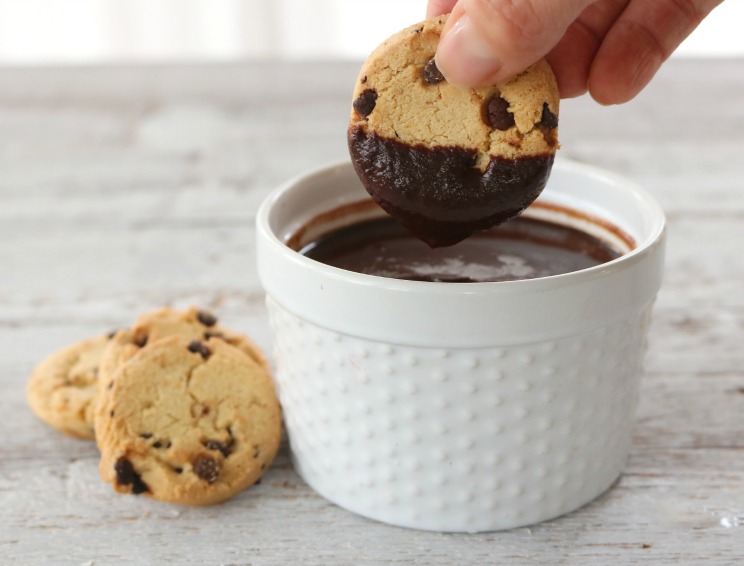 Chocolate chip cookies lend the timeless comfort of this classic dessert without any of the wheat. Roll the dough into smaller cookies for a bite-sized treat ideal for dunking.
For an easy coconut flour chocolate chip cookie recipe click here.
4. Grapes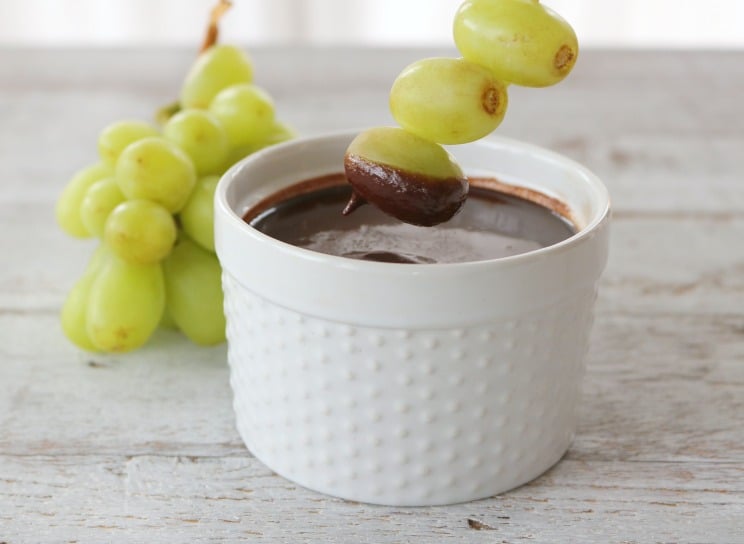 Juicy grapes are often paired with savory charcuterie platters, but they are equally tasty dipped into dark chocolate. Grapes are also full of powerful polyphenols that help fight free-radical damage in the body.
5. Oranges

If you have never tried chocolate-dipped oranges, now is the time. Oranges are full of immune-boosting vitamin C, and the juicy combination of citrus paired with rich chocolate is not to be missed.
6. Pineapple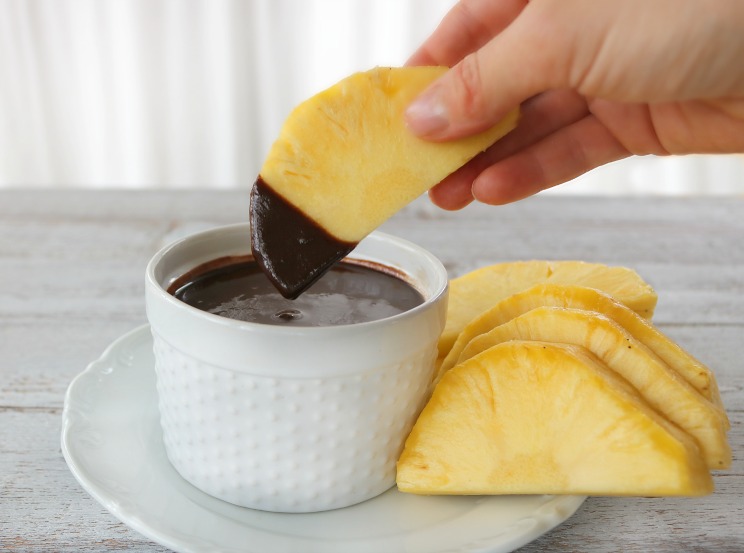 Also high in vitamin C, pineapple brings a tropical flavor to any dessert fondue and can be cubed or sliced for dipping. Pineapple contains a unique enzyme called bromelain, known for its potent anti-inflammatory effects.
7. Strawberries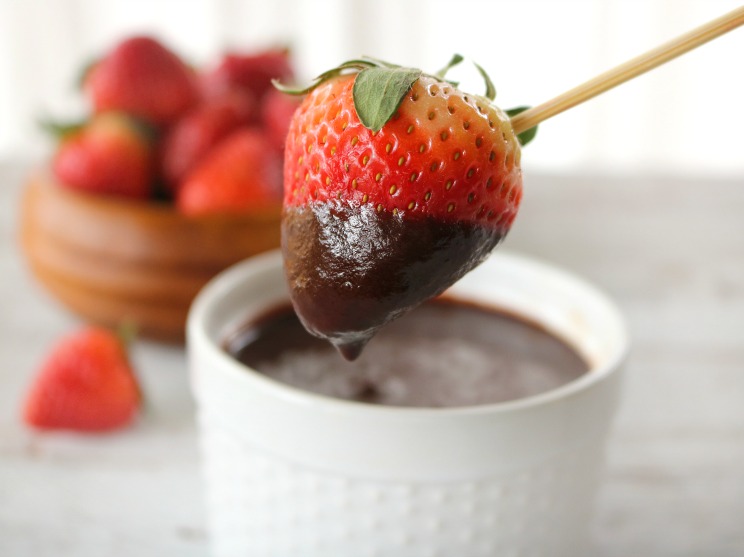 We couldn't have a chocolate fondue without including a few romantic strawberries! Fresh strawberries are very high in vitamin C and rich in antioxidants, helping to fight off damaging environmental effects.
8. Vanilla Pound Cake Bites
What fondue platter is complete without cake? Check out the recipe below to make your own Paleo-friendly, dippable pound cake bites!
Jennafer Ashley
Vanilla Pound Cake Bites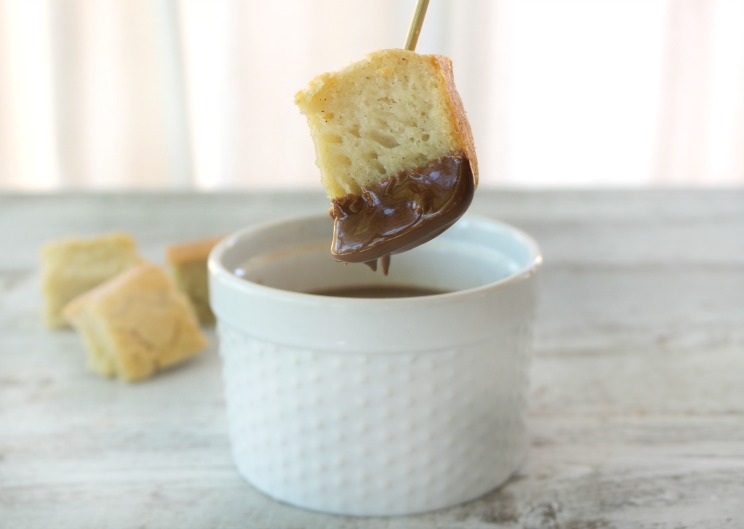 Cook Time:
60 mins
60 minutes
Prep Time:
10 mins
10 minutes
Vanilla Pound Cake Bites
This fluffy pound cake combines arrowroot powder with coconut flour for a cake that is light, yet hearty. Slice the cake into squares for dipping.
Ingredients
2 cups arrowroot flour

⅓ cup coconut flour

1/3 cup coconut oil, melted

1 cup unsweetened coconut milk

4 large pasture-raised eggs

3 T stevia powder

1 t baking powder

1/8 t vanilla bean powder
Instructions
Preheat oven to 325°F. Line a bread pan with parchment paper overlapping the edges.

In a large bowl, whisk eggs, coconut milk and coconut oil. Gradually stir in arrowroot flour, coconut flour, stevia and vanilla bean powder until smooth. Pour batter into baking pan and bake for 60-65 minutes.

Allow pound cake to cool 20 minutes. S and slice into thick, 2-inch slices and then into squares.
9. Mini Shortbread Cookies
Buttery shortbread cookies are absolutely heavenly when dipped in warm dark chocolate. If you're looking for a gluten-free recipe, check out these coconut flour shortbread cookies here.
---
2-Ingredient Dark Chocolate Fondue
Making your own chocolate fondue is so much better for you than buying the store-bought stuff. Simply melt maple syrup and dark chocolate chips together for a decadent dip.
Jennafer Ashley
2-Ingredient Dark Chocolate Fondue

Cook Time:
10 mins
10 minutes
Prep Time:
5 mins
5 minutes
2-Ingredient Dark Chocolate Fondue
This recipe uses just a few ingredients and bakes quickly for the ultimate, last-minute cookie dipper.
Ingredients
1½ cups dark chocolate chips

1 T pure maple syrup
Instructions
Melt chocolate chips using a double boiler until smooth. Stir in maple syrup. Serve warm.
Looking for Paleo ingredients? Here are a few we'd recommend:
Organic Coconut Flour (Thrive Market)
Organic Virgin Coconut Oil (Thrive Market)
Organic Coconut Milk (Native Forest)
Non-GMO Stevia Sweetener (Thrive Market)
Stevia Sweetener (Thrive Market)
Organic Dark Chocolate Chips (Thrive Market)
Organic Maple Syrup, Grade A (Thrive Market)

(You'll Also Love: 23 Decadent Dairy-Free Desserts)