Paleo Skillet Strawberry Shortcake! Thick, creamy and sweet, this unbelievable dessert is about to become your new favorite treat.
One of my favorite childhood memories is making homemade strawberry shortcake with my family. We would pick fresh strawberries from Grandpa's garden and then take them home to make a cake tower, laden with sweet berries and cream.
Admittedly, it wasn't the healthiest of desserts, but lucky for you I have a revamped version of this classic strawberry shortcake recipe. One that's Paleo-friendly, has no refined sugar, is dairy-free, gluten-free, and low in carbohydrates. This yummy dessert is also made in a skillet, making it a breeze to whip up!
Love coconut flour recipes? Get our free coconut flour recipe cookbook here!
For the cream, you'll combine coconut cream with some tapioca to thicken it a bit. Two important things for you to note. Use coconut cream, not coconut milk. Coconut cream is much thicker than coconut milk and won't seep into the shortcake. Also, make the coconut cream mixture 6-8 hours before the shortcake and chill. This allows the tapioca and coconut cream to thicken.
The shortcake is made with coconut flour, eggs, coconut milk, coconut oil and maple syrup (or your sweetener of choice). This batter could not be more thick, chewy and delicious! I'm already experimenting with it in other recipes, and highly recommend you do the same.
Once you combine the ingredients for the shortcake, transfer to a skillet and bake. After the shortcake cools, usually about an hour, top it with the chilled coconut cream and strawberries. Keep the shortcake in the freezer to maintain optimal freshness.
I'd be lying if I said my 8-year-old self didn't come out while making this. It was truly delicious!
Megan Olson
Coconut Flour Strawberry Shortcake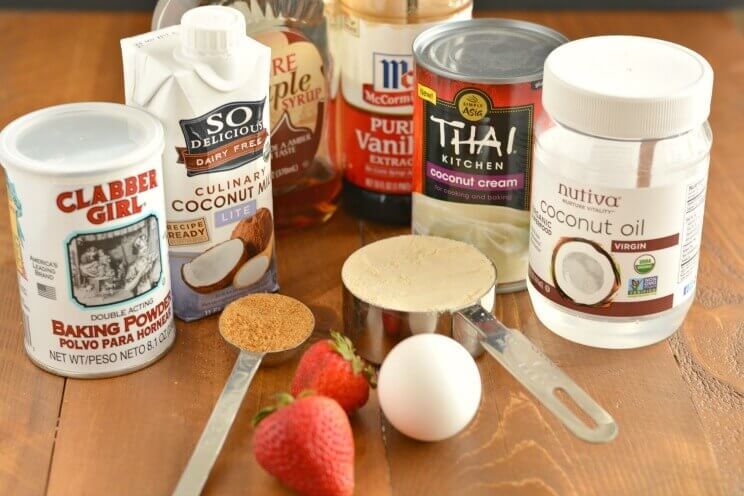 Cook Time:
20 mins
20 minutes
Prep Time:
15 mins
15 minutes
Coconut Flour Strawberry Shortcake
This yummy dessert is made in a skillet, making it a breeze to whip up!
Ingredients
For the Shortcake:

½ cup coconut flour

3 eggs

¼ cup melted coconut oil

¼ cup maple syrup (or sweetener of choice)

½ cup unsweetened coconut milk

¼ t sea salt

1 t baking powder

½ t vanilla extract

For the Topping:

1 14 oz. can coconut cream

2 T tapioca flour

1 lb. fresh strawberries, quartered

1 T coconut sugar

Honey for drizzle
Instructions
Make the coconut cream 6-8 hours ahead of time by blending the coconut cream with tapioca flour and chilling. This step is important to allow the cream to thicken.

When ready to make the shortcake, preheat the oven to 350ºF. Prepare a skillet or baking dish by greasing it with coconut oil and then set aside.

In a small bowl, sift together the coconut flour, baking powder and salt.

In a separate larger bowl, whisk the eggs with the coconut milk, coconut oil, maple syrup and vanilla extract. Slowly fold the dry ingredients into the wet ingredients.

Transfer the batter into the prepared skillet. It will be thick and wet. Using a spatula, spread the batter out in an even layer.

Bake 20-22 minutes until edges are browned and cake is set. You should be able to insert a toothpick clean in the middle when done.

Remove from the oven and cool 30 minutes to 1 hour.

While the shortcake cools, toss the strawberries in a bowl with the coconut sugar to allow the sugar to dissolve on the berries.

To assemble, scoop the coconut cream onto the shortcake and spread evenly. Top with strawberries and drizzle with honey as desired.

For optimal freshness, keep in the freezer, covered.


(You'll Also Love: No-Bake Strawberry Bars)