Coconut flour and dark chocolate chips make for a decadent combination in this Paleo cookie recipe. These coconut flour chocolate chip cookies are best served warm with a glass of coconut milk for dunking.
If you're a fan of gooey, chewy cookies then you're going to absolutely love this recipe for Paleo coconut flour chocolate chip cookies, but the crunchers amongst you will still get a kick out of it; just bake for a few minutes extra than the recipe suggests and you'll be in foodie heaven soon enough!
This recipe uses coconut flour in place of wheat flour, so you might need to experiment ever so slightly with the quantities depending on the consistency of the brand you're using.
Love coconut flour recipes? Get our free coconut flour recipe cookbook here!
This batch makes around a dozen cookies, so how hungry are you? Serve these bad boys with a frosty glass of Vanilla Caramel Almond Milk and see if you can stop at just one or two (not likely)!
PaleoHacks Team
Coconut Flour Chocolate Chip Cookies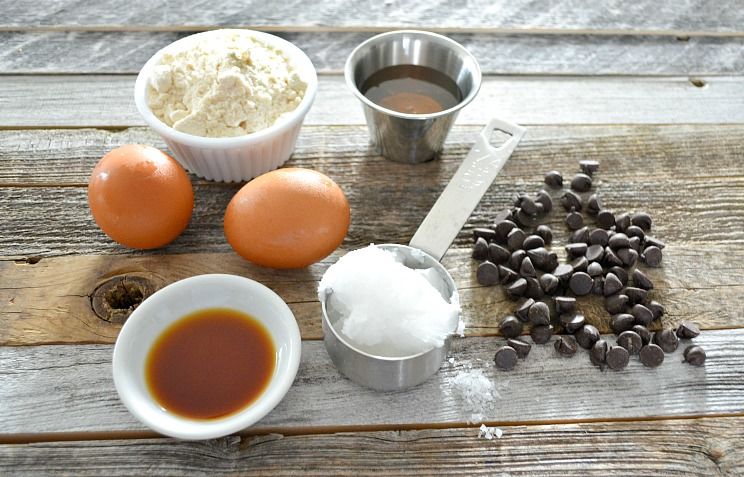 Cook Time:
15 mins
15 minutes
Prep Time:
15 mins
15 minutes
Coconut Flour Chocolate Chip Cookies
Delicious coconut flour chocolate chip cookies best served warm with a glass of coconut milk for dunking.
Ingredients
1/3 cup coconut flour

1/3 cup dark chocolate chips

2 whole eggs

1/4 cup organic, cold-pressed virgin coconut oil

1/4 cup raw honey

1 tsp vanilla extract

pinch of sea salt
Instructions
Preheat your oven to 350°F

Grease a baking tray or line it with baking paper.

Mix the coconut flour, salt, eggs, coconut oil, honey, and vanilla extract together thoroughly with a whisk.

Continue whisking and you'll notice the mixture change consistency from runny to slightly thicker as the coconut flour begins to soak up the moisture from the wet ingredients.

If the mixture remains runny then you might want to add a small amount of extra coconut flour until the right consistency is achieved.

Add in your chocolate chips and make sure they're evenly distributed throughout the cookie dough.

Use a tablespoon or dessert spoon to portion out the cookie dough onto your baking tray. Around a dozen cookies should do the trick.

Pat down your scrummy cookie globules with your hands to form them into the shape you desire.

Place your cookies into the center of the oven and bake for around 10-15 minutes, depending on the texture you want. If this is your first time baking with coconut flour then aim for around 12 minutes and check to make sure the outsides of your cookies have turned an inviting golden brown color.

Remove from the oven, fill your lungs with sweet, warm, cookie goodness, and leave them to cool on a wire rack for 10 minutes if you have one.
Watch the Recipe Video Below!


(You'll Also Love: 26 Ways to Make Paleo Chocolate Chip Cookies)