We have all felt tight muscles throughout our lives. Between daily activities and working out, we get stiff throughout our body, and tight in our hamstrings.
Most of the time, rolling out or stretching can relieve these symptoms and fix the problem. However, the hamstrings are one area that does not often need mobility work. Instead, most of the time, the hamstrings are tight for some other reason!
4 Common Causes of "Tight Hamstrings"
Protective Tension
Previous Hamstring Injury
Nerve Entrapment
Truly "Tight" Hamstrings
Protective Tension
Protective hamstring tension is one of the most frequent causes of hamstring tightness. The reason the hamstrings become protective is because of an anterior (forward) tilt of the pelvis. Very often people will fall into an anterior pelvic tilt from poor posture or a repetitive movement. For example, many people who sit on a daily basis for hours on end, tend to get locked up in the front of their hips. The hip flexors and TFL become short from being in hip flexion, which tilts the pelvis anteriorly.
Suffering from a sore neck, back and shoulders? Get our mobility guide to ease pain and soreness.
Get The FREE Mobility Guide To Fix Your Pain Today!
As a result of the anterior pelvic tilt, the hamstrings remain "on" because of their attachment on the back of the pelvis. If they didn't, the lower back would undergo a lot of shear force, causing injuries. Therefore, doing a lot of hamstring stretching would not only be ineffective, but would probably make one more unstable. Instead, we want to mobilize the front of the hips and improve core stability to avoid falling into an anterior pelvic tilt.
Previous Hamstring Injury
One of the most common factors in re-injury is a previous history of injury. Hamstring injuries are very frequent in athletics and, depending on the severity, can take a while to recover from. However, a previous injury to the hamstrings is also a reason why one can experience tightness in the hamstrings. When a soft tissue injury occurs, the body goes through phases to heal. During the repair and remodeling stages, the soft tissue begins to form new soft tissue that matures over time. At the same time, if we undergo activities that our bodies are not ready for, then that tissue may not be able to withstand the stress. When this happens the tissue can become weaker and stiffer. While we may not notice this for some time, this can be a cause of that tight feeling in the hamstrings.
Nerve Entrapment
Another reason for tight hamstrings may not have anything to do with the hamstrings. Sometimes hamstring tightness is due to a lower back injury or nerve entrapment. If you are experiencing concurrent back pain with your hamstring symptoms or any burning, tingling, or numbness, then you may have nerve involvement. Stretching the hamstrings may also make these symptoms worse, so it would be wise to see a medical professional or physical therapist to rule out any nerve issues.
Truly Tight Hamstrings
To determine if you have truly short hamstring muscles, you first want to clear the above causes. More often than not, you don't have truly short hamstrings. However, if you have cleared the above and still feel tight, then you may need to mobilize the hamstrings directly.
---
Test out your Hamstrings!
Hamstring 90/90 Test


Lie on your back with both legs flat. Bring one of your hips up towards your chest until you reach 90 degrees. With both of your hands, grip the back of your thigh. Begin to extend your lower leg up as high as you can tolerate. Be sure that the leg on the ground remains flat during this test.
A positive test would be if you are unable to reach within 20 degrees of full extension (fully straight leg).
Using the same above test, if you are unable to reach almost parallel during the 90/90 test and feel hamstring tightness, this may indicate short hamstrings. See below for ways to properly stretch the hamstrings!
Straight Leg Raise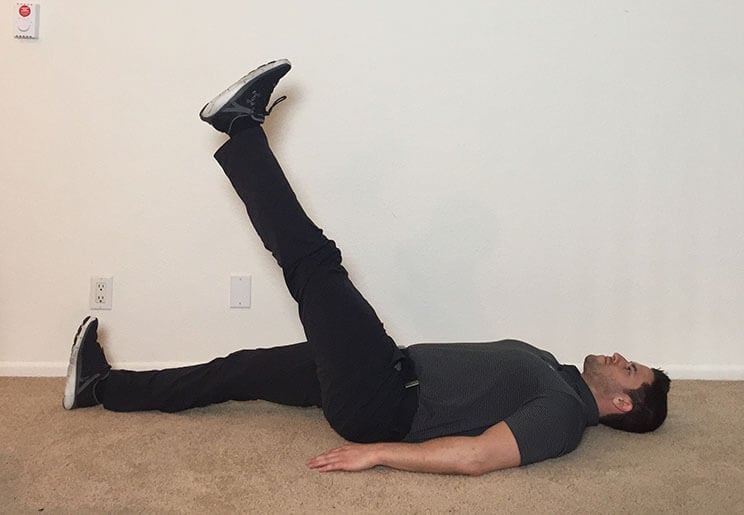 The purpose of the straight leg raise is to determine if nerve or back pain is the cause. We will use this test to clear any possible nerve issues.
Lie on your back with both legs flat. Keeping your leg straight, slowly begin to raise your leg as high as you can tolerate while keeping the bottom leg flat.
A positive test would be lower back pain (reproduction of your low back pain) or any nerve pain during the straight leg raise.
---
8 Ways to Fix Tight Hamstrings
For Protective Tension
Hip Flexor Stretch | 2 sets of 30 sec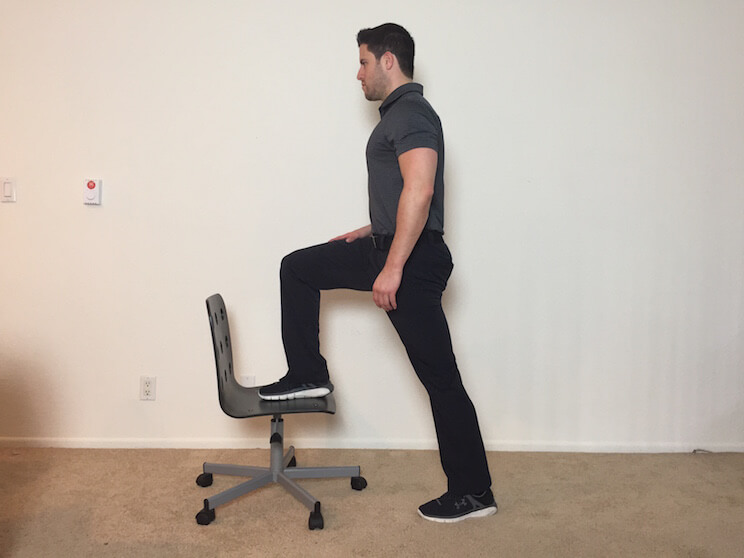 Place one leg on top of an elevated surface and one leg down on the ground. The back leg is the hip you will be stretching. Maintain a flat back and lean forward from your hips until you feel a stretch across the front of your rear leg hip.
a. Reaching overhead
Repeat the above stretch, but reach overhead to the side and hold.
b. Twisting
Repeat the above stretch, but twist to the side and hold.
Core Rollout | 3 sets of 15 reps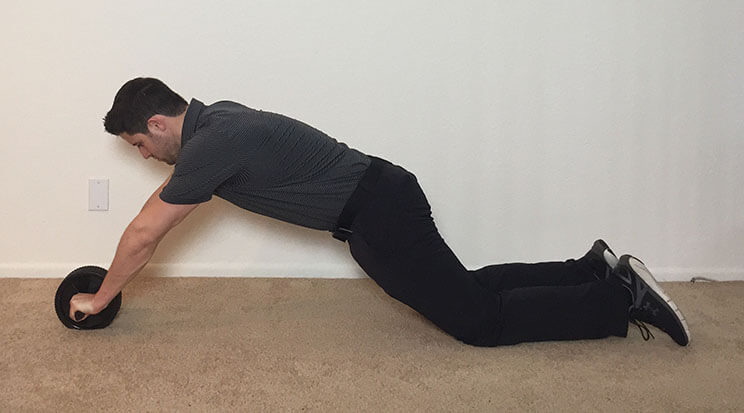 Get into an all-fours position with an Ab roller or Swiss Ball. Place your hands on the ab wheel and slowly start to extend forward from your hips. The key is to avoid arching your lower back and maintain a neutral core position.
Prone Hip Extension (with pillow) | 3 sets of 15 reps


Place a pillow underneath your hips. Next bend one of your legs up in the air. Squeeze your glute muscle and while squeezing try to briefly lift your leg off the floor. Be sure not to raise your leg too high and use your lower back!
For Previous Hamstring Injury
Hamstring Foam Roller | 2 sets of 30 sec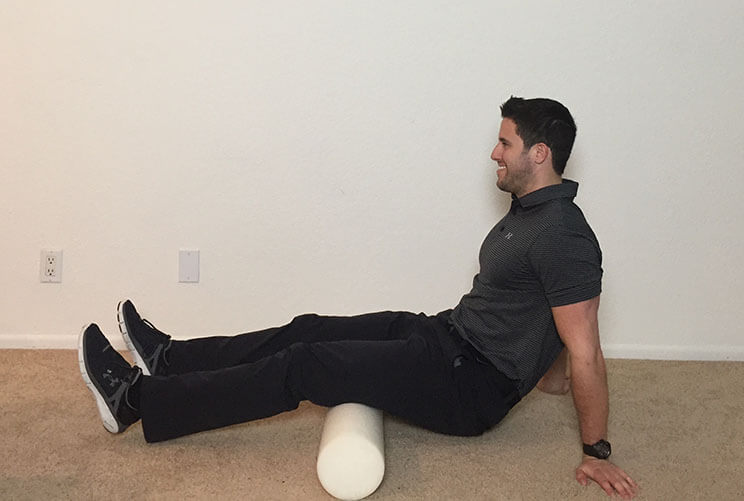 Place a foam roller underneath your hamstrings. Roll up and down, feeling a firm pressure under your thighs.
Adductor Foam Roller | 2 sets of 30 sec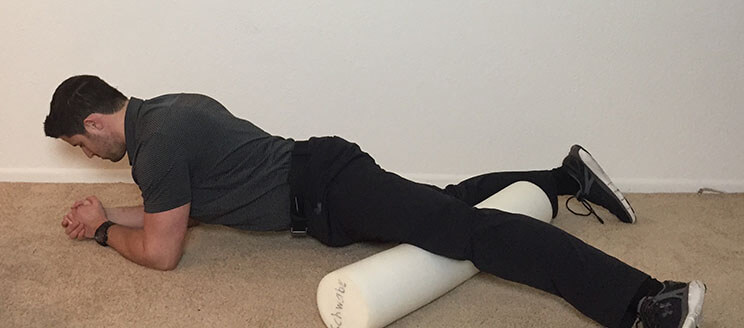 Lie on your stomach and place a foam roller under the inside of your thigh. Roll up and down feeling a firm pressure under your thighs.
For Neural Tension
See a medical professional to clear any significant issues.
For Truly "Tight" Hamstrings
Hamstring Stretch | 2 sets of 30 sec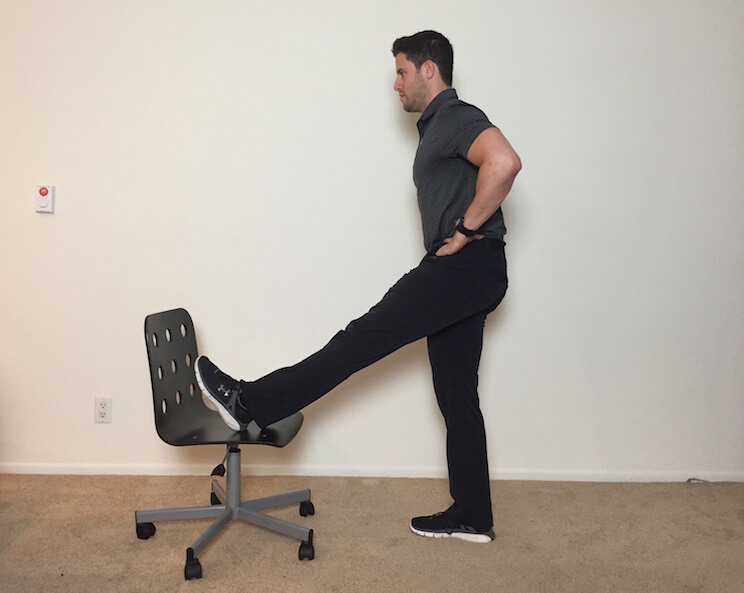 a. Regular
Place your leg on an elevated surface and slightly arch your back. You should feel a stretch in your hamstring.
b. Twist 1
Repeat the above stretch, but twist to the left and hold.
c. Twist 2
Repeat the above stretch, but twist to the right and hold.
Front Plank | 2 sets of 30 sec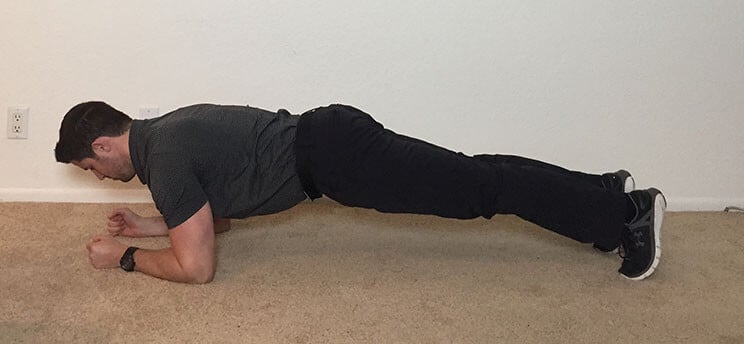 Get into an all-fours position with your elbows on the ground. Reach back with both legs and engage your core. Maintain a flat back position while you hold the plank.
Reverse Lunge | 2 sets of 15 reps


Place one leg behind the other and gain your balance. Next, bend the back leg so you are on your toes and squat down. You should feel this in your glutes and thighs.


(Your Next Workout: 7 Easy Exercises for Mild to Severe Lower Back Pain)