These five fat-burning recipes will help you lose weight – leading to a leaner, meaner version of you!
When it comes to fat, we can universally agree that we all want less of it. But many of us lose our way on just what to eat in order to achieve this goal.
It turns out that fat loss is best achieved by incorporating a steady diet of healthy fats, ample protein, and lowering your sugar intake. In other words, recipes that include lots of avocados, tuna, grass fed beef, and coconut oil are key to keeping our bodies nourished and fit.
Below you'll find plenty of go-to meals that are rich in fat-burning nutrition. Print them out, save them, bookmark them – whatever you have to do! You'll want to keep them handy for all your meal prepping needs throughout the week.
Trying to figure out exactly what to eat on Paleo? Look no further than our FREE 21 Day Paleo Meal Plan.
Grab Our FREE Paleo Meal Plan By Clicking Here!
When it comes to burning fat and building muscle, tuna is a great protein to start out with! More specifically, this healthy and delectable recipe contains a generous helping of omega-3 fatty acids, can boost your metabolism, and will help you burn off fat. Just make sure to opt for wild-caught to load up on more vitamins and minerals.
Deanna Dorman
Paleo Ahi Tuna Salad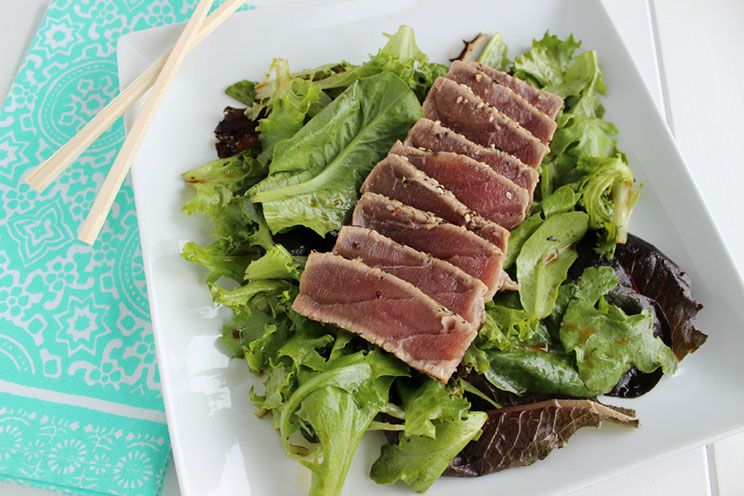 Cook Time:
5 mins
5 minutes
Prep Time:
5 mins
5 minutes
Paleo Ahi Tuna Salad
This Ahi Tuna Salad recipe takes a classic dish and turns it into a perfect Paleo salad with a few little tweaks.
Tools
Small mixing bowl

Large mixing bowl

Large skillet
Ingredients
1 ½ T lime juice

1 T coconut aminos

1 T olive oil

1 T wasabi powder

Salt and pepper to taste

5 oz mixed baby lettuce

1 lb fresh ahi tuna steaks

½ t coarse ground black pepper

½ t sesame seeds

Dash cayenne pepper (optional)

2 T coconut oil
Instructions
In a small bowl whisk together the lime juice, coconut aminos, olive oil, wasabi powder, salt, and pepper to taste.

In a large bowl, drizzle the dressing over the baby lettuce and toss together.

Season each side of the tuna steaks with black pepper, sesame seeds, and cayenne.

Preheat the coconut oil in a large skillet over medium-high heat.

Carefully lay tuna steaks in the skillet and sear for 30-60 seconds on each side, then remove from the skillet.

On a cutting board, use a sharp knife and slice the tuna steaks into quarter-inch slices.

Arrange the tuna slices over a bed of lettuce and enjoy.
Continuing on our fat-burning journey, we come to salmon! This fish is also rich in protein and beneficial fatty acids (with an extra dose of anti-inflammatory nutrients to boot). Make this recipe when you're low on time or need a quick dinner that's wholesomely nutritious.
Megan Olson
The Best (and Easiest) Baked Salmon Recipe Ever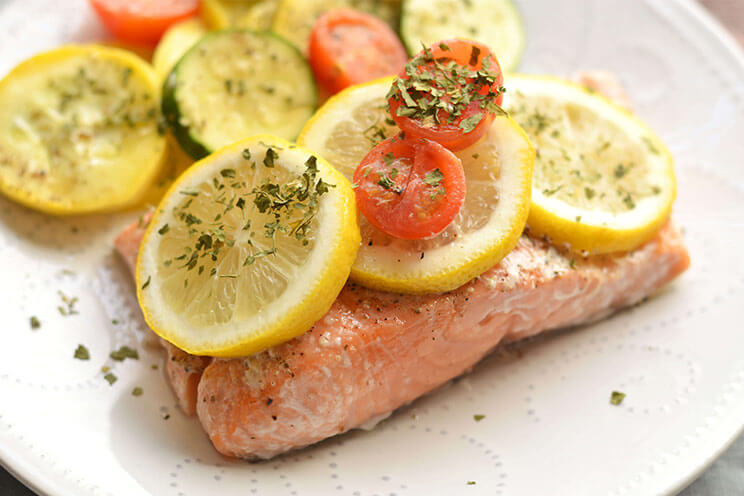 Total time:35 mins
Cook Time:25 mins 25 minutes
Prep Time: 10 mins 10 minutes
The Best (and Easiest) Baked Salmon Recipe Ever
This one-pan recipe makes baking salmon easy. And with just six ingredients, you can whip up the most delicious, flaky baked salmon ever.
Tools
2 9"x9" pieces of aluminum foil
Baking sheet
Ingredients
2 4oz salmon filets, room temperature
1 summer squash, sliced into ¼-inch rounds
1 zucchini, sliced into ¼-inch rounds
9 cherry tomatoes, sliced in half
2 T avocado oil
1 lemon, sliced into thin rounds
Salt and pepper
Parsley, for garnish
Instructions
Preheat oven to 375°F. Prepare 2 9"x9" pieces of aluminum foil by laying them flat on a baking sheet.
Place zucchini and summer squash rounds on the foil in an even layer. Then add sliced cherry tomatoes on top.
Next, place a salmon filet on each foil. Add 1 tablespoon of the avocado oil on each fillet, and sprinkle pepper over it. Place 2-3 slices of lemon on top of the salmon.
Roll the ends of the foil packs together, forming it into a sack.
Bake for 20-25 minutes until salmon is cooked and veggies are roasted.
Remove from oven. Serve immediately with parsley for garnish.
More protein! These turkey burgers are simple, economical, and a great way to get one step closer to six-pack abs! Anyone can make these burgers (even those with minimal kitchen experience) and can prep them ahead of time for easy feasting throughout the week. Serve them with your favorite Paleo condiments (these homemade recipes are our favorite) for an easy lunch or dinner!
Deanna Dorman
Paleo Turkey Burgers

Total time:10 mins
Cook Time:5 mins 5 minutes
Prep Time: 5 mins 5 minutes
Paleo Turkey Burgers
Switch things up with these Paleo turkey burgers served over an open-faced portobello bun.
Ingredients
1 t ground pepper
1 t onion powder
1 t salt
½ t garlic powder
¼ t cayenne pepper (optional)
1 pound ground turkey
1 tomato, sliced
Lettuce
4 portobello mushrooms
Paleo condiments
Instructions
In a small bowl combine spices.
In a large bowl mix turkey and spices together until mixed. Make sure not to work the turkey too much or it will become tough.
Divide the turkey into 4 equal parts and shape into patties.
Preheat a grill of medium-high heat or a pan with coconut oil to medium heat.
Cook patties 4-6 minutes per side, or until internal temperature reaches 160°F.
Serve on top of a portobello mushroom (or serve with two if your have a big appetite!), lettuce, tomato, and your favorite homemade Paleo Ketchup, Honey Mustard, or BBQ sauce!
If you didn't think ribs could aid in fat loss, think again! These ribs have a nice portion of protein to help build muscle and burn fat, while also satiating your appetite. Topped with an herb-packed chimichurri sauce, it's a surefire way to please the whole family for dinner!
Deanna Dorman
Chimichurri Baby Back Ribs Recipe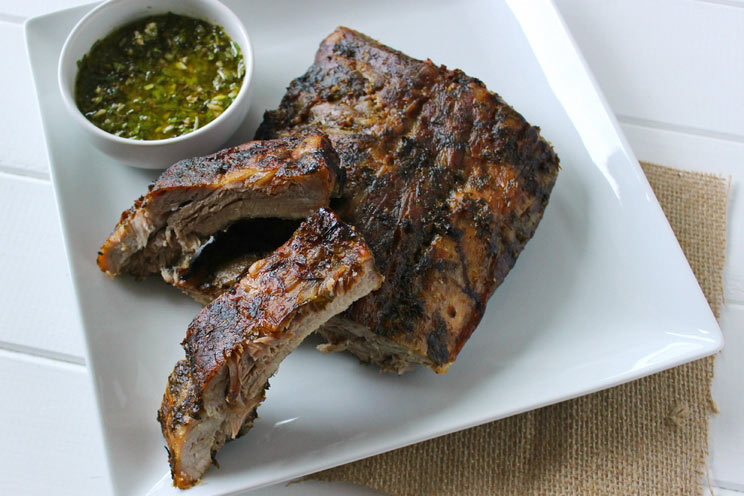 Prep Time:
10 mins
10 minutes
Chimichurri Baby Back Ribs Recipe
These baby back ribs are marinated in a fresh chimichurri sauce and slow roasted for fall-off-the-bone tender meat.
Tools
Food Processor

Baking Sheet
Ingredients
1 cup fresh parsley

6 cloves garlic, minced

3/4 cup olive oil

1 t dried oregano

juice of 1/4 lemon

1 T red onion, diced

1/4 cup red wine vinegar

1 t black pepper

1/2 t salt

1-2 racks baby back ribs
Instructions
In a blender or food processor, pulse together the parsley, garlic, olive oil, vinegar, lemon juice, red onion, oregano, pepper, and salt. Pulse to blend everything together into a chunky marinade.

Brush half of the marinade over the top and bottom side of the ribs, and allow them to marinate for about 20 minutes at room temperature. Reserve the remaining chimichurri off to the side for serving.

Serve with the remaining chimichurri sauce.
Eggs are the cornerstone of any healthful Paleo diet and are a huge source of protein. Baked with bacon, peppers, and onions, it's a great way to enjoy a low-carb breakfast with loads of beneficial nutrition. Best part is, you can make it using only one pan!
Erin Druga
Paleo Egg Bake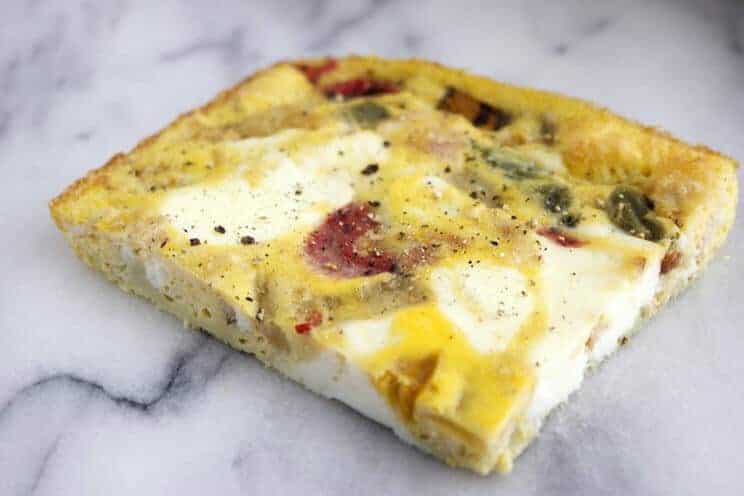 Total time:37 mins
Cook Time:7 mins 7 minutes
Prep Time: 30 mins 30 minutes
Paleo Egg Bake
This simple egg bake is hassle-free and will come in handy when you have to cook for large families or friendly gatherings.
Tools
Whisk
Large Mixing Bowl
Skillet
Ingredients
8 eggs
3 slices bacon
½ cup peppers
¼ cup onions
Pepper to taste
Instructions
Preheat oven to 350°F.
Whisk eggs together in a large bowl and set aside.
Cook 3 slices of bacon over skillet.
While bacon is cooking, chop peppers and onions.
Add peppers and onions to eggs.
Once bacon done, remove from heat, wait 5 minutes or so until cooled a bit and break into tiny pieces, add bacon to eggs.
Grease a baking dish with a bit of coconut oil and pour eggs into dish; set into oven and bake for at least 30 minutes. (Every oven is different, so be sure to keep an eye on your eggs. You may need to leave them in for an additional 5-10 minutes.)
Cut and enjoy!
(You'll Also Love: 33 Keto Fat Bomb Recipes + Macro Info You Can Count On)
Get started on your Paleo
weight-loss journey today
with our beginner-friendly PaleoHacks Cookbook
Get started on your
Paleo weight-loss
journey today with
our beginner-friendly
PaleoHacks Cookbook