This one-pan recipe makes baking salmon easy. And with just six ingredients, you can whip up the most delicious, flaky baked salmon ever.
This baked salmon dinner is ridiculously fast and easy to make. Salmon bakes to a flaky perfection wrapped in easy foil packs with avocado oil, pepper and sliced lemon on top. The lemon infuses the salmon with bright flavors as it bakes, making it taste light and fresh!
For the recipe, cherry tomatoes, zucchini and summer squash are roasted in the foil, too. The salmon is placed on top of the veggies and as they bake together, the veggies soak up the salmon's healthy fats and savory flavors. Most vegetables work well with the recipe so you can experiment with your favorites to make it feel like a new meal every time!
Love slow cooker recipes?
Click here to get your FREE copy of our delicious Slow-Cooker Recipes!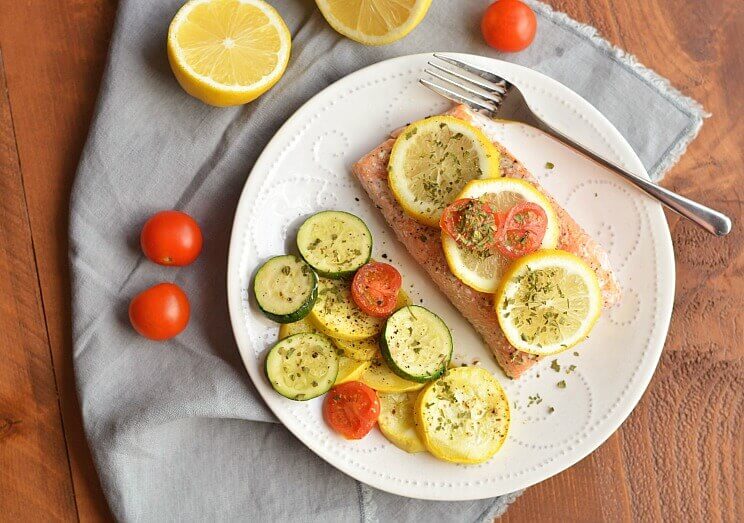 You can also grill the salmon foil packs instead of baking them. To grill, simply preheat the grill to medium heat and place the packs on top, cover the grill, and cook for 15 minutes. Check to be sure the salmon is cooked through before serving.
This easy baked salmon meal is perfect for an easy weeknight dinner. It takes less than 10 minutes to prep, bakes in 30 minutes or less, and has little to no clean up thanks to the foil method. If you have a big family to cook for, simply double or triple the ingredients. This also makes for an easy romantic dinner for two!
Tip: Use large foil pieces that are big enough to cover the salmon and veggies, leaving extra room when the ends are rolled up. This allows steam to rise from the salmon, keeping it tender as it bakes.
Megan Olson
The Best (and Easiest) Baked Salmon Recipe Ever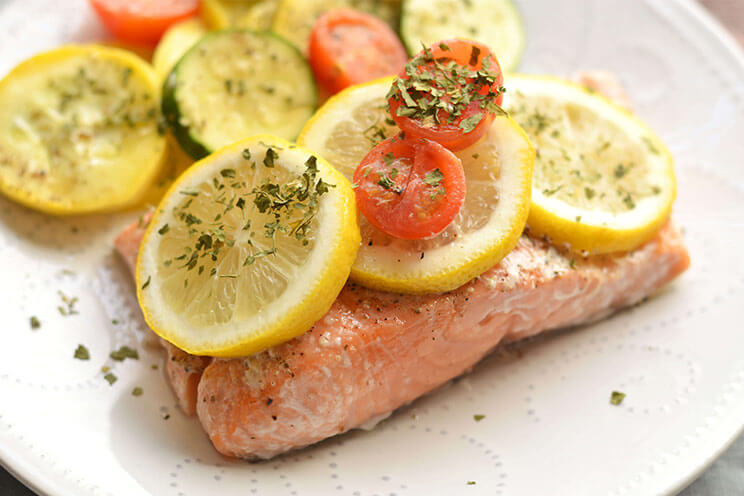 Cook Time:
25 mins
25 minutes
Prep Time:
10 mins
10 minutes
The Best (and Easiest) Baked Salmon Recipe Ever
Salmon bakes to a flaky perfection in this ridiculously fast and easy recipe.
Tools
2 9"x9" pieces of aluminum foil

Baking sheet
Ingredients
2 4oz salmon filets, room temperature

1 summer squash, sliced into ¼-inch rounds

1 zucchini, sliced into ¼-inch rounds

9 cherry tomatoes, sliced in half

2 T avocado oil

1 lemon, sliced into thin rounds

Salt and pepper

Parsley, for garnish
Instructions
Preheat oven to 375°F. Prepare 2 9"x9" pieces of aluminum foil by lying them flat on a baking sheet.

Place zucchini and summer squash rounds on the foil in an even layer. Then add sliced cherry tomatoes on top.

Next, place a salmon filet on each foil. Add 1 tablespoon of the avocado oil on each fillet, and sprinkle pepper over it. Place 2-3 slices of lemon on top of the salmon.

Roll the ends of the foil packs together, forming it into a sack.

Bake for 20-25 minutes until salmon is cooked and veggies are roasted.

Remove from oven. Serve immediately with parsley for garnish.

(You'll Also Love: Low Carb Zucchini Salmon Pockets)