Switch up your breakfast routine with these veggie-based zucchini fritters!
Move over potato latkes. There's a new fritter in town, and it's deliciously good-for-you. If you're looking to put a new spin on veggies, these savory zucchini fritters are the answer. They can be prepped ahead of time, frozen until you're ready to cook them, or made fresh for a crisp and comforting dish. Best of all, with their crispy outsides, these fritters are a great way to sneak veggies into kids' diets.
Start by using a hand grater to grate zucchini. To enjoy the benefits of extra fiber, leave the peel on. Next, to soak up excess moisture, squeeze the grated zucchini in a few paper towels. If there's too much liquid, the fritters will be mushy and fall apart.
Add power-packed superfood veggies to every meal with these easy cauliflower recipes.
Click here to get your FREE copy of our Cauliflower Recipe Guide!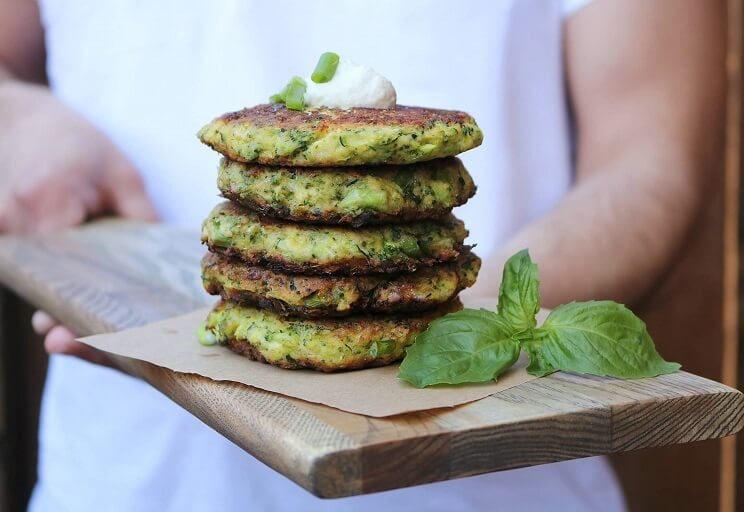 Combine zucchini with onion, basil, sea salt, and nutritional yeast. Nutritional yeast is a great source of vitamin B12, and it's a great addition to any dish that you want to give a cheesy flavor.
Next, pulse broccoli florets in a blender until crumbly. Add broccoli, flour and eggs to the zucchini mixture, and stir well to combine. Use hands to form the contents into patties (or your desired shape). I used around a 1/2 cup to form fritters. Heat extra-virgin olive oil until shimmering hot, and add 2-3 fritters at a time. 4-5 minutes in the oil renders a crispy golden-brown patty.
Gently flip and repeat on the opposite side. Serve fritters with a dollop of Paleo onion and chive sour cream to drive home the garden-fresh flavor.
Tip: These versatile fritters can also be a quick dinner. You can make them heartier by adding your favorite protein (including chopped chicken, steak, or shrimp).
Jennafer Ashley
Crispy & Easy Zucchini Fritters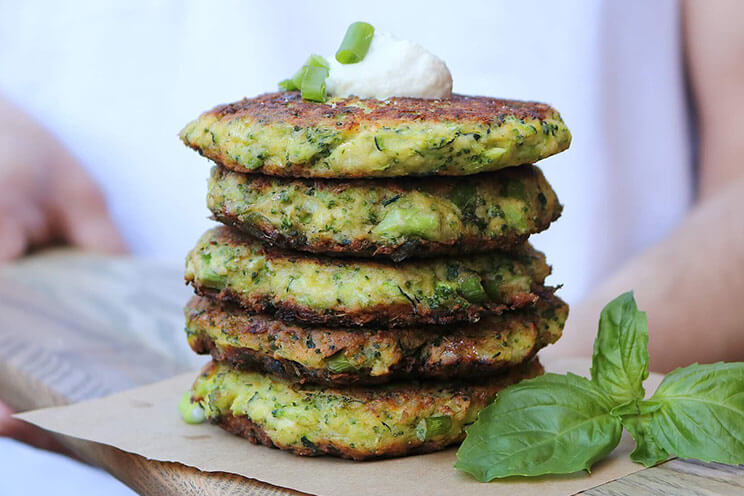 Cook Time:
10 mins
10 minutes
Prep Time:
15 mins
15 minutes
Crispy & Easy Zucchini Fritters
Switch up your breakfast routine with these veggie-based fritters.
Tools
Blender

Large bowl

Large skillet
Ingredients
2 cups broccoli florets

1 cup zucchini (grated)

1/3 cup green onion (chopped)

2 eggs (lightly beaten)

2 T fresh basil (finely chopped)

2/3 cup almond flour

1 T nutritional yeast

1/2 t sea salt
Instructions
Grate zucchini using a cheese grater, and wrap in paper towel. Squeeze out excess liquid, and add zucchini to a large bowl. Add chopped green onion, basil, nutritional yeast, and sea salt.

In a blender, add broccoli florets. Pulse until fine and crumbly.

Pour broccoli into bowl and add beaten egg with flour. Stir well to combine.

Using hands, form mixture into small flat patties.

Coat a large skillet with extra-virgin olive oil, and heat over medium-high heat. Once oil is shimmering hot, carefully place fritters on pan, working in batches of 2-3.

Cook 4-5 minutes, then flip and cook an additional 4 minutes.

Serve immediately.

(You'll Also Love: Savory Zucchini Pancakes with Bacon and Chives)