Savory meatloaf gets wrapped in smoky bacon and slathered with Paleo ketchup for a meal your family will love.
When it comes to comfort food that feeds a crowd, you can't beat a hearty meatloaf. This version gets wrapped in bacon and basted in ketchup for a twist on a traditional favorite.
Start with two pounds of grass-fed ground meat. This recipe uses beef, but ground, cage-free turkey could also be substituted. Just make sure there's enough fat content to keep the meatloaf moist.
Love slow cooker recipes?
Click here to get your FREE copy of our delicious Slow-Cooker Recipes!
Almond meal is used in place of traditional breadcrumbs and adds a dose of fiber and omega-3 fatty acids. For a pop of herbal flavor, try mixing the almond meal with dried or fresh basil, thyme or oregano. You can even make you own almond meal bread crumbs, complete with herbs ideal for adding to meatballs or meatloaf recipes!
The key to a bacon-wrapped meatloaf is to use a loaf pan to get the shape just right. Line the bottom of a regular loaf pan with thick-cut strips of bacon, overlapping along the sides. The bacon needs to be thick in order to hold everything together.
Mix together the meatloaf ingredients with your hands, and fill the lined pan with the mixture, pressing down firmly to help shape the meatloaf. Next, flip the loaf out onto a parchment paper-lined baking sheet, and finish by wrapping the sides with the remaining bacon and tucking them in securely.
Bake for one hour, then baste with Paleo ketchup or barbecue sauce and return to the oven for 10 more minutes. I like to broil the meatloaf for the last few minutes to add a bit of char to the top and candy the bacon in the ketchup! Remove the bacon-wrapped meatloaf from the oven and let it rest five minutes to gives the bacon a chance to crisp up a bit more. Then slice and serve!
Jennafer Ashley
Savory Bacon-Wrapped Meatloaf Recipe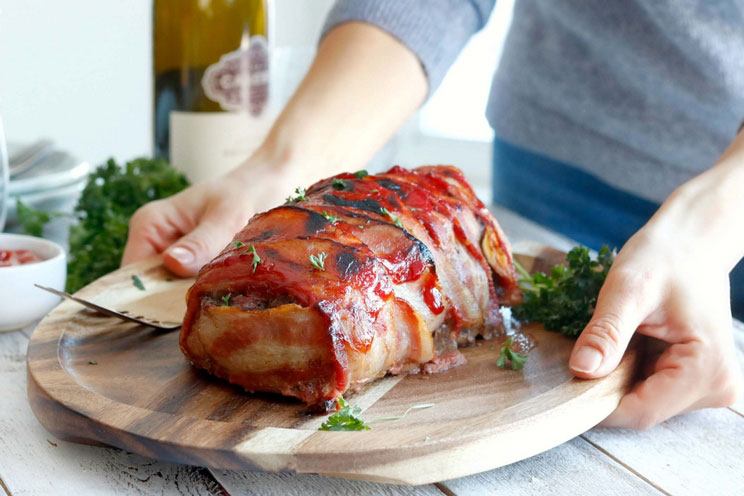 Cook Time:
1 hr 10 mins
1 hour 10 minutes
Prep Time:
10 mins
10 minutes
Savory Bacon-Wrapped Meatloaf Recipe
Savory meatloaf gets wrapped in smoky bacon and slathered with Paleo ketchup for a meal your family will love.
Tools
Baking sheet

Parchment paper

Loaf pan

Mixing bowl
Ingredients
10-12 strips thick-cut, pasture-raised bacon

2 lbs grass-fed ground beef

1/2 cup white onion, minced

1/3 cup almond meal

2 pasture-raised eggs

1/4 cup parsley, minced

1/2 t sea salt

1/4 t garlic powder

1/4 t black pepper

3 T Paleo ketchup
Instructions
Preheat oven to 350°F; line a baking sheet with parchment paper.

Line bacon strips on the bottom of a loaf pan, overlapping slightly. Reserve remaining bacon strips for the outer portion of the meatloaf.

In a mixing bowl, combine the rest of the ingredients except the ketchup. Use hands to thoroughly combine.

Add mixture into the bacon-lined loaf pan, pressing the mixture down firmly.

Flip pan over onto prepared baking sheet and remove the loaf pan. Wrap remaining bacon around the sides of the meatloaf, and tuck the side pieces under the first layer to keep them secure. Snip excess bacon with a pair of kitchen scissors.

Bake for one hour. Baste with Paleo ketchup and return to oven for 10 minutes. Let the meatloaf rest five minutes before slicing.
Looking for Paleo ingredients? Here's what we recommend:
Almond meal (Barney)

Serve your meatloaf with these Paleo comfort food side dishes: