Slice up this Paleo keto bread and pile it high with your favorite sandwich fixings!
Following a low carb diet doesn't have to mean lettuce-wrapped sandwiches for life! With this quick bread recipe, you can have French toast or grilled cheese sandwiches without sacrificing your carb count.
The secret to creating a light and airy keto bread that can hold up to the toaster is using plenty of eggs and healthy fat. Ghee is a butterfat that is cooked longer to filter out the milk solids, which makes it much easier on the digestive system for people with lactose sensitivities. Grass-fed ghee is also high in the fatty acid CLA, which is beneficial for protecting cells and reducing oxidative damage.
Looking for low carb keto recipes to burn fat and lose weight?
Click here to get your FREE Keto Breakfast Recipes Cookbook!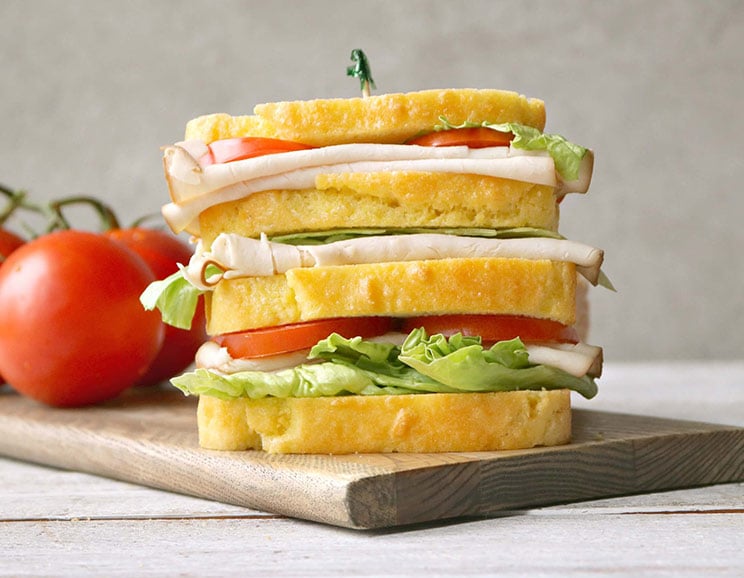 If you want to make this bread taste more like a sponge cake style bread to top with berries or Paleo ice cream, add a teaspoon of stevia or other Paleo approved sweetener to the batter. To get a finer texture, use almond flour instead of almond meal.
Start by beating the eggs using a hand mixer on high speed. This incorporates air into the eggs, which creates an airier finished product. Next, beat in the melted ghee followed by the dry ingredients to form a batter. Pour the mixture into a loaf pan lined with parchment paper and bake at 350°F for 40-45 minutes. Use a sharp knife to gently remove the bread from pan and using the parchment paper to lift the bread out of the pan. Cool for 10 minutes before slicing.
Tip: This bread also doubles as delicious savory or sweet muffins. Stir in blueberries to make blueberry muffins (keep in mind, however, that the carb count will go up) or chopped jalapeños and nutritional yeast for a spicy muffin with a cheesy twist.
Jennafer Ashley
Low Carb Keto Bread Recipe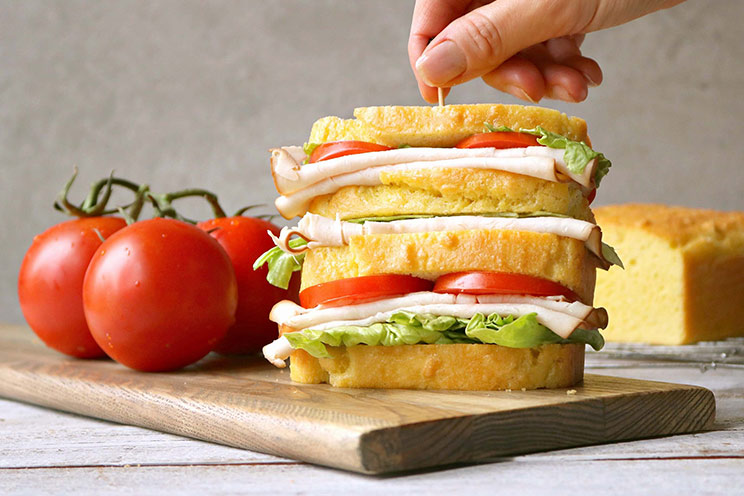 Cook Time:
45 mins
45 minutes
Prep Time:
10 mins
10 minutes
Serves:
1 loaf (10-12 slices)
Nutrition facts:
9 grams of protein
3 grams of carbohydrates
24 grams of fat
Low Carb Keto Bread Recipe
Slice up this Paleo keto bread and pile it high with your favorite sandwich fixings.
Tools
Loaf pan

Parchment paper

Large mixing bowl

Hand mixer

Spatula
Ingredients
7 large eggs

1/2 cup melted ghee

2 cups almond flour

1 t baking powder

1/4 t sea salt
Instructions
Preheat the oven to 350°F and line a loaf pan with parchment paper overlapping the sides.

In a large mixing bowl, beat the eggs using a hand mixer on high speed for 1 minute. Add the melted ghee and beat until just incorporated.

Reduce the speed to low and gradually add the remaining ingredients until completely mixed and the batter is thick.

Pour the batter into the prepared pan and spread with a spatula. Bake for 40-45 minutes, or until light golden brown on top.

Cool the bread on a cooling rack for 10 minutes before slicing.
Watch the Recipe Video Below!

Looking for Paleo ingredients? Here are a few we'd recommend:
Almond flour (Bob's Red Mill)
Ghee (Pure Indian Foods)

(You'll Also Love: 25 Grain-Free and Wheat-Free Paleo Bread Recipes)