Jumpstart your morning with savory zucchini pancakes filled with bites of crunchy bacon and fresh chives!
Pancakes have become a serious addiction of mine. I can't tell you how many batches of them I make every week, perfecting new recipes. And I love experimenting with savory flavors.
These savory zucchini pancakes are the next batch of goodness you need to whip up in your kitchen. I am obsessed with their chewy, grain-free texture. They're packed with protein, fiber and healthy fat too. A great way to start your day!
Love Coconut Flour Recipes? Then you'll love our FREE Coconut Flour Recipes.
Click here to get your FREE copy of our delicious Coconut Flour Recipes!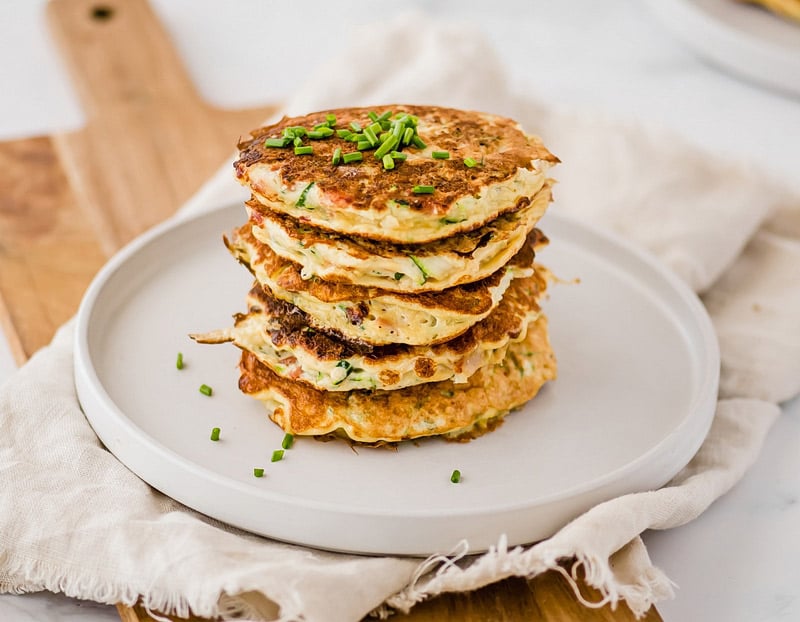 The best part? They're incredibly easy to make. Made with only six ingredients, it's hard to believe so few ingredients can make a delicious batch of pancakes. Zucchini is the secret to getting this batch extra thick and creamy!
They even have tiny bits of bacon nestled throughout the coconut batter, so every time you take a bite, you get crunchy, salty bursts of bacon that melts in your mouth.
If you want to up the flavor, try drizzling it with homemade Paleo sriracha sauce.
Megan Olson
Savory Zucchini Pancakes with Bacon and Chives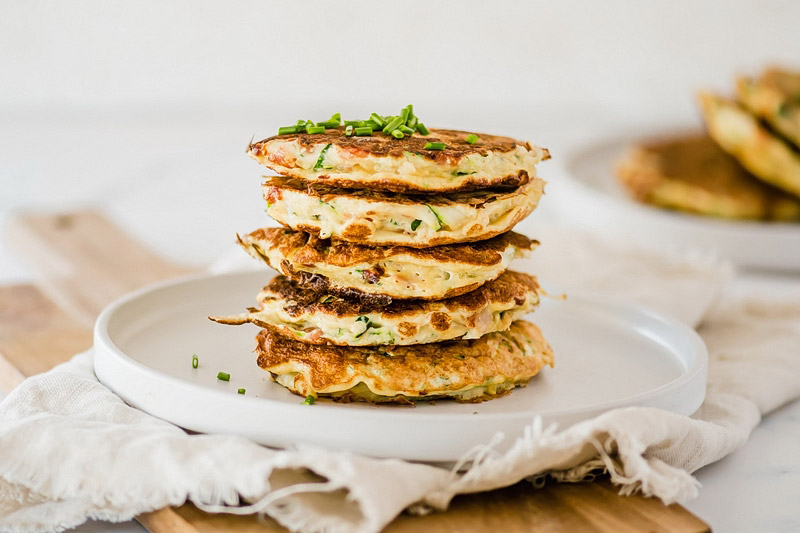 Cook Time:
10 mins
10 minutes
Prep Time:
5 mins
5 minutes
Nutrition facts:
7 grams of protein
3 grams of carbohydrates
6 grams of fat
95 calories
Savory Zucchini Pancakes with Bacon and Chives
Jumpstart your morning with savory zucchini pancakes filled with bites of crunchy bacon and fresh chives.
Ingredients
6 large eggs

1 medium zucchini, shredded

5 slices of bacon

3 ½ T coconut flour

1 T chives, chopped

1 t garlic powder
Instructions
Preheat a grill pan over medium heat and cook the bacon. After the bacon has cooked, remove it from the pan and set aside to cool. Leave the remaining bacon fat in the grill pan to use for the pancakes.

In a food processor, shred the zucchini by pulsing several times. Do not over-pulse as it will make the zucchini wet. Pulsing a few times to shred it is all you need to do.

In a large bowl, whisk the eggs with the garlic powder, zucchini and chives.

Crumble the bacon or finely chop, then add to the batter.

Fold the coconut flour into the mixture. Do not overmix.

Place ¼ cup of the batter on the grill pan to form a pancake. Cook 5 minutes or until the pancakes begin to bubble in the center. Then flip and cook another 3 minutes on the other side until lightly browned.

Transfer pancakes to a wire rack to cool and repeat the process for the remaining batter.

Enjoy immediately after cooking. Pancakes can be kept in the refrigerator up to one week or in the freezer a month.
Looking for Paleo ingredients? Here are a few we'd recommend:
Coconut flour (Anthony's)
Garlic powder (Frontier)
You'll Also Love: The 21 Best Paleo Pancakes, Waffle and French Toast Recipes
Eat cinnamon apple-crusted doughnuts… zesty lemon scones… and even breakfast chili all while staying healthy with the Paleo diet!
Enjoy 101 delicious Paleo
Breakfast recipes that melt fat, fight inflammation, and keep
you healthy
Enjoy 101 delicious Paleo
Breakfast recipes that melt
fat, fight inflammation, and
keep you healthy