Fresh lemon and raspberry unite to form a sweet summer dessert in these Raspberry Lemon Swirl Bars. Wholesome ingredients ensure that these bars are as healthy as they are delicious.
There's nothing better in the summertime than a dessert bursting with fresh fruit flavors. The first step in these Raspberry Lemon Swirl Bars is to make the lemon bar base. This batter bakes into an uber-moist, chewy texture with fresh lemon and coconut flavors. No need for fancy kitchen equipment in this recipe, the batter is easily whipped up using a hand mixer and has a fluffy texture thanks to the arrowroot powder. Coconut flour tends to be very dense and absorbs a ton of moisture, so it is good to balance it out with an airy flour like arrowroot. If you don't have arrowroot flour on hand, tapioca starch works just as well.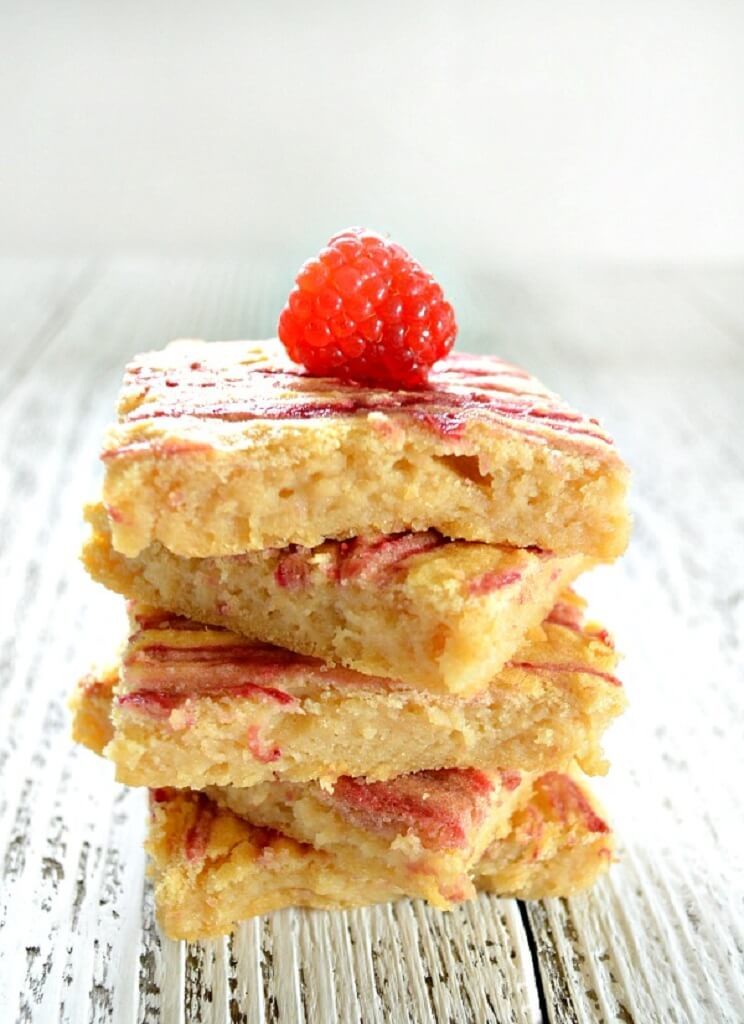 The raspberry purée is made with a little bit of honey and fresh raspberries. For those who don't like seeds, press your raspberry purée through a strainer using the back of a spoon. Once the lemon batter is poured into the baking pan, you can get creative with the raspberry swirl. I like to make a few lines of purée over the batter and then use a butter knife to glide the batter along, forming dips and swirls. It's pretty impossible to mess this part up and either way, it ends up tasting great. Oven times vary, so keep an eye on your bars as some might be ready closer to the 40-minute mark, while others will take the full 50 minutes.
Love Paleo Desserts? Then you'll love our FREE Paleo Dessert Cookbook. Click here to get it!
It is important to let these raspberry lemon swirl bars cool for at least thirty minutes before slicing. This can be a difficult task when your whole kitchen smells like dessert! But allowing them to cool helps the bars set completely, ensuring perfect slices. These fruity bars are terrific morning, noon or night as a breakfast bar or dessert.
For those who don't want to turn the oven on, check out these No-Bake Strawberry Bars.
Jennafer Ashley
Raspberry Lemon Swirl Bars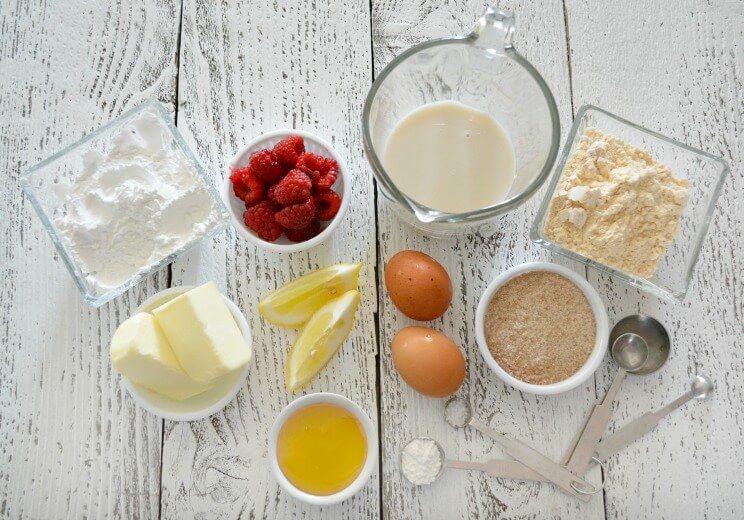 Cook Time:
40 mins
40 minutes
Prep Time:
20 mins
20 minutes
Raspberry Lemon Swirl Bars
Fresh lemon and raspberry unite to form a sweet summer dessert!
Ingredients
1 cup coconut flour

1 cup arrowroot flour

1/2 cup coconut sugar

2 eggs

2 cups unsweetened almond milk

1/2 cup butter (at room temperature)

1/4 cup lemon juice

1 t baking powder

1/4 t sea salt

2 T pure honey

1 cup raspberries
Instructions
Preheat oven to 325ºF. Line a 9x13 baking sheet with parchment paper overlapping the edges. In a large mixing bowl, beat butter and coconut sugar together.

Add in eggs and almond milk. Beat again until well combined.

Slowly beat in arrowroot and coconut flours. Add lemon juice, baking powder and sea salt. Beat once more.

Pour batter into prepared baking pan. Spread evenly to edges.

In a food processor or blender, combine raspberries, honey and water. Blend until smooth.

Transfer to a pastry bag or sandwich bag with end snipped to ½-inch. Pipe raspberry purée over batter to form lines. Glide a knife over lines to make swirl patterns.

Transfer to oven. Bake 40-50 minutes, until toothpick inserted comes out clean. Cool 30 minutes. Slice into squares.

(You'll Also Love: Buttery No-Bake Raspberry Bars)