Heat up your next meal with this easy, homemade sriracha sauce recipe!
While store-bought Sriracha is no doubt tasty, it usually contains preservatives and grain-based ingredients that can upset your stomach. Luckily, making your own at home with whole, real ingredients is a breeze.
To start, you need just a handful of ingredients. The first is a lot of peppers! A mix of serrano, cherry, Thai and jalapeño red peppers were used for this recipe. It gives the sauce a nice blend of heat.
Curious about ketosis?
Click here to get the FREE Easy Keto Guide to learn the right way to go keto!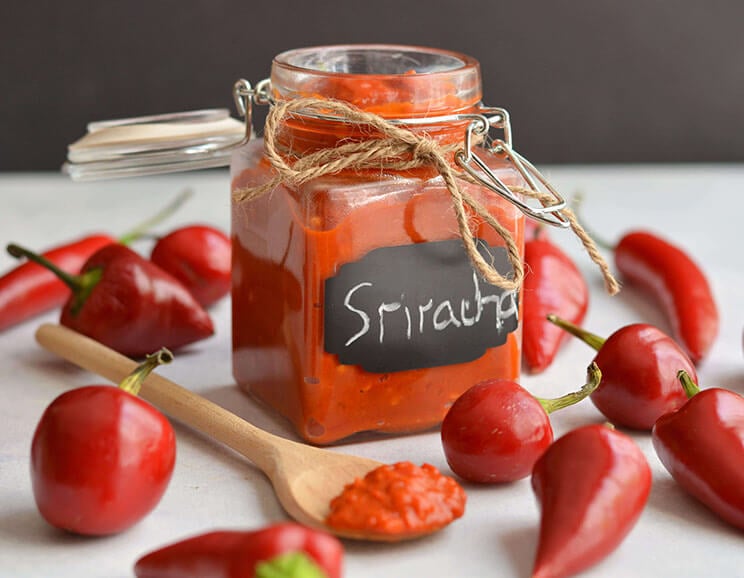 While store-bought sriracha usually uses Xanthan gum with a fermented corn sugar base to thicken the sauce, we'll be using organic tomato paste with gelatin instead. Blended together with the other ingredients, they give the sauce that creamy signature consistency. The vinegar creates the subtle tangy flavor and is key to breaking down the structure of the peppers as they cook. And for a hint of salty, savory flavor, we're bringing in coconut aminos.
This recipe is lightly sweetened with stevia. Coconut sugar can be swapped for the stevia if you choose. Taste the sauce after it's cooked to add more sugar and adjust as you need to. Be frugal when adding the sugar since you can always add more, but can't take it away.
All the ingredients for this recipe come together beautifully, balancing the flavor and texture of the peppers. It's the perfect addition to eggs, burgers, grilled chicken or fish and Asian-inspired dinners!
Megan Olson
Easy, Simple Homemade Sriracha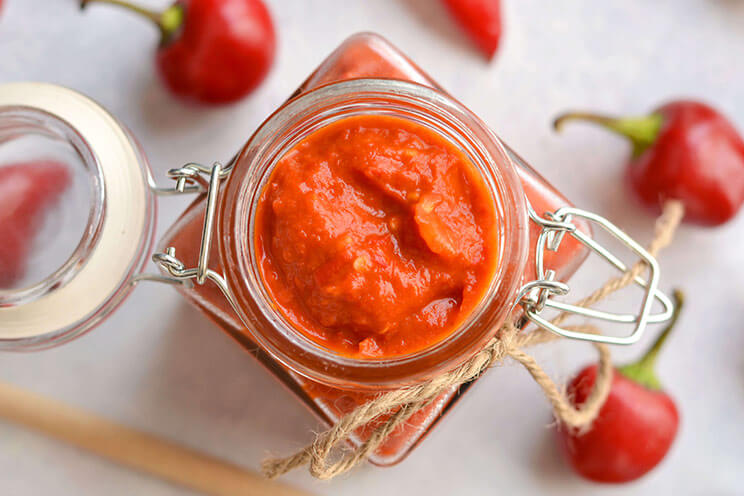 Cook Time:
10 mins
10 minutes
Prep Time:
15 mins
15 minutes
Serves:
20 servings, 1 T. each
Easy, Simple Homemade Sriracha
Heat up your next meal with this easy, homemade sriracha sauce recipe.
Tools
Food processor

Medium saucepan

Glass jar
Ingredients
1 8 oz can of organic tomato paste

1 lb mix of Serrano, Thai and jalapeño red peppers

2 T minced garlic

1 small shallot, finely diced

1 T extra virgin olive oil

1 T coconut aminos

¼ cup apple cider vinegar

½ t unflavored gelatin

1 T liquid stevia or coconut sugar
Instructions
Wash and remove the stems of the peppers. Chop into ¼-inch pieces and place in a food processor or high speed blender.

Pulse several times to chop the peppers into fine pieces. This will help them break down and cook faster.

Heat a medium saucepan to medium-low heat, add extra virgin olive oil, shallots and garlic. Cook 2-3 minutes until broken down.

Then add the coconut aminos, vinegar, gelatin, tomato paste and peppers. Bring the sauce to a medium-high heat. Once bubbling, reduce to a low simmer, stirring periodically for 8-10 minutes.

Remove the sauce from the heat to cool. Once cooled, transfer to a food processor or blender. Blend on high one minute until smooth.

Transfer to a glass jar and refrigerate.
You'll Also Love: 67 Easy Sauce Recipes You Can Put on Anything