With warm, fragrant spices and a creamy coconut glaze, this Paleo spice cake is one recipe you don't want to miss out on.
It's always fun to have an eye-catching dessert when hosting a party. A beautiful cake, trifle, or cheesecake is a wonderful way to woo your guests and doesn't have to be labor-intensive to create.
It's surprisingly easy to create a Paleo and allergy-friendly dessert that looks as good as it tastes. This Paleo Spice Cake takes just a few minutes to throw together, and after that, it's just a matter of waiting for it to cool so you can glaze it!
Love Paleo Desserts? Then you'll love our FREE Paleo Dessert Cookbook.
Click here to get your FREE copy of our delicious Dessert Recipes!
This decadent treat has a moist, cakey, and soft texture that highlights the fragrant spices and creamy glaze. It's perfect served with hot tea for a satisfying after-dinner treat. It's also a nut-free dessert, so those who are sensitive or allergic can indulge.
The coconut cream for the glaze is actually just the creamy stuff that rises to the top of a can of full-fat coconut milk. Put your can of coconut milk in the fridge overnight to ensure that the cream separates from the water component of the coconut milk. You can also purchase coconut cream by itself, but I like saving the coconut water for smoothies.
Heather Resler
Paleo Spice Cake with Coconut Cream Frosting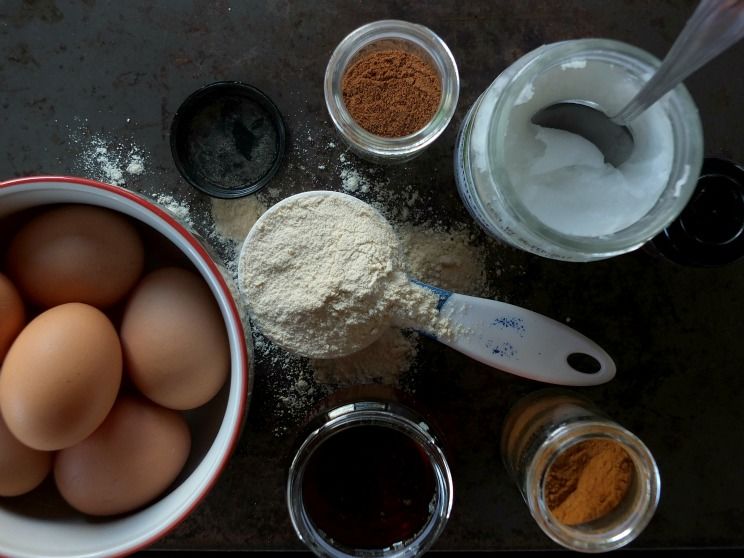 Cook Time:
45 mins
45 minutes
Prep Time:
20 mins
20 minutes
Paleo Spice Cake with Coconut Cream Frosting
This cake has non-refined sugar and spice, with everything nice. Enjoy sweet blends of coconut, maple syrup, nutmeg and more!
Tools
Bundt Pan

Whisk

Large Mixing Bowl

Smal Mixing Bowl
Ingredients
½ cup plus ¼ cup maple syrup, divided

3 egg whites

½ cup coconut oil, melted

6 eggs

¾ cup coconut milk

1 T vanilla extract

1 t apple cider vinegar

¾ cup coconut flour

⅔ cup plus 3 T arrowroot starch, divided

1-½ T cinnamon

½ t nutmeg

1-½ t ground ginger

¼ t ground cloves

1 t baking soda

1 cup coconut cream
Instructions
Preheat the oven to 350° F.

Grease a bundt pan well with coconut oil.

Whisk the eggs and egg whites with coconut oil, ½ cup maple syrup, coconut milk, vanilla extract, and apple cider vinegar.

Stir in coconut flour, ⅔ cup arrowroot starch, spices, and baking soda. Mix well.

Transfer to bundt pan and bake for 40-45 minutes, or until a toothpick in center of cake comes out clean. Cool completely.

Remove from pan and place on serving dish.

In a small bowl, stir together the coconut cream, ¼ cup maple syrup, and 3 tablespoons arrowroot starch. Slather on cake.

Enjoy!
Tips:
Make sure that you let it cool completely before you put on the glaze or you run the risk of the glaze melting.
You'll want to make sure you use large eggs for this recipe; it really relies on the protein matrix of the egg whites to rise properly.
Make sure you use a good-quality coconut flour. Arrowroot starch can be found in bulk at most health food stores, and it lends a nice softness.
Looking for Paleo ingredients? Here's what we recommend:
Maple Syrup (Hidden Springs Maple)
Cold Pressed Coconut Oil (Viva Naturals)
Coconut Milk (Native Forest)

(You'll Also Love: Paleo Coconut Pineapple Cake)