This sandwich bread recipe is all you'll ever need to build the best Paleo-friendly lunch.
By now, you've probably discovered many different alternatives to sandwich bread and wraps. (If you haven't, you can start with this spicy pulled chicken lettuce wrap.)
But for those who still crave a nice big sandwich with fluffy bread, we've got you covered with this perfectly Paleo sandwich bread recipe!
Want to go Paleo? Not sure where to start?
Start with this FREE Paleo For Beginners Guide Today!
It has everything you'd expect from carb-loaded bread you'd buy at the supermarket, but without all those pesky grains and preservatives. Almond butter and ground flax seeds give it that extra crunch while coconut flour and raw honey add a hint of natural sweetness. Additionally, apple cider vinegar  is known to help your digestion system and can help balance out blood sugar levels.
So, go ahead and treat yourself to a lunch worth craving! We promise you'll never want to go back to plain old wheat sandwiches again.
Deanna Dorman
The Perfect Paleo Sandwich Bread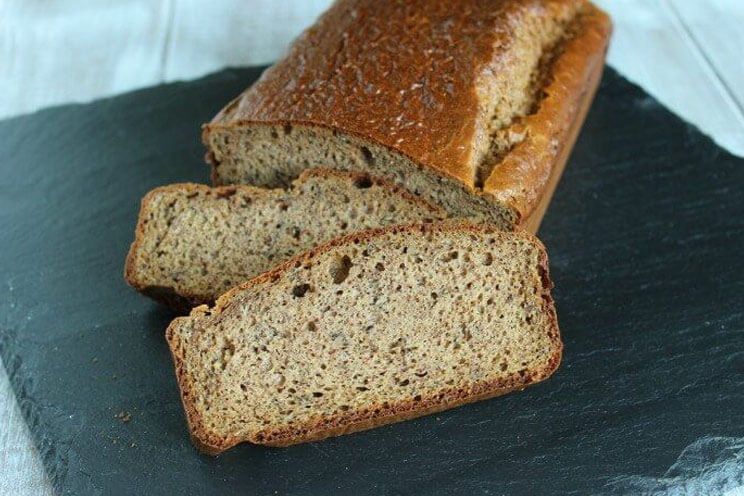 Cook Time:
35 mins
35 minutes
Prep Time:
5 mins
5 minutes
The Perfect Paleo Sandwich Bread
This Paleo bread is a great alternative to store bought versions. Fill it up with your favorite proteins and veggies!
Ingredients
3/4 cup almond butter

5 eggs

1/4 cup melted coconut oil

1 T raw honey

1 t apple cider vinegar

1/4 cup ground flax seeds

3 T coconut flour

1 t baking soda

1/2 t sea salt
Instructions
Preheat oven to 350 °F and line a loaf pan with parchment paper.

In a standing mixer or large bowl, blend together the almond butter, eggs, coconut oil, honey, and apple cider vinegar until smooth.

In a medium bowl, sift together the flax seed, coconut flour, baking soda, and salt.

Mix the dry ingredients into the wet ingredients until smooth.

Pour the dough into the line loaf pan and bake for 30-35 minutes or until browned. Check to make sure it's set with a toothpick.

Remove the loaf from the oven and let it cool for 20 minutes in the pan, then transfer to a wire rack.
Looking for Paleo ingredients? Here's what we recommend:
Coconut Flour (Nutiva)
Cold Pressed Coconut Oil (Viva Naturals)
Raw Honey (Bee Farms)
(You'll Also Love: Coconut Flour Bread)