Brighten your lunchtime with this light and creamy egg and avocado salad.
Filled with protein and deliciously filling, eggs are one of the healthiest foods on the planet. Plus, you can use them to make everything from frittatas to spicy, bacon-topped deviled eggs. One of our favorite go-to egg recipes is this Paleo Egg salad with creamy avocado and onion-y chives. It's great as a filling snack, lunch on the go, or as a healthy dish to bring to a picnic.
Any good salad egg starts with perfectly boiled eggs with just-cooked yolk. To make the best hard-boiled eggs, start by covering the eggs with cool water in a saucepan, bring the water to boil, then turn off the heat, cover the pan and let them sit for 10 minutes. Immediately transfer the eggs to an ice water bath before peeling.
Want to go Paleo? Not sure where to start?
Start with this FREE Paleo For Beginners Guide Today!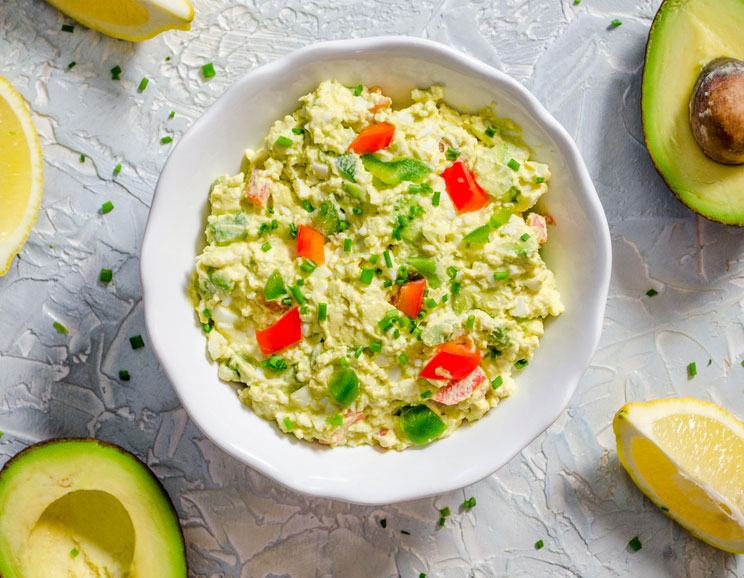 Now that you have the perfect boiled eggs, it's time to mash them up! You can use an egg slicer, a potato masher, or a fork. If you like them super fine, try grating them with a box grater. Add one avocado for every four eggs, and mash everything together until it's as creamy (or chunky) as you prefer. Then, mix in minced bell peppers for a bit of crunch and chives for a mild onion flavor.
Separately, whisk together the dressing. Paleo mayonnaise is the base, with a little Dijon mustard for tanginess and dash of fresh lemon juice.
Serve your Paleo egg salad over crunchy lettuce, spread on toasted Paleo bread for a simple sandwich, or stuffed into cherry tomatoes or jalapeños for a healthy appetizer.
Dina Hassan
Easy Paleo Egg Salad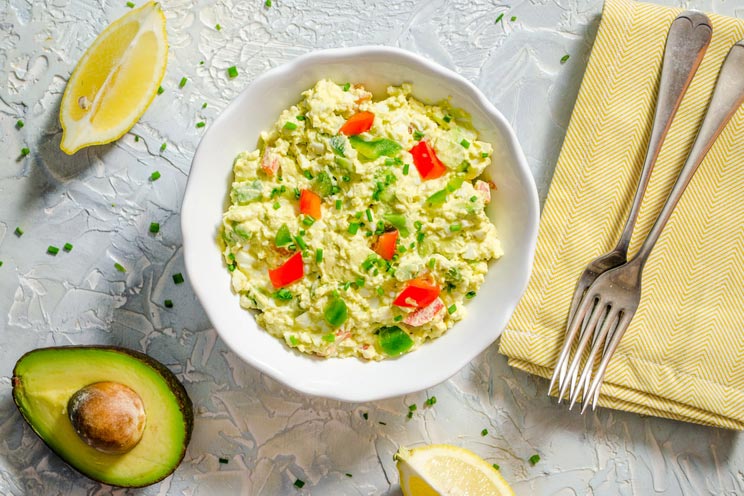 Prep Time:
10 mins
10 minutes
Easy Paleo Egg Salad
Brighten your lunchtime with this light and creamy egg and avocado salad.
Tools
Large mixing bowl

Medium mixing bowl

Whisk
Ingredients
4 hard-boiled eggs, peeled

1 medium avocado, diced

½ cup mixed bell pepper, chopped

3 T chopped fresh chives

¼ cup Paleo mayonnaise

1 t Dijon mustard

1 T lemon juice

Salt and pepper to taste
Instructions
In a large bowl, mash the eggs and avocado until it reaches the consistency of your liking. Mix in bell peppers and chives.

In a medium bowl, whisk together the mayonnaise, mustard, lemon juice, salt and pepper.

Add the dressing to the egg salad and toss to combine. Serve on lettuce or Paleo bread.
Tips:
For a curried egg salad: add ½ t curry powder
For an herbed egg salad: add dill, basil or parsley
For a crunchy egg salad: top with poppy seeds, sunflower seeds, or pumpkin seeds

(You'll Also Love: No-Mayo Avocado Egg Salad
)