Good things come to those who wait. Cook slow and low for meltingly tender chicken to warm the heart and soul for a cozy evening. This one-pot-wonder Pulled Chicken Wraps dish has a subtle spicy kick and works perfectly with the crunchy freshness of the lettuce wraps. Serve on big lettuce leaves or mix with vegetables and enjoy the hands-on foodie experience.
Love slow cooker recipes? Get our free slow cooker recipe cookbook here!
Rebecca Hughes
Pulled Chicken Tacos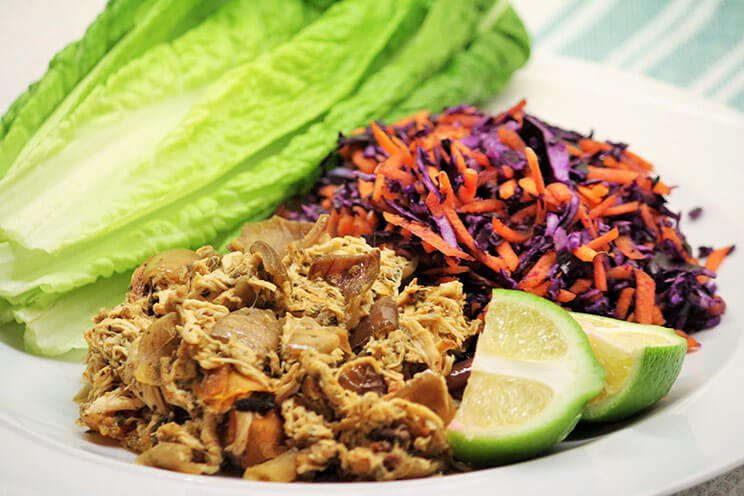 Prep Time:
10 mins
10 minutes
Pulled Chicken Tacos
Ingredients
2 chicken breasts

2 fresh tomatoes

2 red onions

2 garlic cloves

1 tbsp honey

1 tsp basil

1 tsp chili powder

1 tsp whole cloves

3 tbsp water

Extras: Crunchy lettuce leaves. A side salad or grated veg such as carrots and red cabbage. Lime.
Directions:
Cut the onions and tomatoes into chunks.
Finely chop the garlic cloves.
Place the chicken breasts in the slow cooker.
Add the onions, tomatoes, garlic, honey, basil, chilli, whole cloves and water to the slow cooker.
Set the slow cooker to low for 6 hours.
When ready to serve use two forks to shred the chicken. Stir all the veggies, spices and juices into the chicken until fully combined.
Serve with lettuce, other preferred vegetables and a squeeze of the lime juice.
(You'll Also Love: 20 Easy Paleo Crock Pot Recipes)