Fall-off-the-bone lamb shanks simmered with fresh rosemary, smoked paprika and sweet caramelized onions.
Served over a baked eggplant salad, these lamb shanks are the perfect make-ahead dinner. Lamb shanks come from the lower end of the leg and since it is a tough cut of meat, lamb shanks need long, slow cooking. Luckily, making them fall-off-the-bone worthy is easy!
Start by browning the lamb shanks in a hot skillet for a few minutes to give them a rich, caramelized meat flavor. The browning also helps seal in all the juices and tenderizes the meat. After removing the lamb shanks, add the red onions to the same skillet. Cook the onions until tender and caramelized, then add them to the slow cooker along with the lamb.
Love slow cooker recipes?
Click here to get your FREE copy of our delicious Slow-Cooker Recipes!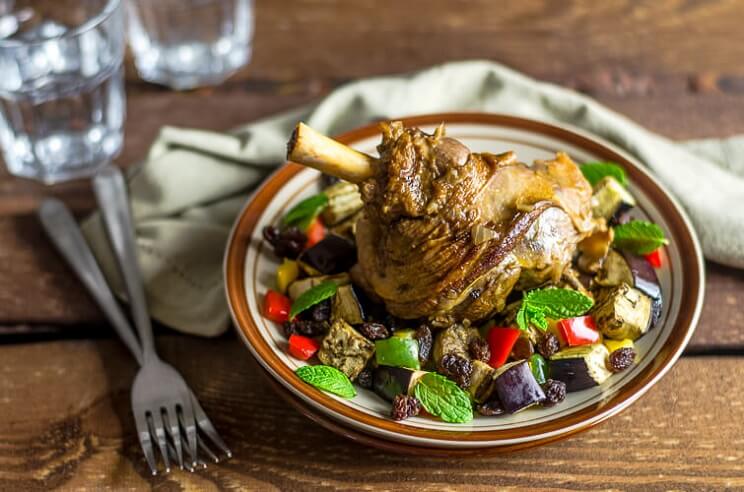 Next, simply add the stock, rosemary and spices to the same slow cooker and let it all slow cook for 4 hours on high or 8 hours on low. The cook time of this recipe is very forgiving: leave it in for an hour too long and worst thing that can happen is that the meat falls off the bone when you serve it.
If you have extra time, we've also included an optional eggplant salad you can bake while you wait for the lamb to cook. Simply toss eggplant and bell peppers in extra virgin olive oil. Bake everything in the oven, then add raisins and chopped mint for an easy, elegant side dish.
Tips:
The size of lamb shanks varies considerably, so make sure you get those that will fit in your slow cooker. Two 1 lb shanks fit snugly in a 3.5-quart slow cooker.
The cooking times are an approximate, since all slow cookers cook differently. You may need to adjust the time according to how your slow cooker cooks.
Keep leftovers in an airtight container for 3 days, or in the freezer for up to one month.
Dina Hassan
Easy Slow Cooked Fall Off The Bone Lamb Shanks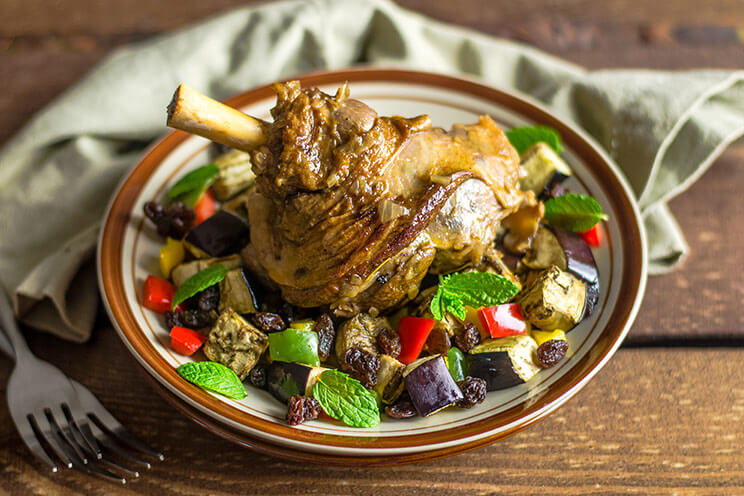 Cook Time:
4 hrs 10 mins
4 hours 10 minutes
Prep Time:
10 mins
10 minutes
Easy Slow Cooked Fall Off The Bone Lamb Shanks
Fall-off-the-bone lamb shanks simmered with fresh rosemary, smoked paprika and sweet caramelized onions.
Tools
Large skillet

Slow cooker

Baking pan

Parchment paper
Ingredients
For the Lamb Shanks:
2 lamb shanks, 1 lb each

1 T extra virgin olive oil

1 red onion, peeled and diced

2 cups organic chicken or beef stock

Salt and pepper, to taste

1 t smoked paprika

2 rosemary sprigs
For the Eggplant Salad (Optional):
1 eggplant, diced into small cubes

1 cup mixed bell pepper, diced

¼ cup raisins

1 T extra virgin olive oil

¼ cup chopped fresh mint
Instructions
To make the lamb shanks, heat extra virgin olive oil in a large skillet over medium-high heat. Season the lamb shanks with salt and pepper, add to the skillet and sear for 4-5 minutes, turning until browned all over. Remove from skillet and place in slow cooker.

Add the chopped red onion to the same skillet and sauté until tender and caramelized, about 3-5 minutes. Remove from the heat and add to slow cooker.

Add the chicken stock, rosemary sprigs, smoked paprika, salt and pepper to slow cooker. The liquid should cover the meat (add more stock if needed).

Cook on high for 4 hours, or on low for 8 hours.

To make the optional eggplant salad, preheat the oven to 350°F.

In a large bowl, toss together the eggplant, bell peppers and extra virgin olive oil. Season with salt and pepper. Place on a baking tray lined with parchment paper. Bake in the oven for 25 minutes.

Remove from the oven and combine with raisins and chopped mint. Serve with lamb.

(You'll Also Love: Fancy (But Easy) Roasted Lamb Steaks with Sweet Potatoes)
Lose weight, fight inflammation, and soothe your digestion with delicious meals like juicy skirt steak with cucumber & radish salad, succulent pulled pork, and more!
FREE Cookbook:
80 Gourmet Paleo Recipes from
a Professional Chef trained at Le
Cordon Bleu in Paris
FREE Cookbook:
80 Gourmet Paleo Recipes
from a Professional Chef
trained at Le Cordon Bleu
in Paris