While we'll always have a soft spot for cookie sandwiches, we can't help but fall in love with these ingenious ice cream muffin sammies!
For a twist on the traditional ice cream sandwich, this sweet treat swaps out the humble cookie with soft, pillowy muffins.
To start, make the muffins ahead of time and slice them in half – any sweet variety like blueberry or chocolate chip will do, but even turmeric muffins would be delicious. If you're in a pinch, you can also opt to buy Paleo-friendly muffins. We went with Mikey's Muffin Tops made with almond flour and coconut flour to keep things gluten-free and non-GMO. As a bonus, these muffin tops are the best, crispiest, most caramelized part of the muffin. The blueberry-lemon and chocolate chip varieties we used were super soft and had that signature sweet muffin top crust.
Tip: When toasted, the warm muffin slices (or muffin tops) are just begging to be topped with cool ice cream.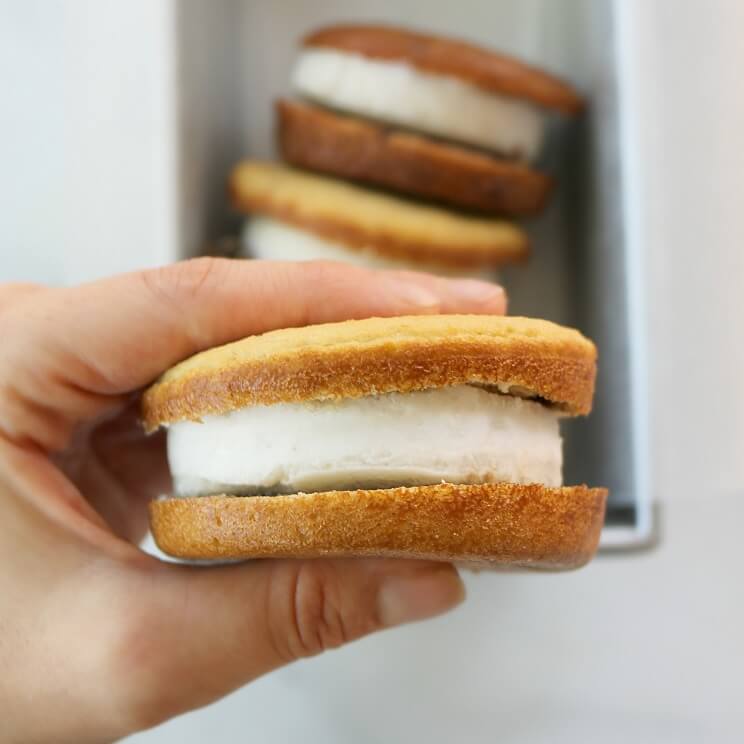 To make the ice cream, whip together 3 cups of coconut cream with stevia using a hand mixer on low speed until fluffy. I don't recommend chilling the coconut cream before whipping as it tends to be too hard to whip if chilled beforehand. Once whipped, add any additional flavors you would like into the whipped coconut cream. Dark chocolate chips or cacao nibs, a sprinkle of cinnamon, or vanilla bean all add a great oomph of flavor.
Love Paleo Desserts?
Get our FREE Paleo Dessert Cookbook here!
Pour the coconut cream mixture into an 8×8-inch glass pan and freeze at least 4 hours. Once solid, thaw ice cream for 10 minutes. Use a round metal cookie cutter to press into ice cream and cut out discs. Top each muffin bottom with an ice cream disc and cover with the top half. Freeze the ice cream muffin sandwiches until ready to eat and thaw for 5 minutes before enjoying. You are now equipped with the perfect hand-held treat to combat any hot summer day!
Jennafer Ashley
Coconut Ice Cream Muffin Sandwiches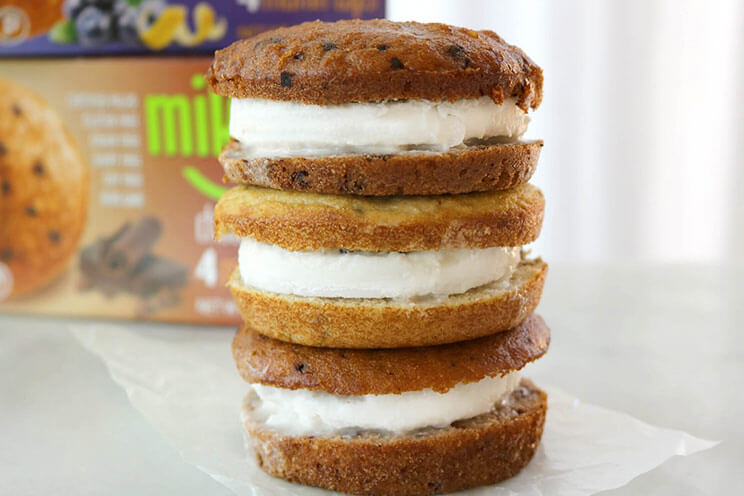 Prep Time:
10 mins
10 minutes
Coconut Ice Cream Muffin Sandwiches
For a twist on the traditional ice cream sandwich, this sweet treat swaps out the humble cookie with soft, pillowy muffins.
Tools
Hand mixer

8x8-inch glass pan

Spatula

Cookie cutter
Ingredients
4 muffins (or 4 Mikey's Muffin Tops)

3 cups coconut cream

2 t stevia powder
Instructions
Using a hand mixer, whip the coconut cream with stevia powder until thoroughly combined. Pour into an 8x8-inch glass pan and smooth with a spatula. Freeze 4 hours or until frozen.

Thaw ice cream 10 minutes at room temperature. In the meantime, slice each muffin top in half.

Using a round cookie cutter, cut out 4 discs of ice cream.

Place ice cream onto bottom muffin top and cover with the top half. Store in freezer in an airtight container. Thaw for 5 minutes before serving.

Looking for the muffin tops we used in the recipe? Click on the coupon below to get $1 off any Mikey's product!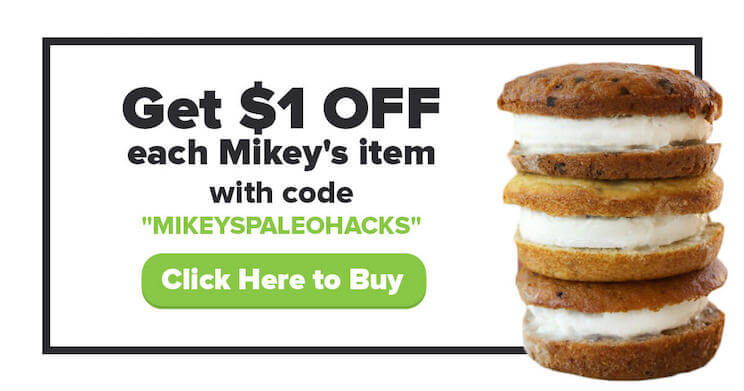 This post is sponsored by our friends at Mikey's Muffins. Our goal is to always bring you healthy, Paleo-friendly articles that we know you'll love. We only feature trusted brands approved by the PaleoHacks team.
(You'll Also Love: Dairy-Free Ice Cream Sandwich Recipe)