Relax and let the crockpot do all the work in this sweet and tart recipe for slow-cooked cabbage and apples.
Too tired to cook? Try slow-cooking cabbage and apples in your crockpot for a side dish with minimal hassle. It pairs perfectly with just about any entree, or you can enjoy it as a satisfying meal all on its own!
Slow-cooking cabbage produces a silky texture that's great for absorbing surrounding flavors. Tart apples, bitter onions, and tangy mustard give this dish a complementary blend of sweet and savory flavors that'll impress any taste palette. Additionally, it's packed with essential vitamins and antioxidants to help protect against cancer and boost your digestive health.
Love slow cooker recipes?
Click here to get your FREE copy of our delicious Slow-Cooker Recipes!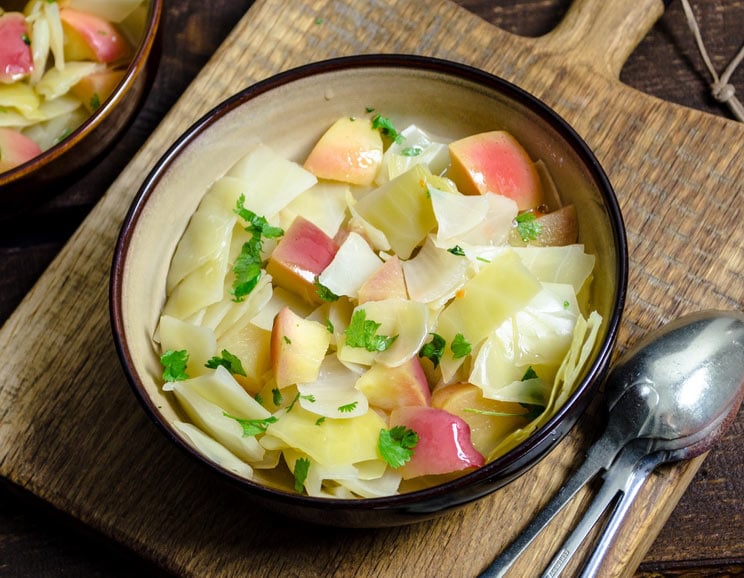 To get started, chop the cabbage into coarse pieces, dice the onion, and peel and chop two apples. You can prep the cabbage and onion ahead of time, but make sure to leave the apples whole until ready to cook to prevent them from going brown or drying up. Tip: I used sweeter Gala apples for this recipe, but Granny Smith apples can be used for a sharper flavor. Place all ingredients into a greased crockpot and season with salt and pepper.
In a separate bowl, make the sauce by whisking together apple juice, chicken broth, Dijon mustard, and a bit of tapioca flour to thicken. Stir until well combined, then pour over the apple and cabbage mixture. Secure the lid and let it cook on low for six to eight hours.
Serve your crockpot cabbage and apples hot with your favorite meat entree. You can also keep it refrigerated for up to five days and reheat when ready to enjoy!
Dina Hassan
Easy Crockpot Cabbage With Apples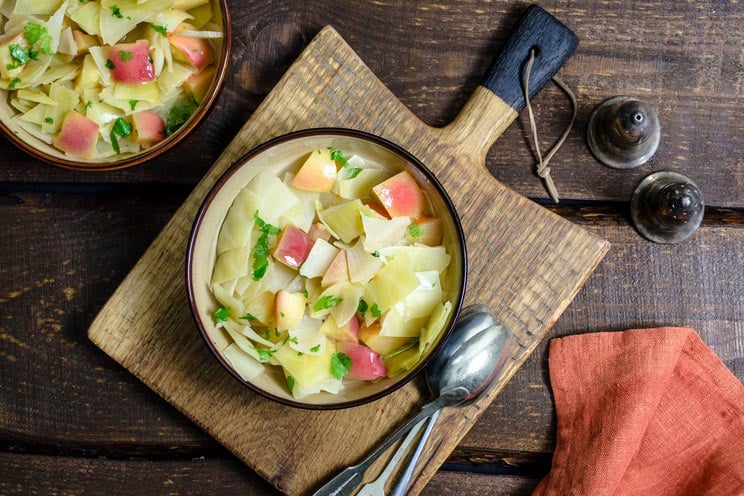 Prep Time:
10 mins
10 minutes
Easy Crockpot Cabbage With Apples
Relax and let the crockpot do all the work in this sweet and tart recipe for slow-cooked cabbage and apples.
Ingredients
1 T coconut oil or butter

1 cabbage, roughly chopped

2 tart apples, diced

1 medium onion, diced

1 cup apple juice

½ cup chicken broth

1 T Dijon mustard

2 T tapioca flour

Chopped parsley, to serve
Instructions
Lightly grease the crockpot with coconut oil or butter. Add the cabbage, apples, and onions, and sprinkle with salt and pepper.

Whisk apple juice, chicken broth, mustard and tapioca flour together in a medium bowl and pour over cabbage mixture.

Cover and cook on low for 6-8 hours, or until the vegetables are tender. Stir the mixture every 2-3 hours.

Serve in a large bowl with a slotted spoon and garnish with chopped parsley.
Looking for Paleo ingredients? Here are a few we'd recommend:
Cold pressed coconut oil (Viva Naturals)
Chicken bone broth (Kettle & Fire)
Tapioca flour (Authentic Foods)

(You'll Also Love: Whatever-You-Have Crockpot Soup Recipe
)
Lose weight, fight inflammation, and soothe your digestion with delicious meals like juicy skirt steak with cucumber & radish salad, succulent pulled pork, and more!
FREE Cookbook:
80 Gourmet Paleo Recipes from
a Professional Chef trained at Le
Cordon Bleu in Paris
FREE Cookbook:
80 Gourmet Paleo Recipes
from a Professional Chef
trained at Le Cordon Bleu
in Paris