Bone broth has been a staple in the diets of ancient cultures for thousands of years, and for good reason.
This traditional food contains potent healing benefits for your gut, like helping to improve digestion and leaky gut symptoms. (1, 2)
Discover what makes this broth so effective, not only for your tummy, but also for your joints, immune system, skin health, and more. (3, 4)
How does bone broth fight inflammation AND promote weight loss? Download our Free Bone Broth Guide And Recipes To Find Out Now!
Click here to get your FREE Bone Broth Guide And Recipes Today!
Why Bone Broth Is So Good for Your Gut
Bone broth contains significant amounts of collagen, which has been shown to have beneficial effects on your gut in several ways.
To begin, your intestinal lining is made up of collagen, which acts as a barrier to keep the things you've ingested such as food (and toxic substances) out of your bloodstream.
When this lining is damaged by things like a bad diet, stress, or bad bacteria, "leaky gut" can occur. Food particles pass into your bloodstream and cause a whole host of problems, including immune reactions (which can trigger autoimmune disease) and inflammation. (5)
Individuals with inflammatory bowel disease (IBS) are likely to have lower levels of serum collagen, causing researchers to believe adding collagen to your diet could improve IBS symptoms and inflammation. (6)
Studies show that amino acids in collagen, like l-glutamine, can help inhibit inflammation and repair the gut lining by increasing collagen synthesis in animals. (7) This is major news for people suffering from autoimmune and inflammatory diseases that could be related to leaky gut, as the first priority would be to heal the gut lining.
Bone broth provides you with a hefty source of collagen and gut-friendly amino acids, which is why making it a staple in your diet could work wonders.
---
5 Natural Benefits of Bone Broth
1. Bone Broth Boosts Skin Health
Bone broth's collagen content has another superpower: reducing the signs of aging. Studies show collagen supplements can significantly reduce wrinkles in as few as eight weeks. One study found that women 45-55 years old taking a collagen supplement experienced increased skin elasticity in just four weeks, as opposed to women taking a placebo. (8, 9)
These effects are seen because collagen production in our bodies tends to decline over time, leading to sagging skin and other markers of aging. Naturally, consuming additional collagen can keep your levels up and boost skin health.
2. Bone Broth Improves Joint Health
Studies also show the abundance of collagen in bone broth can improve joint health while also providing relief for those suffering with inflammatory diseases affecting the joints, such as rheumatoid arthritis. In one study, participants with osteoarthritis taking a collagen supplement made from chicken necks for 90 days experienced a 40 percent decrease in symptoms, with the severity of the same symptoms also dropping by 33 percent. (10)
3. Bone Broth Supports Immunity
As previously discussed, the collagen in bone broth can help seal your gut lining, preventing particles from escaping and causing an immune reaction. This is important to keep your immune system from either being overloaded or developing autoimmune diseases.
Studies also show that bone broth can help reduce inflammation, and even help improve respiratory infection symptoms. There's a reason that you always ate chicken soup when you were sick as a kid – traditional chicken soup is packed with chicken bone broth! (11)
4. Bone Broth Aids in Detoxification
Our bodies are exposed to a variety of toxins throughout the day, from our diets to pollution in our cities. Compounds in bone broth, including glutathione, can help your body get a head start on detoxing these pollutants.
Bone broth contains the amino acid glycine, which is a precursor to glutathione synthesis and essential to producing adequate glutathione. Glutathione is a major antioxidant that reduces the toxic load on our body and scavenges free radicals – molecules from toxins that can damage our DNA. (12)
5. Bone Broth Boosts Metabolism and Muscle Growth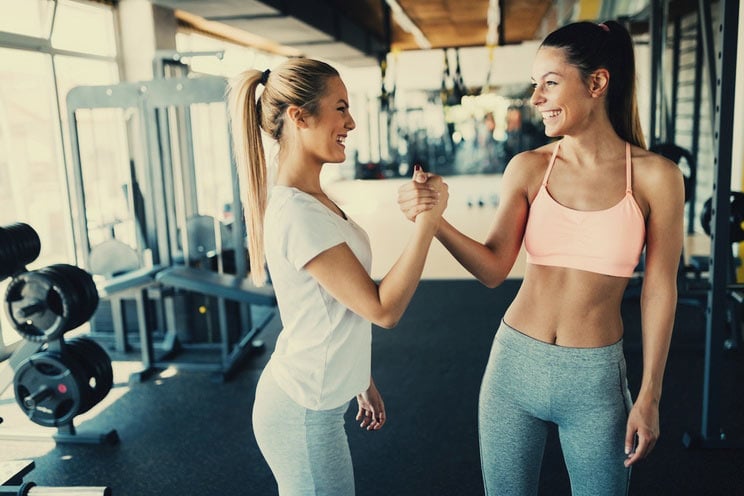 Interestingly, the collagen in bone broth can also help you build muscle and burn fat. The amino acid glycine is also involved in the synthesis of creatine, which your muscles need to fuel your workouts. In addition, studies show glycine protects against skeletal muscle loss and can help stop the expression of genes associated with age-related muscle protein breakdown. Glutamine (another amino acid found in bone broth) can even boost fat loss and aid in glucose metabolism. (13, 14)
---
How to Choose High Quality Bones for Your Broth
Choosing bones for your bone broth is similar to choosing high-quality meat and eggs: you want to make sure the bones are coming from pasture-raised animals free from hormones and antibiotics. These animals are allowed to roam free, eating their natural diets as well as feed that isn't produced from genetically engineered ingredients. This ensures that you have a cleaner, more nutrient-rich bone broth.
Normally, you should be able to see this on the label. However, if you can't find these at your local grocery, contact local butchers. From there, you can ask about their animals, and how they are raised and fed.
You should also look for pieces that aren't common in your grocery, which is easy to do if you go the butcher route. Think of ingredients like chicken feet and necks, which also contain collagen.
---
Gut-Healing Bone Broth Recipe
Deanna Dorman
Gut-Healing Bone Broth Recipe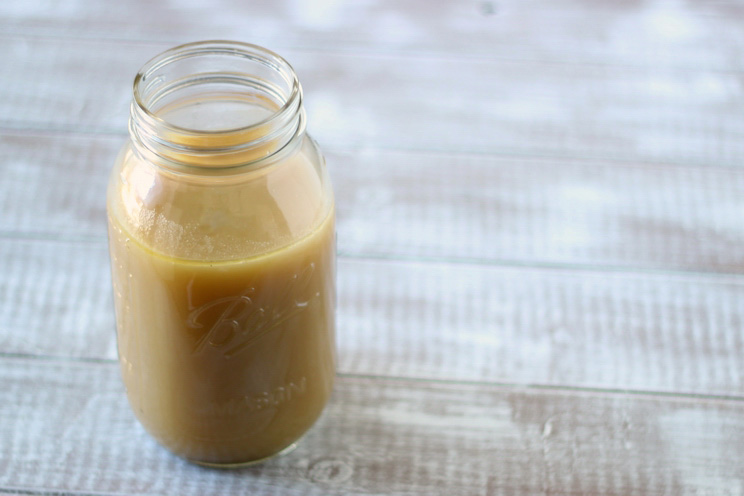 Cook Time:
48 hrs
48 hours
Prep Time:
10 mins
10 minutes
Gut-Healing Bone Broth Recipe
This traditional food contains potent healing benefits for your gut, like helping to improve digestion and heal leaky gut due to its high collagen content.
Ingredients
4 lbs beef bones

12 cups water

2 T apple cider vinegar

1 medium onion, roughly diced

1 1/2 cups carrots, chopped

1 1/2 cups leeks, chopped

3 bay leaves

3-5 fresh rosemary sprigs

6 garlic cloves

1 t black peppercorns
Instructions
Preheat oven to 450 °F and line a baking sheet with aluminum foil. Place the bones on the baking sheet and roast for 40 minutes, flipping halfway through.

Once the bones are cooked place bones in a large stockpot and cover with water. Add the apple cider vinegar and allow to sit at room temperature for about 30 minutes.

Roughly chop the vegetables and add to the stockpot. Bring to a rolling boil and then lower to a simmer.

For the first 2-3 hours, skim any foamy layer that develops on the top and discard.

For beef bone broth, simmer for 48 hours, for chicken bone broth, simmer for 24 hours, for fish broth, simmer for 8 hours.

When ready, cool slightly and strain. Transfer the broth to an airtight container and refrigerate for 4-6 hours or overnight. This will allow the fat to rise to the top and solidify.

Scrape the fat off the top with a spoon. This will leave you with a gelatinous bone broth when cold.

Store in an airtight mason jar or freeze until ready to use. When ready to use, slowly warm the broth over a low heat to bring it back to a liquid consistency.
Ways to Add Bone Broth to Recipes
While the classic bone broth recipe is delicious even with just a little salt and pepper, there are several ways you can mix it up and add it to other recipes for a richer, decadent flavor. See some examples below:
Use bone broth as a soup and stew base. Examples: beef stew, butternut squash and carrot soup, chicken soup, and Paleo chilis.
Braise baked meats in broth as a flavorful alternative to water.
Poach fish in broth for a rich infusion of flavor.
Whip up homemade sauces (like tomato sauce) using broth as the liquid.
(Read This Next: 20 Cozy Bone Broth Mix-Ins
)