Fry up some cabbage with thick-cut bacon pieces for a low-carb dish that works as a side or as a main – either way, you're going to want more.
The best way to eat cabbage is skillet-fried with bacon, because of the slightly crispy edges that form while cooking. I love the taste of charred cabbage, and in this recipe, we're making it extra tasty by using bacon grease to cook the cabbage.
I highly recommend using a cast iron skillet because it cooks more evenly, but if you don't own one, any nonstick skillet should do the job.
Curious about ketosis?
Click here to get the FREE Easy Keto Guide to learn the right way to go keto!
Use Grass-Fed Bacon Instead Of Conventional Bacon
Opt for grass-fed bacon over conventional bacon because pork raised outdoors on a high-oleic acid diet (versus pork raised indoors on a corn or soybean diet) tends to have better omega-3/omega-6 ratio and a higher percentage of monounsaturated fat. It's a better nutritional option, and also more sustainable.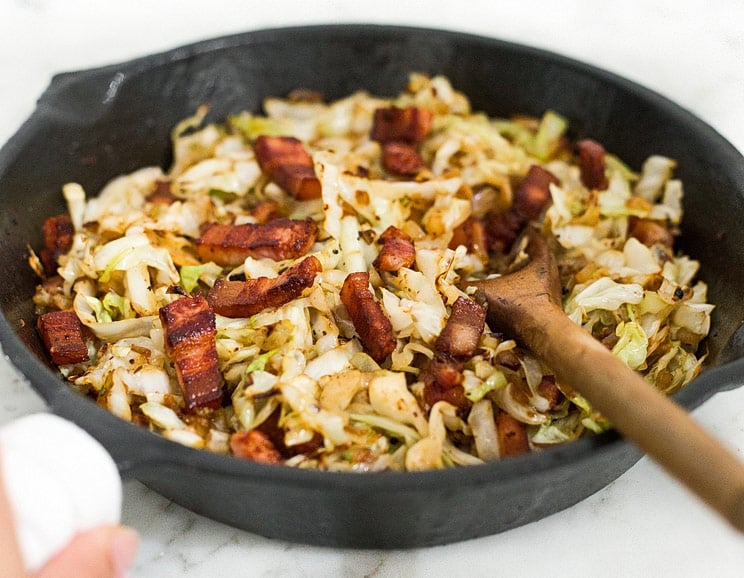 Save The Bacon Grease
One of the things I love about cooking with bacon is that you don't waste anything. I always reserve the rendered bacon grease to cook the rest of the ingredients because the bacon grease imparts a flavor that takes the dish to the next level.
Helpful Tips To Get You Started:
Be careful not to overcrowd the pan. The most important thing you should take note of is not to overcrowd the skillet. I cooked the cabbage in 3 batches to avoid this. Overcrowding the skillet with too much cabbage will create a steamed effect instead of a sautéed effect.
Felicia Lim
Low Carb Bacon-Fried Cabbage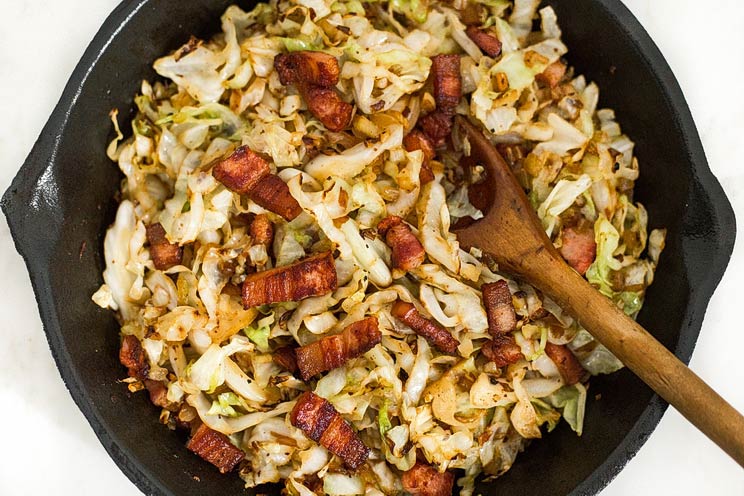 Cook Time:
40 mins
40 minutes
Prep Time:
10 mins
10 minutes
Nutrition facts:
8 grams of protein
12 grams of carbohydrates
8 grams of fat
Low Carb Bacon-Fried Cabbage
Fry up some cabbage with thick-cut bacon pieces for a low-carb dish that works as a side or as a main - either way, you're going to want more.
Ingredients
6 slices thick-cut bacon, cut into 1-inch pieces

1 cup diced onion

1 T minced garlic

6 cups thinly sliced cabbage

1 t salt

2 t ground black pepper
Instructions
In a cast iron skillet over medium heat, sauté the bacon pieces until the grease is rendered and bacon is cooked through and crispy, about 10 minutes. Remove the bacon pieces and set them aside on a paper towel-lined plate.

Reserve the bacon grease and add 2 tablespoons of it back to the skillet. Sauté the diced onions until soft and caramelized, about 5 minutes. Add the minced garlic and cook until the garlic is fragrant, about 1 minute. Set the cooked onions and garlic aside.

Add the remaining bacon grease to the skillet and stir in 2 cups of cabbage and cook until crispy, about 8 minutes. Use a wooden spoon to move the cabbage around occasionally to prevent burning. Set the cooked cabbage aside, and cook the rest of the cabbage in batches.

Once the cabbage is cooked, return the cabbage, onions, and garlic to the skillet. Sprinkle in the salt and pepper and mix well, before finally adding in the cooked bacon pieces. Serve immediately.
Looking for Paleo ingredients? Here's what we recommend:
Black pepper (Frontier)
Enjoy even more cabbage recipe like these Asian-style cabbage wraps and this creamy Paleo coleslaw.