Looking for a caffeine-free alternative to kick your coffee habit? Try this Decaf Dandelion-Cacao Latte. It's easy to make, delicious and really good for you, too.

Could roasted dandelion root tea actually mimic the flavor of coffee? With the addition of antioxidant-packed cacao nibs, yes! This caffeine-free latte not only helps detoxify your body, but also help you kick your Starbucks habit.
The benefit of adding dandelions to your diet is that it has a high level of antioxidants and is a natural detoxifier, protector, and defender against melanoma cancer cells. Additionally, dandelions have a high number of flavonoids, which is great news for your liver and digestive system.
Love Paleo Desserts? Then you'll love our FREE Paleo Dessert Cookbook.
Click here to get your FREE copy of our delicious Dessert Recipes!
So, wake up to something new in the morning and enjoy everything dandelions have to offer with this naturally decadent latte.
Thrive Market
Decaf Dandelion-Cacao Latte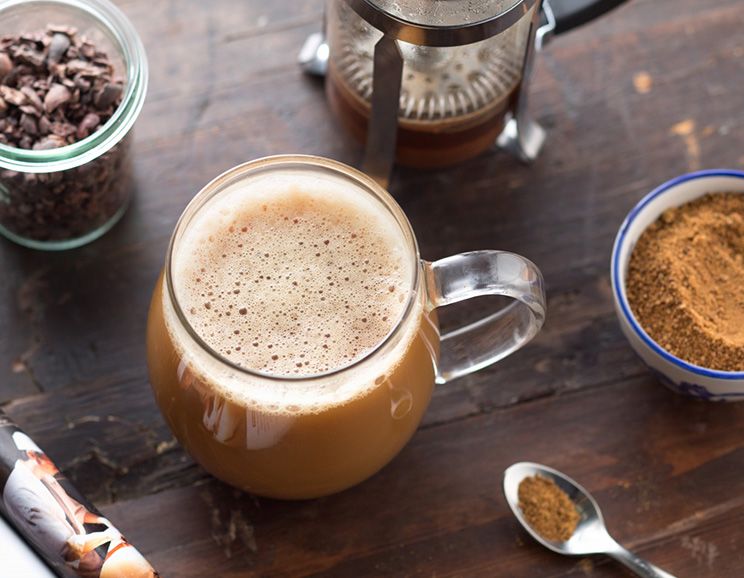 Cook Time:
15 mins
15 minutes
Prep Time:
5 mins
5 minutes
Decaf Dandelion-Cacao Latte
This decadent latte combines roasted dandelion tea, coconut milk, and natural cacao nibs for a soothing drink you can cozy up with.
Tools
French Press

Small Saucepan
Ingredients
2 T cacao nibs, ground

2 bags roasted dandelion tea

3/4 cup coconut milk

1/4 cup water

2 t coconut sugar

1 T coconut oil (optional)
Instructions
Cut open dandelion tea bags, and place the contents and cacao nibs in the bottom of a French press. Bring coconut milk and water to a boil in a small sauce pan over medium heat. Pour into French press. Let steep 10 minutes.

Mix in coconut sugar and coconut oil, if using, and pour into cups to enjoy warm.
(You'll Also Love: Supercharged Moringa Latte Recipe)