Chicken drumstick "lollipops" get dipped in a rich, grain-free batter and baked until crispy!
These curried chicken pops are baked, not fried, making for a healthier and easier version of a classic appetizer.
To transform chicken drumsticks into a lollipop shape, simply make a cut at the lower part of the leg using kitchen shears or a sharp knife. Use your hands to pull the meat upwards, turning them inside out.
Want to go Paleo? Not sure where to start?
Start with this FREE Paleo For Beginners Guide Today!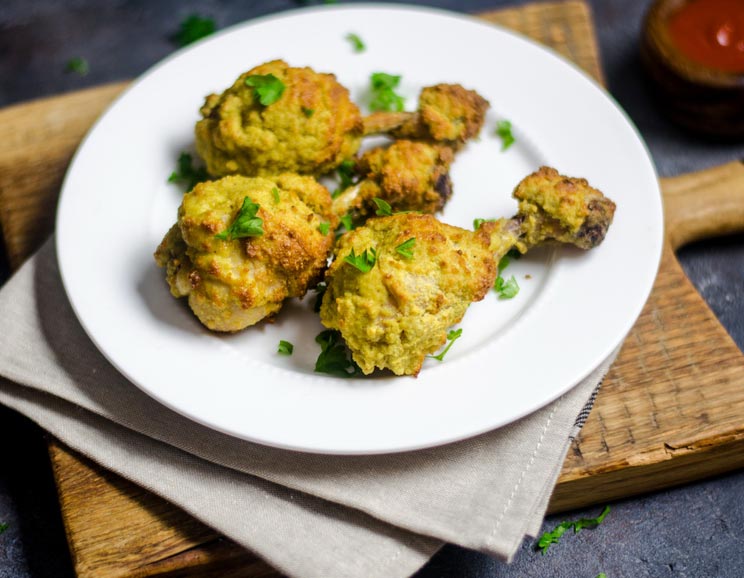 The curried batter is made with coconut milk, almond flour, coconut flour and a blend of warm spices. We used curry, cumin and garlic, but you could also add chili powder for a little more spice. Lemon juice is added to tenderize the chicken proteins, while the grain-free flours help create a crust on the outside that keeps the chicken moist and tender on the inside.
Dredge the drumsticks in the batter and place on a wire rack over a parchment paper-lined baking sheet. If you don't have a wire rack, you can lay them on a foil-lined baking pan instead. Bake at 425°F for 20-25 minutes for a nice crispy crust.
Dina Hassan
Baked Crispy Chicken Lollipops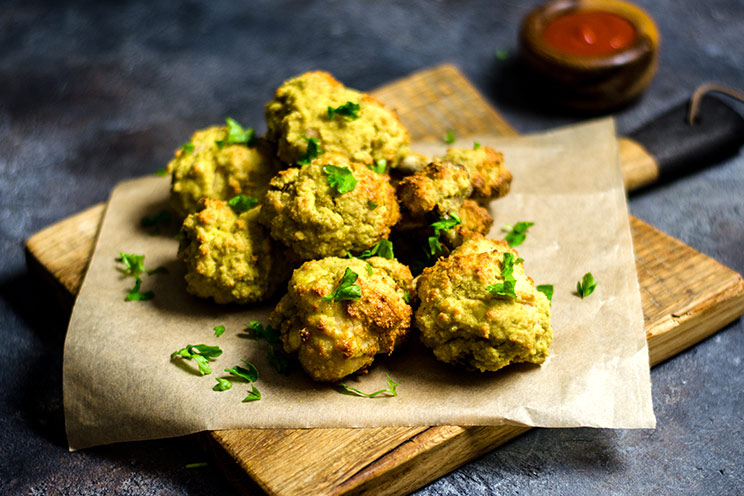 Cook Time:
25 mins
25 minutes
Prep Time:
10 mins
10 minutes
Baked Crispy Chicken Lollipops
Chicken drumstick "lollipops" get dipped in a rich, grain-free batter and baked until crispy.
Tools
Baking sheet

Parchment paper

Wire rack

Kitchen scissors

Large mixing bowl
Ingredients
1 lb chicken drumsticks

1 cup almond flour

⅛ cup coconut flour

1 t baking soda

2 t curry powder

1 t cumin

1 t garlic powder

Salt and pepper, to taste

2 eggs

1 cup coconut milk

1 T lemon juice

Chopped fresh parsley, for garnish
Instructions
Preheat the oven to 425°F. Line a baking sheet with parchment paper and place a wire rack on top of it.

Clip the skin from the bottom of each drumstick with kitchen scissors and fold it up, forming a lollipop shape. Pat dry with a paper towel.

In a large mixing bowl, combine the almond and coconut flours, baking soda, curry, cumin, garlic powder, salt and pepper.

Add the eggs, coconut milk and lemon juice. Mix until combined.

Dip the chicken into the batter one at a time, and place on the prepared baking rack.

Bake in the preheated oven for 20-25 minutes or until the chicken reaches an internal temperature of 165°F. Remove from the oven and serve garnished with chopped fresh parsley.
Looking for Paleo ingredients? Here are a few we'd recommend:
Almond flour (Bob's Red Mill)
Coconut flour (Nutiva)
Coconut milk (Native Forest)
(You'll Also Love: Lamb Lollipops Drizzled in Garlic-Parsley Sauce)