The most nutritious breakfasts come from throwing everything into a big bowl, mixing it up, and digging in with a fork. It's certainly the case with this tasty Paleo fruit salad!  
While honey is an optional ingredient in this recipe, I strongly recommend trying it at least once. It's a great anti-inflammatory ingredient and carries plenty of nutrients. Adding honey with cinnamon has additional benefits to improve your health. It can strengthen your immunity, boost energy levels, and help with weight loss.
Love Paleo breakfast recipes? Get our free breakfast recipe cookbook here!
So, get ready for your new go-to recipe because this Paleo fruit salad is simple and totally customizable! You can switch up melons in place of apples or kiwis instead of grapes. Whatever your heart desires, you're encouraged to switch it up.
Rebecca Maclary
Paleo Fruit Salad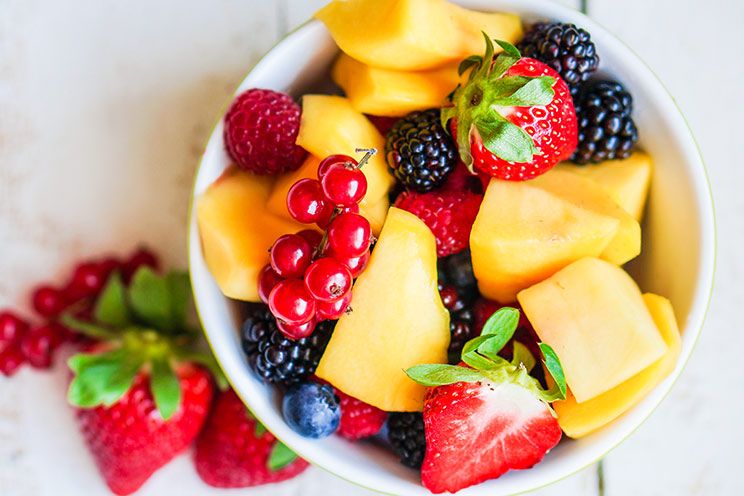 Prep Time:
5 mins
5 minutes
Paleo Fruit Salad
A simple combination of delicious fruits to jumpstart your morning nutrition with minimal effort.
Ingredients
1 large red apple, diced

1 peach, peeled, pitted, and diced

1 -2 cups mixed berries (blueberries, blackberries, strawberries, etc.)

2 bananas, sliced

¼ lb red grapes, halved or whole

1 cup pineapple, sliced

Freshly squeezed juice of ½ a lemon or lime (I prefer lime)

1 – 2 Tbsp raw honey (optional)

sprinkle of cinnamon (optional)
Instructions
Peel, pit, slice, and dice your fruits as prescribed.

Gently mix together your prepared fruits in a large mixing bowl until everything is evenly distributed.

Drizzle with honey and cinnamon if desired.

Serve with a generous squeeze of citrus juice and enjoy!
Tips:
This healthy fruit salad helps curb afternoon sweet-tooth cravings and boosts your nutrition with minimal effort!
Try different fruit combinations based on seasonal and regional availability.
(You'll Also Love: 11 Best Breakfast Foods for Digestive Health)