This paleo taco salad is a tasty way to lighten things up!
This recipe's seasoned taco meat is made with warm spices like cumin, chili powder, and paprika. For the dressing, you have a zesty combo of fresh limes, raw honey, and a hint of orange. Finally, there's a crisp chopped salad that includes leafy romaine, buttery avocado, and pico de Gallo for added spice.
You can prepare all the ingredients ahead of time for easy meal planning. Just cut and peel all your veggies, separate your spices in a separate container, and begin cooking when ready.
Want to go Paleo? Not sure where to start?
Start with this FREE Paleo For Beginners Guide Today!
Did we mention all the health benefits included in this dish? Cilantro is a great way to start cooking with herbs. It's packed with plenty of vitamins that'll keep your digestion system on track and can help cleanse away toxic chemicals from your body. Not only that, but leafy greens and avocados are great foods to eat for weight loss.
So switch up your lunch for this light and fit Paleo version instead.
Deanna Dorman
Paleo Taco Salad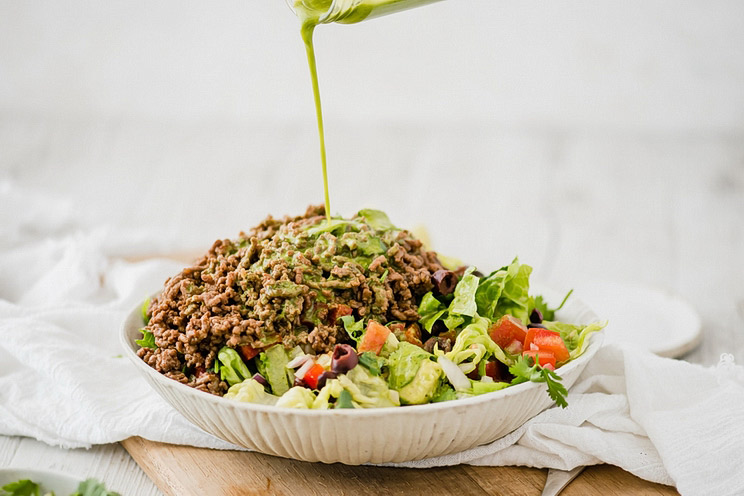 Cook Time:
15 mins
15 minutes
Prep Time:
10 mins
10 minutes
Nutrition facts:
27 grams of protein
21 grams of carbohydrates
31 grams of fat
449 calories
Paleo Taco Salad
Make taco night a weekly tradition in your home with this paleo taco salad recipe.
Tools
Large skillet

Food processor or blender
Ingredients
For the Taco Meat:
½ t ground cumin

2 t paprika

1 t onion powder

½ t garlic powder

1 T chili powder

¼ t cayenne pepper

1 T extra virgin olive oil

1 lb ground beef
For the Cilantro Lime Dressing:
1 cup fresh cilantro, loosely packed

Juice from 1 orange

Juice from 1 lime

1 T raw honey (optional)

¼ t ground cumin

⅛ t salt

2 T extra virgin olive oil

⅛ t black pepper
For the Salad:
1 head Romaine lettuce, washed and roughly chopped

1 avocado, peeled, pitted and diced

2 cups fresh cilantro leaves, loosely packed

Half of a small red onion, halved and thinly sliced

1 red bell pepper, diced

½ cup pico de gallo or chunky salsa

Sliced olives
Instructions
Combine spices for taco meat in a small bowl and set aside.

Heat extra virgin olive oil in a large skillet over a medium high heat. Add beef and and cook 7-8 minutes, breaking up the beef with the back of a spoon.

Add taco meat spices to the beef and cook another minute or two until the beef is cooked through. Remove from heat and set aside.

Add all ingredients for cilantro lime dressing into a food processor or blender and blend until smooth. Set aside.

Toss all salad ingredients together until combined. Top with taco meat, drizzle with the dressing, and serve.
Looking for Paleo ingredients? Here are a few we'd recommend:
Paprika (Simply Organic)
Garlic powder (Frontier)
Onion powder (365 Everyday Value)
Cayenne pepper (Simply Organic)
Olive oil (Sky Organics)
Raw honey (Bee Farms)
Black pepper (Frontier)
You'll Also Love: 21 Perfect Paleo Salad Recipes