Swap out the mayo in this keto avocado egg salad bursting with essential antioxidants.
Whip up this easy dill egg salad in just five minutes. It makes for a satisfying, keto-friendly lunch or post-workout snack!
Mashed avocado stands in for the mayo for a creamy element that holds this egg salad together. Avocado also promotes weight loss by regulating your blood sugar and aiding in digestion, making this easy swap a no-brainer.
Curious about ketosis?
Click here to get the FREE Easy Keto Guide to learn the right way to go keto!
More Recipes to Swap in Avocado:
Add to chicken or tuna salad in place of mayo
Use in salad dressings that call for mayo or yogurt
Mix into pesto instead of cheese
Use in Alfredo sauce in place of cream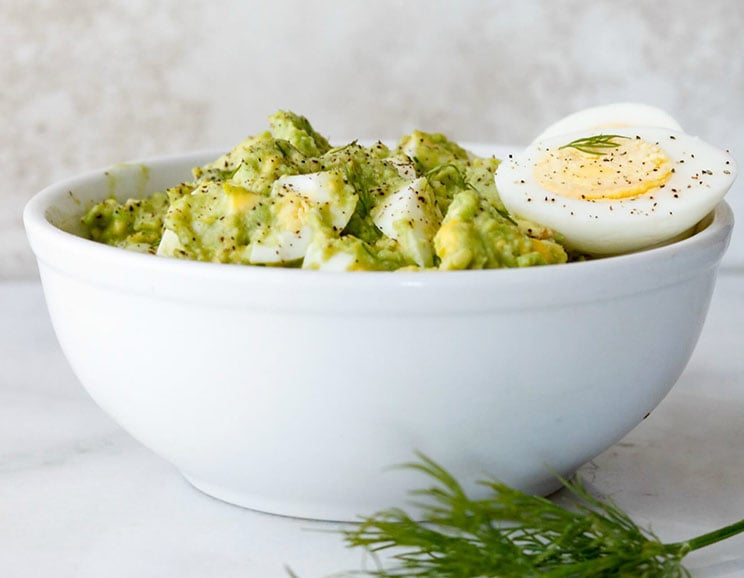 Eggs are a great source of protein, healthy fats and CLA, making it one of the best satiating foods you can eat on keto! We recommend making a batch of hard-boiled eggs every week for easy meal prep. P.S.: Check out these easy egg hacks to learn how to make hard-boiled eggs without boiling water.
Start by mashing two ripe avocados with lemon juice and olive oil in a mixing bowl. Tip: You can use apple cider vinegar in place of lemon juice for similar acidity. You can leave the mixture slightly chunky or smooth, depending on your preference. Next, chop hard-boiled eggs and mix well with the avocado mixture. Season with fresh dill, salt, and pepper. You can use green onions, chives or basil in place of dill if you prefer.
Enjoy your mayo-free egg salad on Bibb lettuce cups or on top of your favorite keto bread! Store leftovers in the refrigerator for up to 24 hours.
Jennafer Ashley
No-Mayo Avocado Egg Salad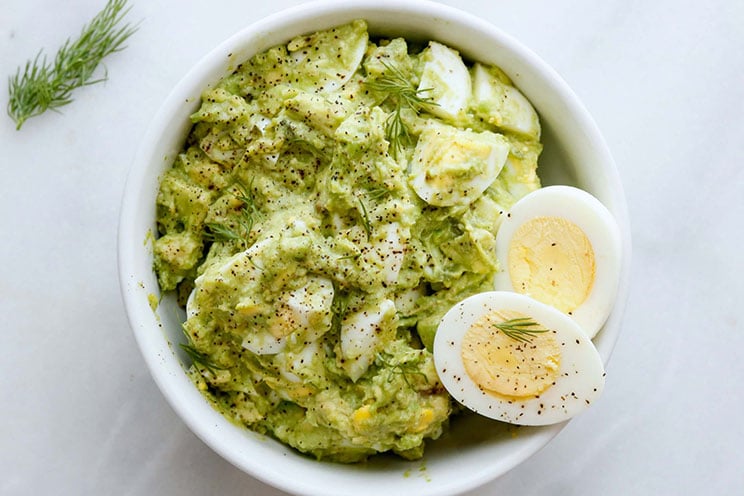 Prep Time:
5 mins
5 minutes
No-Mayo Avocado Egg Salad
Swap the mayo for creamy avocado in this keto egg salad bursting with essential antioxidants.
Ingredients
2 medium ripe avocados

1 T lemon juice

1 T olive oil

6 hard-boiled eggs, chopped

Small handful of fresh dill

1/4 t sea salt

1/4 t black pepper
Instructions
Mash avocado, lemon juice and olive oil in a mixing bowl.

Add hard-boiled eggs and gently stir to combine.

Season with dill, salt and pepper. Enjoy!
Watch the Recipe Video Below!

Looking for Paleo ingredients? Here's what we recommend:
Extra virgin olive oil (Sky Organics)

(You'll Also Love: Shrimp and Avocado Salad with Light Cilantro Dressing)