This Ahi Tuna Salad recipe takes a classic dish and turns it into a perfect Paleo salad with a few little tweaks.
When making ahi tuna, it's important not to overcook the fish. You'll only want to sear the tuna about a minute per side, tops.
A simple dressing of lime juice, coconut aminos, olive oil, wasabi powder, salt and pepper really makes this dish shine.
Serve over a bed of lettuce, and enjoy!
Want to learn more about Paleo and how it can help you? Grab our FREE "What Is Paleo?" Guide by Clicking Here!
Deanna Dorman
Paleo Ahi Tuna Salad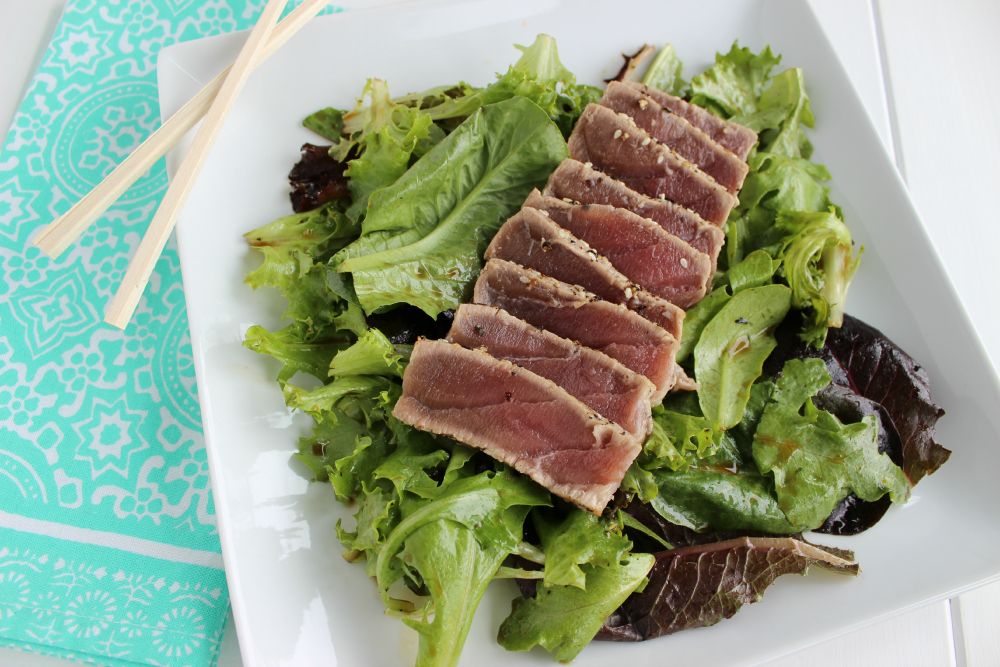 Cook Time:5 mins 5 minutes
Prep Time: 5 mins 5 minutes
Paleo Ahi Tuna Salad
Ingredients
Juice from 2 limes
1 tablespoon coconut aminos
1 tablespoon olive oil
1 tablespoon wasabi powder
Salt and pepper to taste
5 ounces mixed baby lettuce
1 pound fresh ahi tuna steaks
½ teaspoon coarse ground black pepper
½ teaspoons sesame seeds
Dash cayenne pepper (optional)
2 tablespoons coconut oil
How To Make It:
1. In a small bowl whisk together lime juice, coconut aminos, olive oil, wasabi powder, salt and pepper to taste.
2. In a large bowl, drizzle dressing over the baby lettuce and toss.
3. Season each side of the tuna steaks with black pepper, sesame seeds, and cayenne.
4. Preheat coconut oil in a large skillet over medium-high heat.
5. Carefully lay tuna steaks in the skillet and sear for 30-60 seconds on each side, and remove from the skillet.
6. On a cutting board using a sharp knife, slice tuna steaks into quarter inch slices.
7. Arrange tuna slices over a bed of lettuce and enjoy.
(You'll Also Love: Tuna and Avocado Boats)
Lose weight, fight inflammation, and soothe your digestion with delicious meals like juicy skirt steak with cucumber & radish salad, succulent pulled pork, and more!
FREE Cookbook:
80 Gourmet Paleo Recipes from
a Professional Chef trained at Le
Cordon Bleu in Paris
FREE Cookbook:
80 Gourmet Paleo Recipes
from a Professional Chef
trained at Le Cordon Bleu
in Paris