There's nothing better than eggs for breakfast, especially when they're made ahead of time. This simple egg bake is hassle-free and will come in handy when you have to cook for large families or friendly gatherings.
Let's say you have friends or family coming into town. You could go out to breakfast and drop tons of cash OR you could make an easy egg bake dish for way less and feed up to four people! It's kind of a no-brainer recipe to save you money.
If you've been on an egg kick recently, this dish will satisfy all your protein needs. But if you're used to non-paleo foods for breakfast (i.e. cereal every single morning), your body could benefit from an extra helping of protein. Plus, you'll love how delicious and customizable they are to make! You can even add in additional toppings to this casserole — including tomatoes, peppers and onions. It's a simple yet flavorful way to spice things up a notch.
Love Paleo Breakfasts? Then you'll love our FREE Paleo Breakfast Recipes.
Click here to get your FREE copy of our delicious Breakfast Recipes!
Additionally, any dish including bacon takes any recipe from good to great. They offer a savory salty crunch that pairs perfectly with egg combos.
So what are you waiting for? Prep this bake ahead of time and have a filling breakfast ready in no time!
Erin Druga
Paleo Egg Bake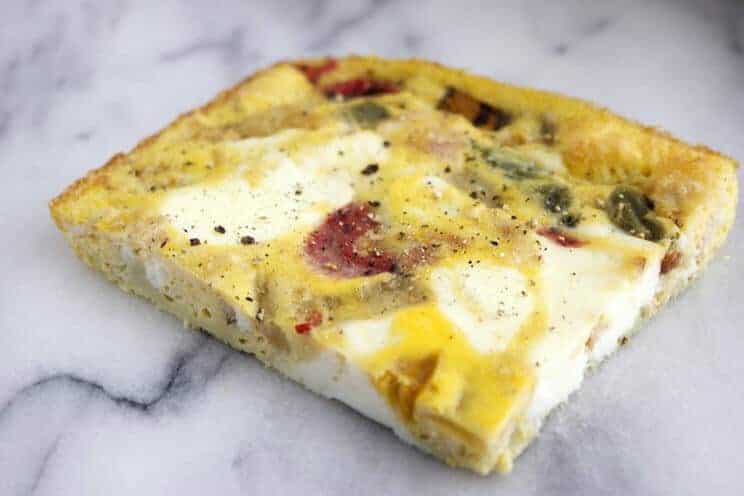 Cook Time:
7 mins
7 minutes
Prep Time:
30 mins
30 minutes
Paleo Egg Bake
Enjoy this egg-tastic recipe you can easily whip up for the entire family!
Tools
Whisk

Large Mixing Bowl

Skillet
Ingredients
8 eggs

3 slices bacon

½ cup peppers

¼ cup onions

Pepper to taste
Instructions
Preheat oven to 350°.

Whisk eggs together in a large bowl and set aside.

Cook 3 slices of bacon over skillet.

While bacon is cooking, chop peppers and onions.

Add peppers and onions to eggs.

Once bacon done, remove from heat, wait 5 minutes or so until cooled a bit and break into tiny pieces, add bacon to eggs.

Grease a baking dish with a bit of coconut oil and pour eggs into dish; set into oven and bake for at least 30 minutes. (Every oven is different, so be sure to keep an eye on your eggs. You may need to leave them in for an additional 5-10 minutes.)

Cut and enjoy!
(You'll Also Love: Easy Bacon and Egg Muffins)
Eat cinnamon apple-crusted doughnuts… zesty lemon scones… and even breakfast chili all while staying healthy with the Paleo diet!
Enjoy 101 delicious Paleo
Breakfast recipes that melt fat, fight inflammation, and keep
you healthy
Enjoy 101 delicious Paleo
Breakfast recipes that melt
fat, fight inflammation, and
keep you healthy