Spicy Jalapeño Bacon Deviled Eggs made creamy with nutritional yeast and packed with savory flavor! Add crumbled bacon and chives for a healthy appetizer or snack!
One of my favorite things to do is recreate Paleo versions of my favorite classic foods, and deviled eggs are no exception.
Deviling adds a creamy texture and punch of flavor to regular hard boiled eggs. Since I can never say no to a little spice, jalapeño was the perfect ingredient to make these deviled eggs stand out.
Want to go Paleo? Not sure where to start?
Start with this FREE Paleo For Beginners Guide Today!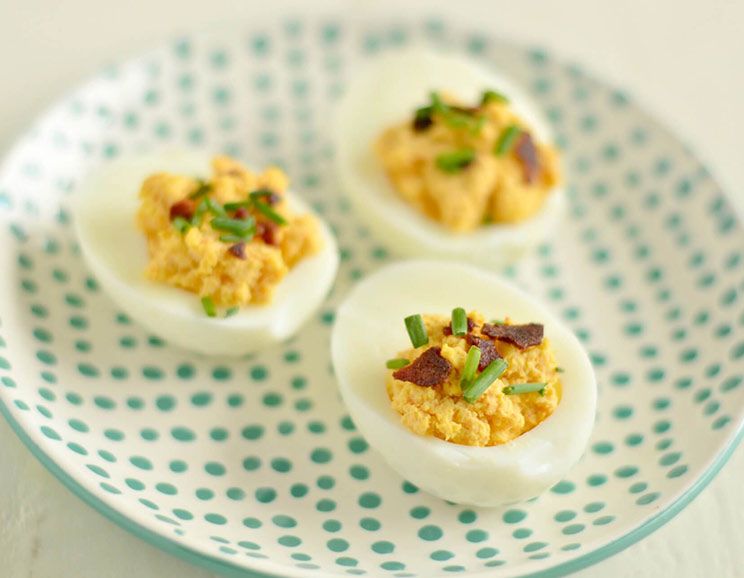 Adding nutritional yeast gave them that extra creamy texture that resembles cheese. From there, adding crispy bacon was a must—especially if you're a bacon fiend like me. Then sprinkle fresh chives on top and you have savory yumminess in these jalapeño bacon deviled eggs!
Now who's ready to put the "devil" in their eggs?
Megan Olson
Spicy Jalapeño Bacon Deviled Eggs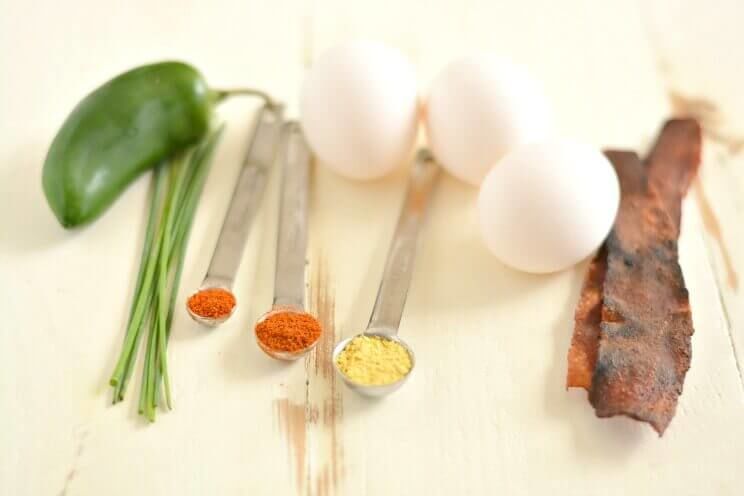 Cook Time:
45 mins
45 minutes
Prep Time:
15 mins
15 minutes
Spicy Jalapeño Bacon Deviled Eggs
These jalapeño deviled eggs are made with creamy nutritional yeast and packed with savory bacon flavor!
Ingredients
3 large eggs

2 slices cooked bacon, crumbled for topping

1 jalapeño, sliced lengthwise with seeds and ribs removed

½ t nutritional yeast

¼ t paprika

¼ t cayenne pepper

3-4 sprigs chives, chopped for topping

Salt and pepper to taste
Instructions
Bring eggs to a boil and simmer on medium-high 5-6 minutes. Drain water and place eggs in a bowl of ice water to cool 2-3 minutes. (See further egg peeling tips below!)

After peeling the eggs, slice them in half lengthwise. Remove yolks and place in a blender.

To the yolks, add jalapeño, nutritional yeast, paprika, cayenne pepper, salt and pepper.

Blend on high until a chunky, creamy mixture appears. Note: if it's too sticky, blend a little almond or coconut milk in the mixture to break it up.

Using a spoon, gently scoop the yolk mixture into each egg cavity.

Sprinkle crumbled bacon and chopped chives on top of each egg.
Pro Tip: There's a simple technique to boiling and peeling the eggs. First, place the eggs in a pot of lukewarm water and bring them to a boil. That way the eggs aren't being jolted into a boiled pot of water, which can make them crack. After boiling, immediately transfer them to a bowl of ice water, then cool at room temperature 30 minutes or more before peeling. Doing this will make your eggs much easier to peel!


(You'll Also Love: Buffalo Bacon Deviled Eggs)