Cook up a fragrant, one-pan dinner with tender chicken smothered in a creamy paprika sauce.
Made with fresh tomatoes, onions, and sweet paprika, this recipe is the perfect comfort food for cooler months and reheats easily for busy nights.
Chicken paprikash is a traditional Hungarian dish that's simmered in broth and topped with sour cream. As a dairy-free alternative, coconut cream replaces sour cream for a creamy texture that complements the tomatoes and broth. Its signature sauce is heavily spiced with sweet paprika for a vibrant red hue and bold aroma.
Love slow cooker recipes?
Click here to get your FREE copy of our delicious Slow-Cooker Recipes!
To get started, melt one teaspoon of ghee in a medium skillet and season the chicken thighs with salt and pepper. Add the seasoned chicken to the hot pan and cook for four minutes on each side. Set aside on a plate and begin prepping the sauce. Note: It's okay if the chicken thighs are still a bit raw in the center. They will finish cooking in the sauce later.
Next, melt the remaining ghee in the same skillet and stir in the onion. Sauté for about five minutes, or until the onion is soft and translucent. Then, add in the garlic and cook for one additional minute before stirring in the paprika, chicken stock, and coconut cream. Add the tomatoes and chicken thighs in last and let everything simmer for 20 minutes. During this process, the tomatoes will release extra liquid into the sauce as they cook down.
When ready, serve the chicken thighs warm with plenty of sauce spooned on top! You can also enjoy it topped over spaghetti squash (this recipe is super easy) or add in extra veggies like bell peppers or carrots.
Jennafer Ashley
One-Pan Paleo Chicken Paprikash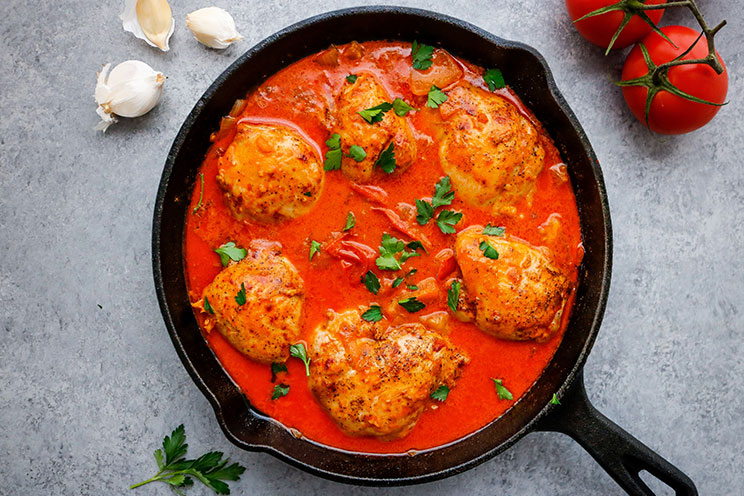 Cook Time:
40 mins
40 minutes
Prep Time:
5 mins
5 minutes
One-Pan Paleo Chicken Paprikash
Cook up a fragrant, one-pan dinner with tender chicken smothered in a creamy paprika sauce filled with healthy fats.
Ingredients
2 t ghee, divided

2 lbs boneless, skinless, chicken thighs

1/2 t sea salt

1/4 t ground black pepper

1 small sweet onion, chopped

1 t minced garlic

1 T sweet paprika

1/2 cup coconut cream

1/3 cup chicken stock

1 cup diced tomato

1/2 cup chopped parsley
Instructions
Heat 1 teaspoon of ghee over medium heat in a cast iron skillet for 2 minutes. Blot the chicken thighs dry with a paper towel and season on both sides with salt and pepper. Place the chicken in a skillet and cook for 4 minutes on both sides. Remove from the pan and set chicken aside on a plate.

Add the remaining teaspoon of ghee into the skillet and stir in the onion. Sauté for 6 minutes, then add the garlic. Continue cooking for an additional minute.

Stir in the paprika, coconut cream, and chicken stock, mixing well until fully blended. Add in the tomatoes and chicken thighs, then let it simmer for 20 minutes.

Add plenty of sauce on top and garnish with parsley.
Looking for Paleo ingredients? Here are a few we'd recommend:
Ghee (Pure Indian Foods)
Sea salt (REDMOND)
Black pepper (Frontier)
Paprika (Simply Organic)
Coconut cream (Native Forest)
(You'll Also Love: One-Pan Crispy Chicken Thighs + Tomato Cauliflower Rice
)
Enjoy amazing walnut muffins… savory omelets… banana cookies… and even chocolate! Eat your favorite foods and stay fit and healthy at the same time.
Get started on your Paleo
weight-loss journey today
with our beginner-friendly PaleoHacks Cookbook
Get started on your
Paleo weight-loss
journey today with
our beginner-friendly
PaleoHacks Cookbook