Long before it was used as a smoky garnish for deviled eggs, paprika – the powdered form of various types of dried red peppers – was quite literally hanging out as a fruit in Central America, waiting to be plucked for use as a seasoning and for its medicinal properties.
Once the peppers hit the trade routes, they made their way to Hungary, where variations of the word "paprika" became the universal way to describe the smoky spice.
Paprika became popular in Hungarian cuisine over the years, where the varieties hailing from the region are still considered the finest you can buy. However, quality paprika isn't limited to Hungary, as it's also a major spice used throughout Spain, Turkey, Slovakia, and Romania to name a few, and is grown all over the world in many different climates. (1)
It's not just a sweetener -- it's medicine, too! Discover The Benefits of Nature's Superfood: Honey
Click here to get your FREE copy of our Honey Guide!
Research reveals that this smoky spice has a lot more to offer than just flavor. Read on to discover its amazing health benefits.
Benefits of Paprika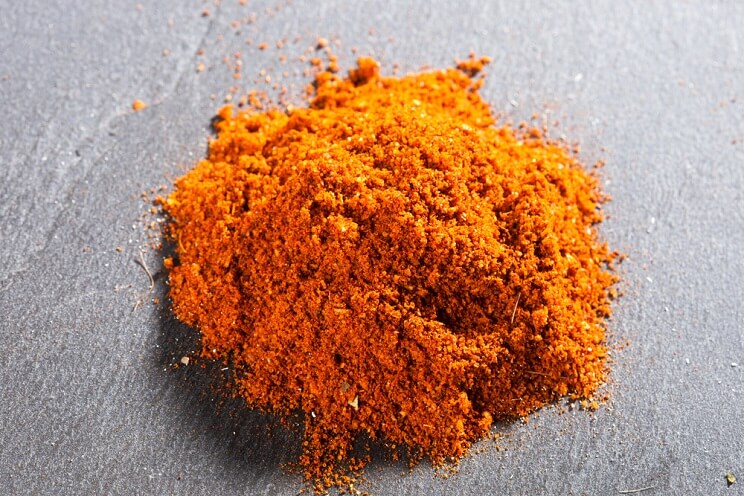 The benefits of this powdered pepper extend far beyond being a simple palate pleaser. You'll be surprised at how far-reaching these benefits can be, since paprika tends to receive less attention than other "super spices" like turmeric and ginger.
1. Paprika Boosts Skin Health
Typically when we think of foods that give us glowing, youthful skin, we think of bright-colored fruits and veggies such as strawberries, blueberries, avocados, spinach, and other leafy greens. There's a reason for this, and it actually has a lot to do with those vibrant, deep pigments present in these nourishing foods.
These pigments are referred to as carotenoids, which are types of pigments that act as powerful antioxidants and free-radical scavengers in the body. Free-radicals account for most of the aging effects we see in our skin, so including more free-radical fighting carotenoids in our diet helps keep skin supple and youthful.
Paprika contains the powerful carotenoid beta-carotene, which accounts for its deep reddish hue. (2) Beta-carotene acts as a strong antioxidant and anti-inflammatory, making it excellent for keeping skin smooth and fighting wrinkles. As a bonus, beta-carotene has also been shown to protect the skin from oxidation due to ozone and sunlight exposure. (3)
2. Paprika Improves Eye Health
Paprika is also rich in several compounds crucial to eye health, including lutein, zeaxanthin, vitamin A, and vitamin B6.
Lutein and zeaxanthin, which give orange, yellow, and red foods their vibrant hues, have been shown to protect our eyes from various sources of harmful light, while also reducing the risk of cataracts and age-related macular degeneration. (4) Vitamin B6 (in combination with vitamin B12 and folic acid) has also been shown in studies to reduce the risk of age-related macular degeneration. (5)
3. Paprika Fights Free Radicals and Inflammation
Paprika's free-radical fighting power is not only beneficial for your skin, but also for fighting DNA damage throughout your body. It does this by scavenging free-radicals (those little pro-aging molecules that we spoke of earlier that damage healthy DNA), which helps reduce inflammation and lowers your risk for cancer and other diseases. (6)
Alongside lutein, zeaxanthin, and beta-carotene, paprika contains another carotenoid called beta-cryptoxanthin, which has been shown to reduce the risk of developing inflammatory diseases like rheumatoid arthritis. (7)
4. Paprika Has Anti-Cancer Properties
Paprika contains another compound present in most red, spicy peppers: capsaicin.
Capsaicin is a phytochemical that not only gives peppers their heat, but also several potent anti-cancer properties. (8) These include inhibiting cancer growth and killing cancer cells, with one study showing that capsaicin caused 80 percent of prostate cancer cells to begin the apoptosis, or death, process. Researchers also discovered during the same study that prostate cancer tumors "treated with capsaicin were about one-fifth the size of tumors in non-treated mice". (9)
Other carotenoids in paprika have also been found to "exert a potent inhibitory effect on colon carcinogenesis", showing that these compounds can possibly be used against different types of cancer cells. (10)
5. Paprika Promotes Healthy Cholesterol Levels
Another major carotenoid in paprika is capsanthin. While it hasn't been as widely studied as the other carotenoids in paprika, it was found in one study to significantly increase HDL (good) cholesterol in as little as two weeks. (11) Talk about a tasty way to keep your good cholesterol running strong!
---
How to Use Paprika
Paprika as a spice adds a smoky richness to a number of dishes. It's particularly delicious when added to a Paleo chili or to a meat rub for extra smoke flavor. Feel free to add a dash to the following dishes:
Stews
Savory sauces
Meats
Seafood
Grilled veggies
Cauliflower rice
Homemade condiments (ketchup, mayo, BBQ sauce)
To start using paprika, try our easy spice rub below. It's perfect for creating a balanced sweet and smoky spice blend to meat and seafood dishes!
Tip: Another thing to keep in mind when using paprika is that most of the carotenoids it contains are fat-soluble, meaning they need to be consumed with a healthy fat in order to enhance their absorption. This is easy to do if you're consuming grass-fed meats or fish, but if you're using paprika in a dish with little or no fat, try adding a couple teaspoons of extra virgin olive oil or ¼ avocado to make sure you're getting the most out of this spice.
Megan Patiry
Sweet and Smoky Spice Rub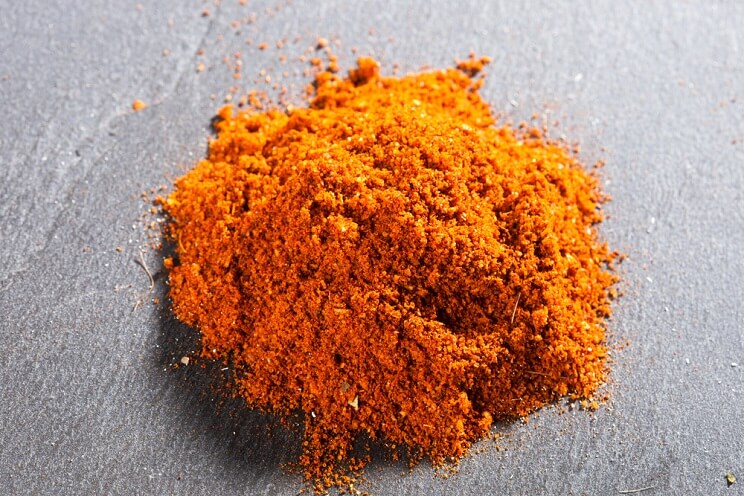 Prep Time:
5 mins
5 minutes
Sweet and Smoky Spice Rub
This easy spice rub is perfect for creating a balanced sweet and smoky flavor to meat and seafood dishes!
Tools
Small bowl

Glass container
Ingredients
1/4 cup paprika

2 T chili powder

2 T ground cumin

1 t mustard powder

2 t sea salt

1 t black pepper
Instructions
Combine all ingredients in a small bowl.

Rub onto meat before cooking or add to stews for a sweet and smoky flavor.

Store in a small glass container.

(Read This Next: The Easy Guide to Spices)