Nothing is more satisfying after a delicious meal than easy cleanup. This herb chicken recipe packs a ton of fresh lemon flavor all in one skillet.
It's a great dish to make for an at-home date night, and you won't spend precious time in the kitchen cleaning afterwards.
One-pan recipes are also perfect for busy work weeks when you want to whip up something healthy after work without a big mess to clean up after.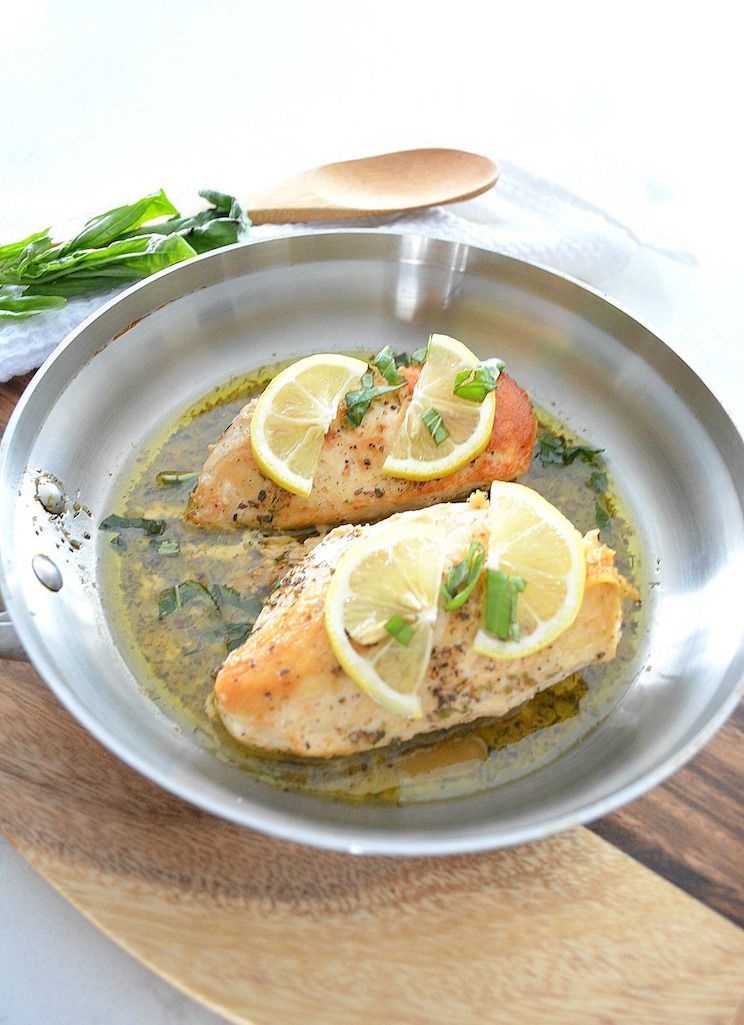 This is a well-rounded dish with a hearty protein source from pasture raised organic chicken. Chicken raised this way, allowed to peck on grass and nourishment from the earth is the way nature intended. Many farms typically feed vegetarian diets to their chickens (because it's cheap), which sounds healthy, but this type of diet is typically high in soy and corn.
Trying to figure out exactly what to eat on Paleo?
Look no further than our FREE 21 Day Paleo Meal Plan
These two ingredients are not what chickens would eat by nature, if left to roam. Soy and corn are both difficult for chickens to digest and create vitamin deficiencies which lead to abnormal bone growth and an overall unhealthy chicken. As with all Paleo products, purchase your chicken from reputable sources that can inform you on just how the chickens were fed.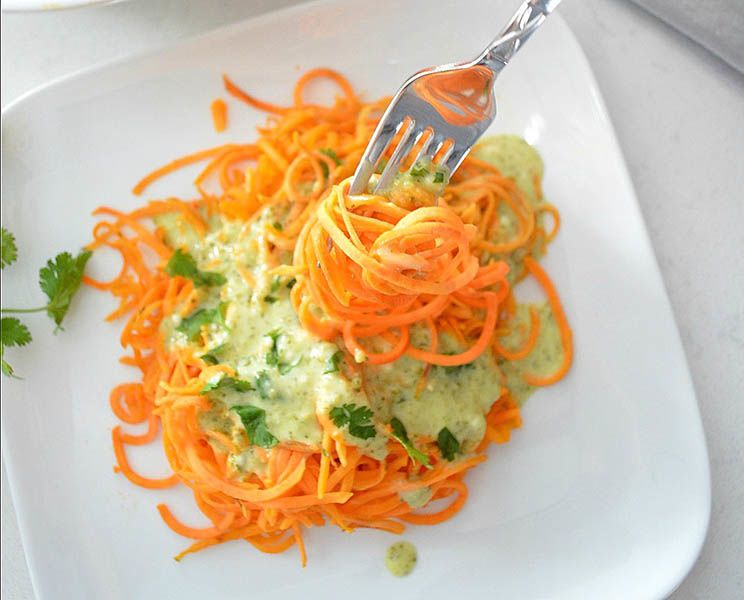 The sauce is full of tangy herb goodness with a squeeze of lemon. Using a citrus acid like lemon helps to cut back the need for salt as well. Grass-fed butter and olive oil help create a delicious texture to the sauce without adding cream. I like a lot of vegetables with my meals, so I roasted up some carrots, squash, and beets and served the herb chicken on top. This really turns the dish into a full meal. Simply roast your vegetables and place the chicken breasts on top, then pour over the sauce from the pan.
Jennafer Ashley
One-Pan Lemon and Herb Chicken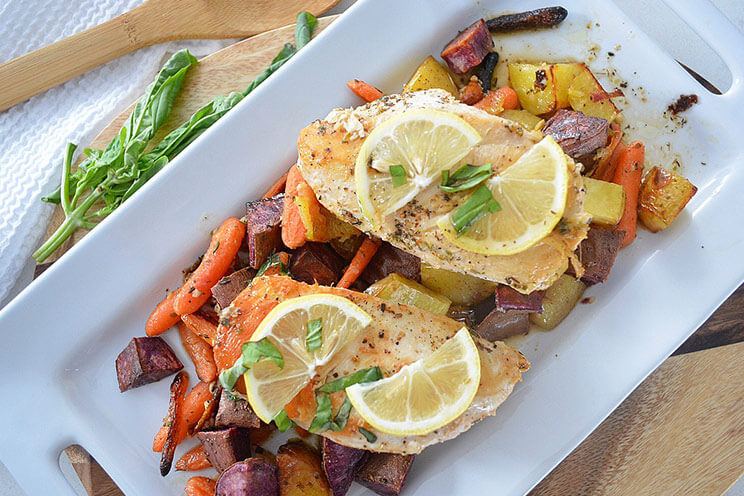 Cook Time:
30 mins
30 minutes
Prep Time:
5 mins
5 minutes
One-Pan Lemon and Herb Chicken
This one-pan skillet includes chicken breast, oregano, and lemon juice for a zesty dish you can't resist.
Ingredients
2 chicken breasts

Black pepper to taste

2 T grass fed butter

1/2 cup chicken broth

2 T fresh lemon juice

1 t garlic

2 lemon slices

1 t dried oregano

2 T fresh basil, chopped

1/2 t dried thyme

2 T olive oil
Instructions
Heat olive in a large pan over medium heat. Season chicken with salt and pepper to taste. Place chicken breasts in pan and allow to cook until golden brown on one side, about 10 minutes.

Reduce heat. Turn chicken over. Add butter and garlic. Cook 5 minutes longer.

Add chicken broth, lemon juice and dried herbs. Stir and scrape up any bits that are stuck to pan (they add great flavor). Cook for 15 minutes longer until chicken is cooked through.

Garnish with fresh basil and lemon slices.
Looking for Paleo ingredients? Here's what we recommend:
Grass Fed Butter (Vital Farms)
Extra Virgin Olive Oil (Sky Organics)
Chicken Bone Broth (Kettle & Fire)

(You'll Also Love: One-Pan Apple Pecan Coffee Cake)