There's nothing more comforting than a home-cooked Chicken Pot Pie. And with the cooler months coming our way, comfort food is a must.
This Paleo Chicken Pie is full of flavor and comes topped with a crispy crust that'll surely warm you up. It's the perfect easy dinner recipe you can enjoy on a Sunday evening or as leftovers for the rest of the week.
This recipe is simple to make and packs shredded chicken, an almond flour crust, herbs and spices to bring memories of your mother's pot pie. Additionally, the benefit of using grass-fed butter adds anti-inflammatory properties that are easy on your digestive system.
Love slow cooker recipes?
Click here to get your FREE copy of our delicious Slow-Cooker Recipes!
Furthermore, it's a great dish to serve when you're on a budget and is a hearty dish you can serve up with some crispy garlic Brussels sprouts.
Deanna Dorman
The Best Paleo Chicken Pot Pie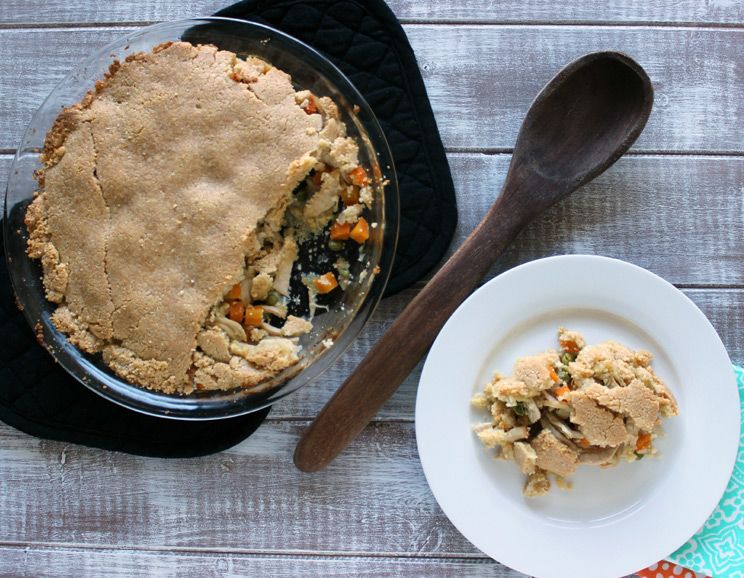 Prep Time:
15 mins
15 minutes
The Best Paleo Chicken Pot Pie
There's nothing more comforting than a home-cooked Chicken Pot Pie. And with the cooler months coming our way, comfort food is a must.
Tools
Medium Mixing Bowl

Large Saucepan

Large Skillet
Ingredients
For the Crust:
1 1/2 cups almond flour

1/2 t baking powder

1/2 t sea salt

1/4 cup grass-fed butter, melted

2 t water
For the Filling:
1/2 t dried thyme

1 lb chicken breasts

1 T coconut oil

1/2 yellow onion diced

3 medium carrots, diced

1/4 cup almond flour

1/2 t dried rosemary

1/2 t black pepper

2 cups chicken stock

2 garlic cloves, minced
Instructions
For the Crust: In a medium bowl sift together almond flour, baking powder, and sea salt. Mix in butter and water to create a dough. Form the dough into a ball, wrap in plastic wrap, and refrigerate for 30 minutes.
For the Filling: Place chicken in a large saucepan and cover with cold water. Tip: To add more flavor, you can also opt for chicken stock instead. Bring the pot to a boil for 20-25 minutes or until the internal temperature reaches 170°F. Allow to cool slightly and use two forks to shred the chicken into bite-sized pieces.

Preheat coconut oil in a large skillet over a medium heat, and preheat oven to 375°F. Sauté onions and carrots for 3-5 minutes. Add garlic and herbs and allow to cook for another minute.

Add almond flour to coat the vegetables. Then, add chicken stock and increase to a boil. Once boiling, lower to a simmer and allow the sauce to thicken for 5-8 minutes. Then, remove pan from heat.

Remove the dough from the refrigerator and roll into a pie crust. Spoon the chicken filling into a pie dish and cover with the pie crust. Bake for 30 minutes, or until top is golden brown. Allow to cool for 10 minutes before serving.
Looking for Paleo ingredients? Here are a few we'd recommend:
Almond flour (Bob's Red Mill)
Grass fed butter (Vital Farms)
Cold pressed coconut oil (Viva Naturals)
Chicken bone broth (Kettle & Fire)

(You'll Also Love: 45 Pie Recipes So Delicious That No One Will Know They're Gluten-Free
)
Lose weight, fight inflammation, and soothe your digestion with delicious meals like juicy skirt steak with cucumber & radish salad, succulent pulled pork, and more!
FREE Cookbook:
80 Gourmet Paleo Recipes from
a Professional Chef trained at Le
Cordon Bleu in Paris
FREE Cookbook:
80 Gourmet Paleo Recipes
from a Professional Chef
trained at Le Cordon Bleu
in Paris