Creating Paleo nachos is quite simple. All you need are the right ingredients and a little time ahead to prepare them.
Once you have everything ready, you can assemble them on a cookie sheet and have your One Pan Paleo Nachos ready in no time.
This recipe takes traditional nachos to a whole new level. We are going to make a nacho recipe that is full of healthy ingredients and create something truly indulgent with some unexpected paleo ingredients.
Want to snack smarter and curb cravings? Get your FREE 25 Healthy Paleo Snacks Cookbook here.
Click here to get your FREE copy of our Snack Recipes Cookbook!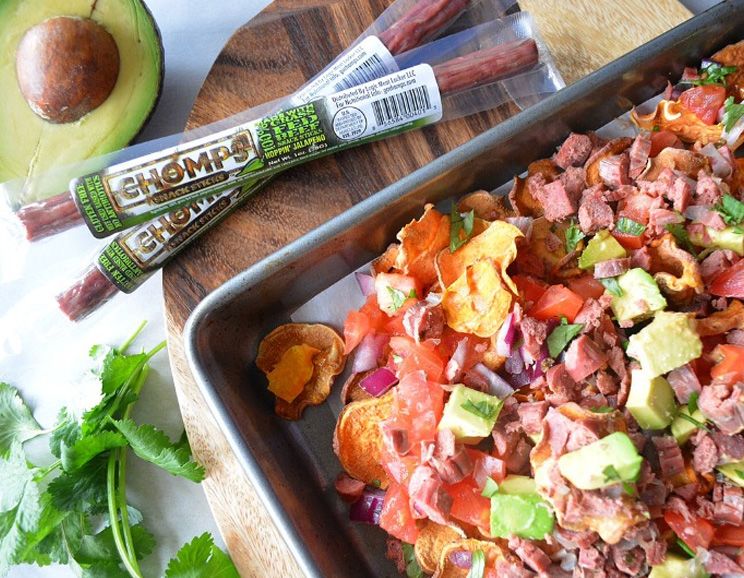 First, the chips. We are going to use a paleo sweet potato chip recipe you can find here. Sweet potatoes are rich in fiber, which aids in a feeling of fullness and is great for moving waste through the intestines. Sweet potatoes are also rich in beta-carotene and potassium. Next up, the cheese. We couldn't have a nacho platter without some gooey melted cheese. Of course, the Paleo diet doesn't allow cheese as it is usually highly processed and tends to cause inflammation. Instead, we are going to make this awesome Paleohacks version, which will lend a creamy texture and zesty flavor, much like queso cheese. Our nachos will be topped with a delicious salsa comprised of tomatoes, onion, cilantro and a little fresh lime juice. This salsa will add a burst of freshness to the recipe. Diced avocados will add creaminess and healthy fat.
Finally, instead of ground meat we are going to use Chomps Jerky Snack Sticks. This high quality jerky is the perfect unexpected protein to top paleo nachos. Chomps jerky snacks are made of 100% grass-fed beef, naturally cured and use only celery juice as a preservative. We are going to finely chop the Chomps jerky and use it on top of our nachos. The Jalapeño variety adds great beef flavor and heat to these delicious and healthy nachos.
I highly recommend serving these One Pan Paleo Nachos featuring Chomps Jerky at your next game day party.
Jennafer Ashley
One Pan Paleo Jerky Nachos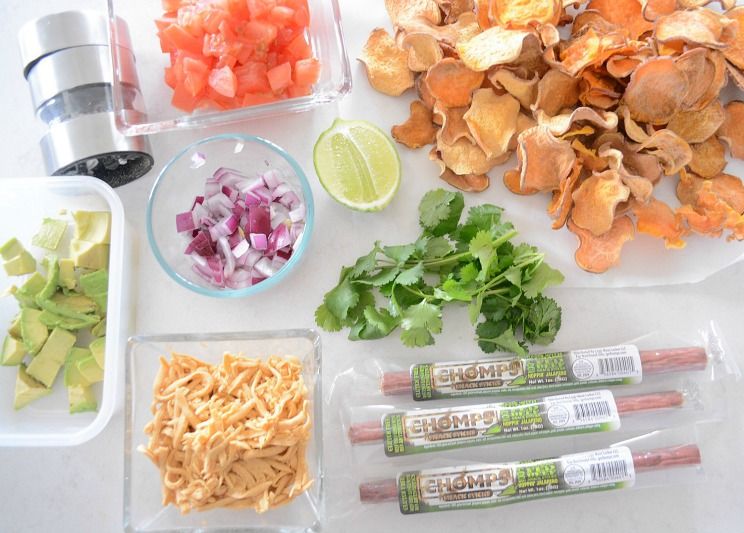 One Pan Paleo Jerky Nachos
Ingredients
6 c sweet potato chips

3 jalapeño chomps jerky snack sticks, chopped

1 c Paleo cheese, grated

1 avocado, diced

2 Roma tomatoes, diced

1/2 c red onion, minced

1 tbsp lime juice

2 tbsp cilantro, finely chopped

sea salt to taste
How To Make It
1. Preheat oven to 300 degrees. Line a small baking sheet with parchment paper. Assemble sweet potato chips and sprinkle with cheese. Bake until cheese melts. About 10 minutes.
2. In the meantime, mix together tomato, onion, lime juice and cilantro in a small bowl. Season with sea salt.
3. Chop jerky into small pieces.
4. Remove from sweet potatoes from oven. Top with salsa, avocado and jerky.
This post is sponsored by our friends at Chomps. Our goal is to always bring you healthy, Paleo-friendly articles that we know you'll love. We only feature trusted brands approved by the PaleoHacks team.
(You'll Also Love: Sweet Potato Nachos)