With its pasta-like strands, spaghetti squash is one of the most versatile – and tastiest – veggies out there.
Looking for gluten-free, easy alternatives to pasta? The spaghetti squash is one of the most popular Paleo ingredients to use when making healthy, nourishing dishes. Rich in potassium and beta-carotene, spaghetti squash can help lower blood pressure and boost your body's immune system. Spaghetti squash also carries plenty disease-fighting antioxidants, making it a no-brainer for a healthy pasta substitute!
However, like most winter squash, it can be a little tricky to cut due to its thick shell. Never fear – once you figure out the simple steps, it gets so much easier! Below, we'll show you how to safely cut and cook spaghetti squash in the oven like a pro. We've also included easy, delicious recipes to add it to your weekly meal rotation.
Love slow cooker recipes?
Click here to get your FREE copy of our delicious Slow-Cooker Recipes!
How to Cook Spaghetti Squash
PaleoHacks Team
How to Cook Spaghetti Squash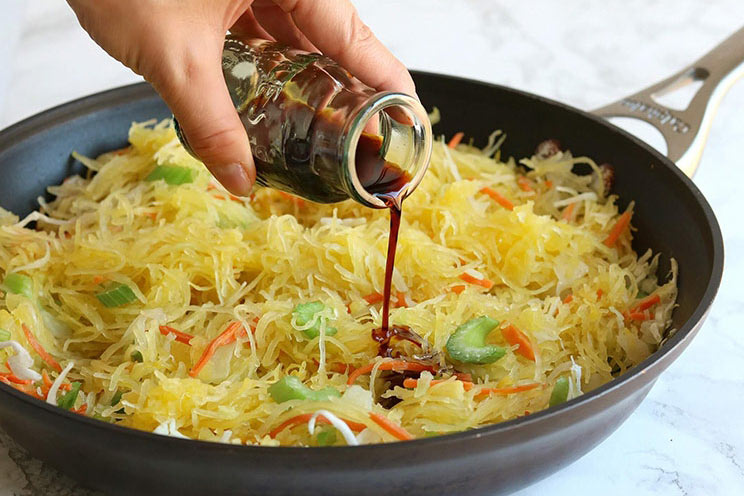 Cook Time:
30 mins
30 minutes
Prep Time:
10 mins
10 minutes
How to Cook Spaghetti Squash
Tools
Paring knife

Chef's knife

Kitchen towel

Baking sheet

Tongs

Fork
Instructions
Preheat your oven to 400°F.

Place a small kitchen towel on your cutting board and lie your spaghetti squash on top to help avoid rollaways!

With a paring knife, carve out a series of straight lines down the length of your squash and around the bottom end. Keep going up the opposite side until you reach the original top point. You'll want to create a complete circle around the entire length of your squash.

Next, use a chef's knife to cut through the squash shell. Follow the perforated path from step 3 and slice it open into two halves. (If your knife gets stuck, carefully rock it back and forth to wiggle it free.)

Pull the halves apart and scoop out the seeds and gooey strings with a spoon.

Place the halves cut-side down on a baking sheet and roast in the oven for 30-40 minutes.

After baking is complete, let the spaghetti squash cool slightly. Then, grasp one end with tongs and scrape the noodles from the skin using a fork.

Top the noodles with your favorite Paleo sauce or protein, and dig in!
Tip: The hardest part of cooking with spaghetti squash is safely slicing into it. To do this, you'll want to have a sharp set of knives and a kitchen towel handy.
---
How to Cook with Spaghetti Squash
Spaghetti Squash with Grass-fed Beef and Mushrooms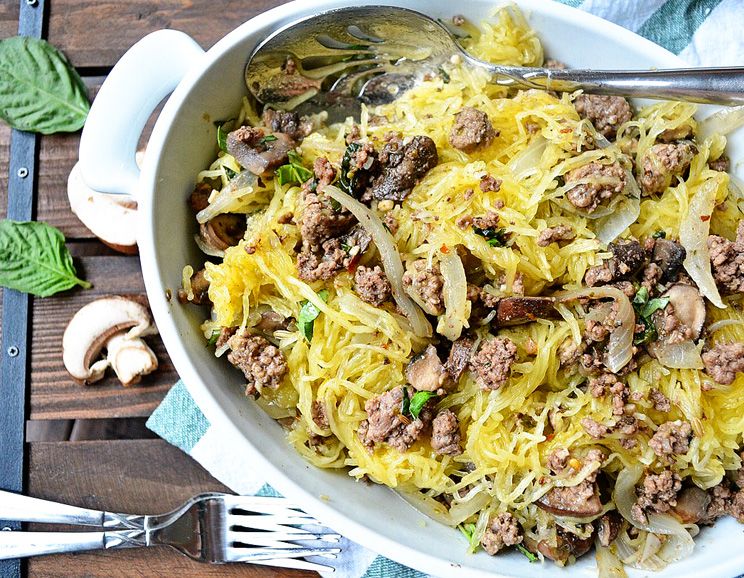 For a fool-proof dish, try pairing your noodles with grass-fed beef and mushrooms. Its dough-like texture absorbs spices and seasonings the same way most traditional pastas would. Plus, it's amazingly filling, which makes this meal satisfyingly delicious.
Recipe: PaleoHacks | Spaghetti Squash with Grass-fed Beef and Mushrooms
Meatballs in Spaghetti Squash Nests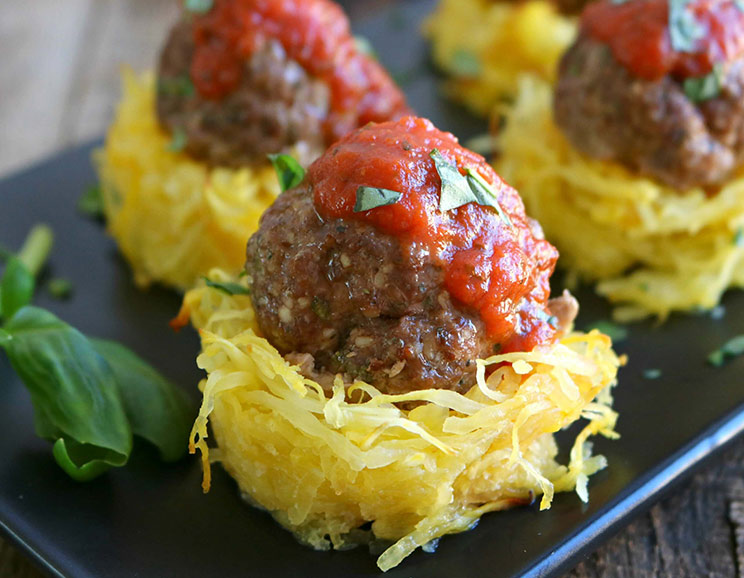 Spaghetti squash acts as the crispy, flaky base of these meatball cups to create a bite-sized mini pizza. Slather on your marinara and plop a juicy meatball on top for a delicious appetizer!
Recipe: PaleoHacks | Meatballs in Spaghetti Squash Nests
Spaghetti Squash Chow Mein Recipe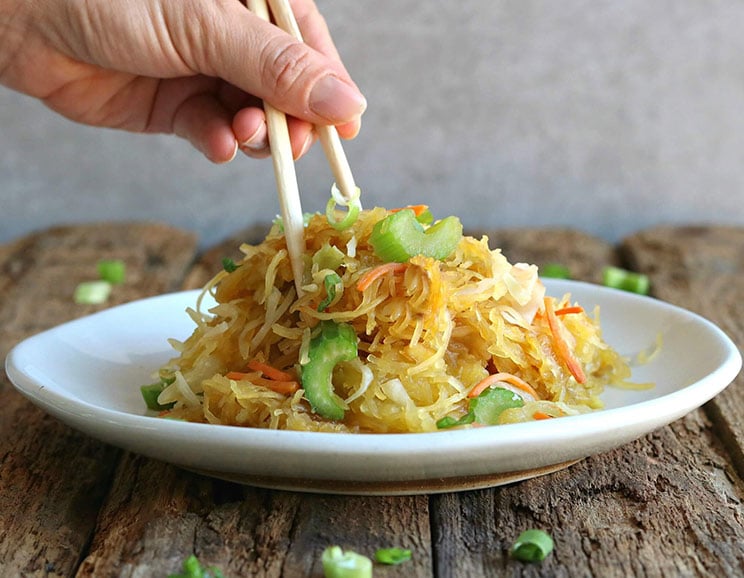 If you're in the mood for takeout, but hate the guilt afterwards – never fear! This recipe has all the great essentials of traditional chow mein without any MSG or additives. The best part is tossing the noodles in a skillet with fresh carrots, celery, and cabbage to mimic mouthwatering takeout flavor.
Recipe: PaleoHacks | Spaghetti Chow Mein Recipe
Crustless Spaghetti Squash Pizzas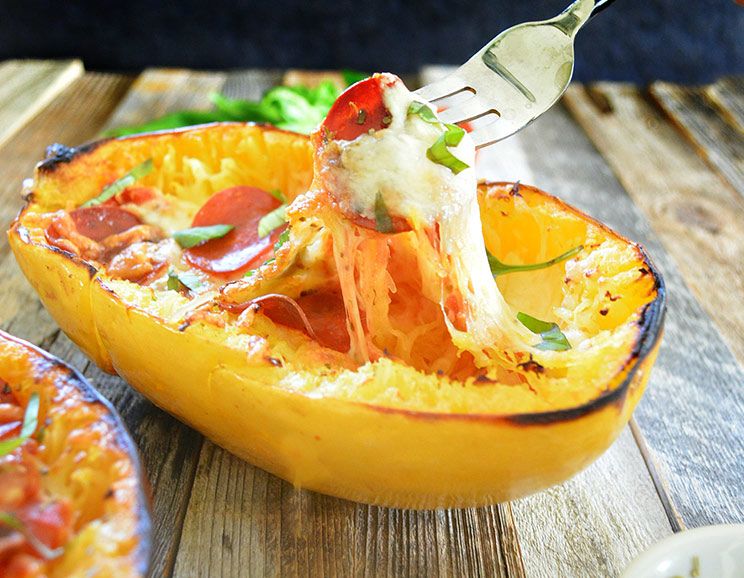 You'll never miss pizza again with this gluten-free recipe. Hot bubbly cashew cheese, all-natural tomato sauce, and thin slices of crispy pepperoni make this dish the ultimate pizza alternative to an all-time classic.
Recipe: PaleoHacks | Crustless Spaghetti Squash Pizzas

(You'll Also Love: How to Make Instant Pot Spaghetti Squash (in Just 15 Minutes!))