Add a Paleo twist to traditional enchiladas using grain-free tortillas and spicy chicken!
This Paleo recipe may lack grains and dairy, but it certainly doesn't lack flavor. Easy to make, it bakes in just 20 minutes for a complete meal that satisfies!
Swap Traditional Tortillas For Nut-Based Alternatives
Many health food stores carry Paleo tortillas that come premade, but you can also make your own at home. For this dish, we use a 3-minute blender recipe made with almond flour and tapioca starch. This nutty combo creates a pliable tortilla that allows the spices to shine.
Trying to figure out exactly what to eat on Paleo? Look no further than our FREE 21 Day Paleo Meal Plan.
Grab Our FREE Paleo Meal Plan By Clicking Here!
If you're opting for homemade, try making them a day in advance for easy prep. Make sure to add a piece of parchment paper between each tortilla to keep them from sticking. Then, store them in a cool, dry area until ready to use.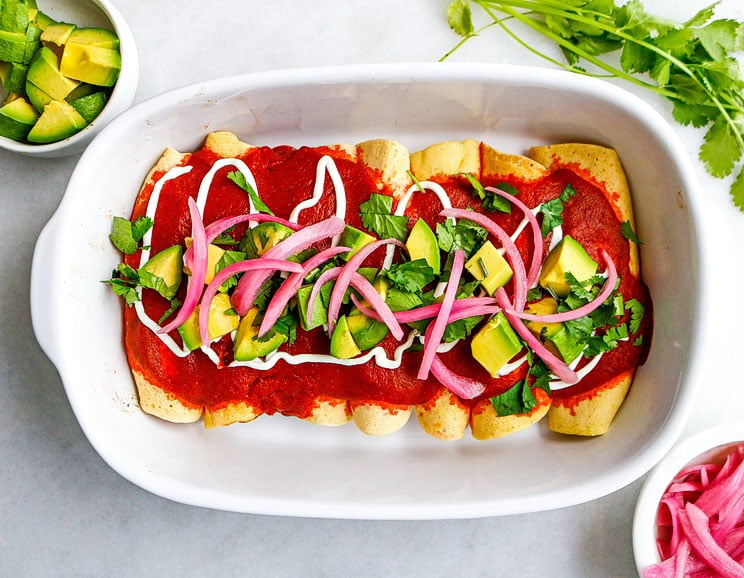 Amp Up The Flavor With Less Of The Guilt
The enchilada sauce in this recipe pulls double duty. It seasons the chicken and coats the tortillas for a smoky flavor throughout. Ground cumin and chili powder add a kick of heat, while the tomato sauce offers a tangy, saucy base.
To give this dish extra staying power, we use veggies to add a healthier twist with brighter flavors. There's also the added bonus of our favorite dairy-free sour cream recipe that combines creamy cashews with tangy apple cider vinegar.
Helpful Tips To Get You Started:
Prep ahead. Along with pre-prepping the tortillas, you can also cook and shred the chicken ahead of time. This can be done up to 48 hours in advance for easy assembly come meal time.
Pile on the toppings. Don't stop at the pickled red onions, cilantro, and fresh avocado! Try adding on sliced radishes, tomatoes, or green onions for extra flavor.
Jennafer Ashley
Paleo Enchiladas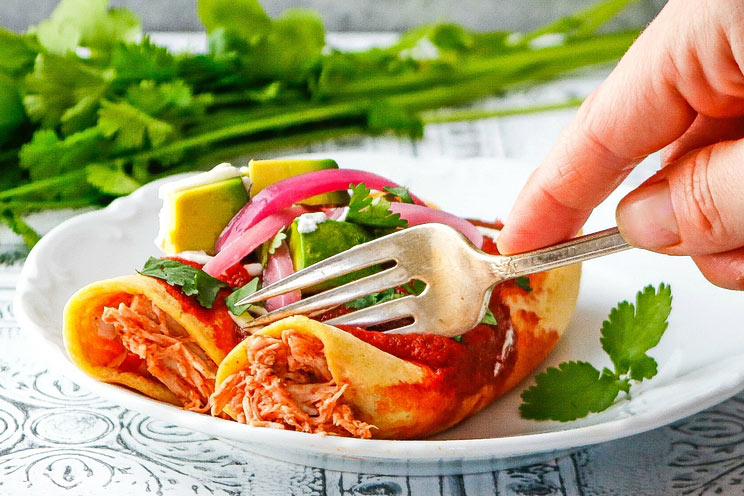 Cook Time:
20 mins
20 minutes
Prep Time:
15 mins
15 minutes
Nutrition facts:
13 grams of protein
44 grams of carbohydrates
22 grams of fat
Paleo Enchiladas
Add a Paleo twist to traditional enchiladas using grain-free tortillas and spicy chicken.
Tools
Small mixing bowl

Medium mixing bowl

7-by-10-inch baking dish
Ingredients
For the Enchilada Sauce:
1 ½ cups unsweetened tomato sauce

1 t cumin

1 t chili powder

¼ t garlic powder

¼ t sea salt
For the Enchiladas:
2 cups cooked chicken breast, shredded

8 Paleo tortillas

1 cup diced avocado

⅓ cup pickled red onion

¼ cup chopped cilantro

¼ cup Paleo sour cream
Instructions
Preheat the oven to 350ºF.

To Make the Enchilada Sauce: In a small mixing bowl, stir together all the ingredients for the enchilada sauce.
To Make the Enchiladas: In a medium mixing bowl, add the chicken and toss with a ⅓ cup of enchilada sauce.

Place 2 tablespoons of shredded chicken onto a tortilla and roll it up. Place it sealed side down into a baking dish and repeat with the remaining tortillas.

Pour the remaining enchilada sauce on top and bake for 20 minutes. Serve hot and garnish with avocado, red onion, cilantro, and a drizzle of Paleo sour cream.
Looking for Paleo ingredients? Here are a few we'd recommend:
Ancho chili powder (Simply Organic)
Garlic powder (Frontier)
Sea salt (REDMOND)
Get the Paleo Eats cookbook for even more delicious, simple, and gourmet recipes! You'll enjoy meals like Tomatillo Cilantro Chicken, Mongolian Red Pepper Beef, Pulled Pork, and more ridiculously tasty ideas. Get the book shipped to your door for FREE – just pay for shipping!