Skip the takeout and whip up this healthy beef stir fry with zoodles in under 30 minutes!
Stir fry is one of the easiest and quickest dinner options around. This one pot beef stir fry is made with tender slices of sirloin sautéed with juicy sweet pineapple chunks and soft zucchini noodles.
This recipe is quick and easy to make, with simple ingredients and big flavors. The zucchini noodles are a great substitute for wheat pasta; the easiest way to make them is by using spiralizer. If you don't have one, just use a julienne peeler to get those long zucchini strips. Be careful not to cook the zoodles over 2 minutes, or they'll get too soft.
Love slow cooker recipes?
Click here to get your FREE copy of our delicious Slow-Cooker Recipes!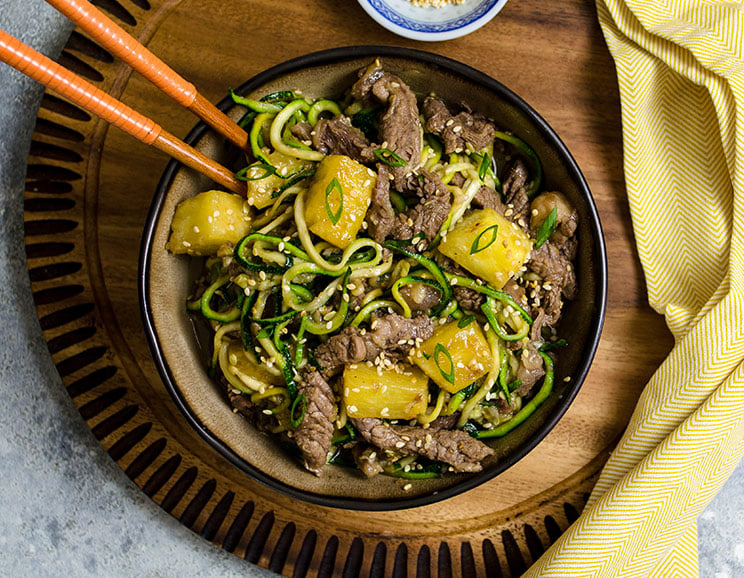 For the beef, I used thinly sliced sirloin steak, but any other tender cut will work well too. The chopped fresh pineapple adds sweetness and tang to this beef stir fry. And you can always toss in chopped broccoli for added crunch!
Tips:
Make sure to use a heavy, wide pan to cook the beef and zoodle quickly and evenly.
This recipe is versatile. If you don't like the zucchini noodles, try sweet potato noodles, carrots or thinly sliced peppers instead.
To save time, prep this recipe the day before. Simply spiralize the zucchini, chop the pineapple, and slice the beef steak. Store the ingredients separately in the fridge until you are ready to cook.
Dina Hassan
One Pot Beef Stir Fry with Zoodles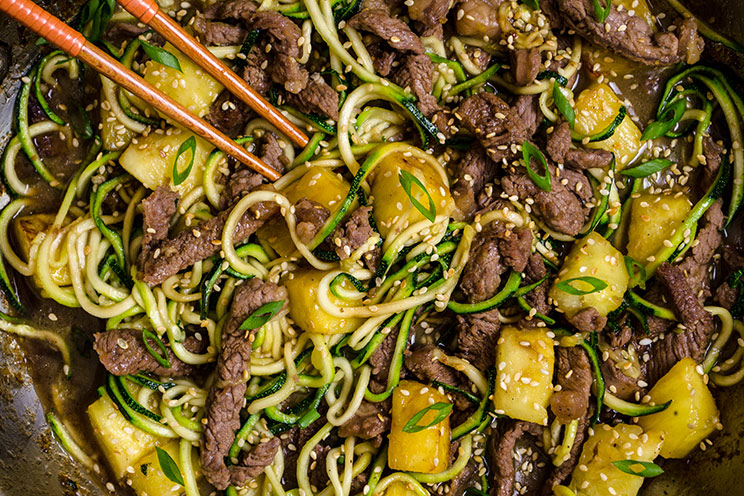 Cook Time:
10 mins
10 minutes
Prep Time:
15 mins
15 minutes
One Pot Beef Stir Fry with Zoodles
Skip the takeout and whip up this healthy beef zoodle dish in under 30 minutes!
Tools
Large pan

Chef's knife

Spiralizer or julienne peeler

1 medium mixing bowl

1 large mixing bowl
Ingredients
For the Zoodles:
1 lb sirloin steak

1 T tapioca flour

½ cup pineapple chunks

2 medium zucchini, spiralized

2 T coconut oil, divided

Salt and pepper, to taste
For the Sauce:
4 T coconut aminos

2 garlic cloves, minced

3 T honey

3 T tapioca flour

2 T water

½ t grated ginger
Optional Garnish:
Toasted sesame seeds

Green onions, thinly sliced
Instructions
In a medium bowl, mix the sauce ingredients and set aside.

Thinly slice the beef steak and season with salt and pepper. Toss in a large bowl with the tapioca flour until fully coated.

Heat one tablespoon coconut oil in a large pan over medium-high heat; add the beef slices and sear on all sides until fully cooked, about 2-3 minutes. Transfer to a plate.

Heat another tablespoon of coconut oil in the same pan, add the pineapple chunks and cook until caramelized.

Stir in the beef and sauce. Turn heat to low and allow the sauce to thicken up.

Add zucchini noodles and cook for 1-2 minutes, until the zucchini is get tender but still firm.

Serve immediately. Garnish with green onions and toasted sesame seeds.
Looking for Paleo ingredients? Here are a few we'd recommend:
Tapioca flour (Authentic Foods)
Cold pressed coconut oil (Viva Naturals)
Raw honey (Bee Farms)

(You'll Also Love: No-Rice Beef and Shrimp Spring Rolls with Almond Butter Sauce)