Tender braised beef cooks with hearty veggies and a kick of horseradish for a hearty meal that feeds a crowd.
This one-pot braised beef and veggies recipe is bound to be your new go-to. Full of satiating protein and fiber-rich veggies, this chuck roast dinner gets slow-braised in a red wine and horseradish infused stock until fork tender.
The recipe requires minimal cleanup and just minutes of effort, making it great for entertaining year round!
Want to go Paleo? Not sure where to start?
Start with this FREE Paleo For Beginners Guide Today!
Why Use Chuck Roast?
You'll often find chuck roast as the star of pot roast recipes. It's ideal for braising because it requires a longer cooking time to tenderize. With rich beef flavor and plenty of fat marbling, braised chuck roast turns out moist and tender every time.
Cutting the beef into large chunks before braising cuts down on cooking time, creating more surface area to cook the beef. You'll know the chuck roast is ready when it easily shreds when pulled with two forks.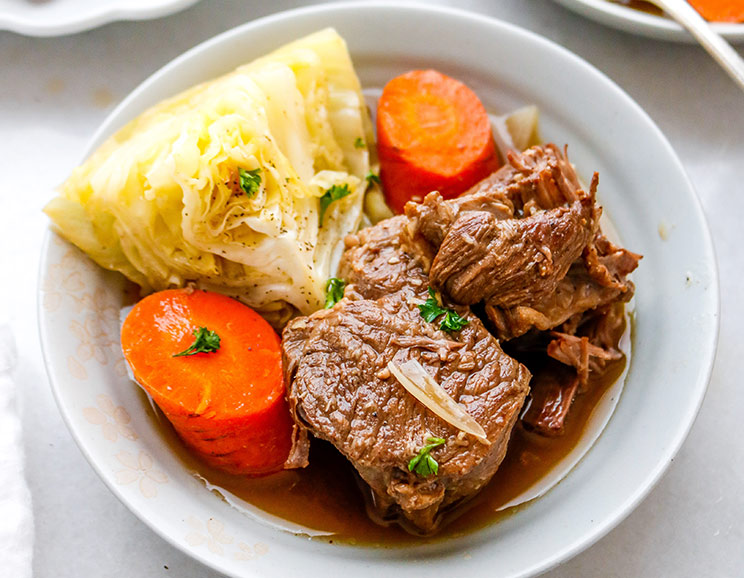 How To Create The Perfect Braising Liquid:
In any braised dish, braising liquid is a key component to sealing in a ton of flavor for both the meat and vegetables.
This rich broth is made with beef stock, organic red wine, and coconut aminos for a deep flavor. Horseradish, rosemary, and garlic add complexity and aroma. If you'd like to skip the red wine, go ahead and sub in two tablespoons of balsamic vinegar.
Helpful Tips To Get You Started:
Blot the beef. Remove extra moisture from your chuck roast by blotting the chunks dry before browning them.
Watch out for unwanted ingredients. Many brands of prepared horseradish are not Paleo-friendly. Opt for bottles free from added sugar and with simple ingredients, like grated horseradish, vinegar, and sea salt.
Make a gravy. Double up on flavor and make a gravy from the braising liquid. Remove your meat and veggies from the liquid, and whisk in a few tablespoons of arrowroot powder over medium heat. Bring to a boil, then reduce the heat to simmer for 3 to 5 minutes, until thickened.
Sub in what's in season. You can use seasonal veggies but stick with hearty options that will stand up to the heat. Try parsnips, turnips, sweet potato, celery, or white onions.
PS: If you want more deliciously healthy, easy meals – like tender beef over roasted spaghetti squash or hearty chicken stew – get our FREE Paleo Eats Cookbook shipped to you now.
Jennafer Ashley
One-Pot Braised Beef with Horseradish & Veggies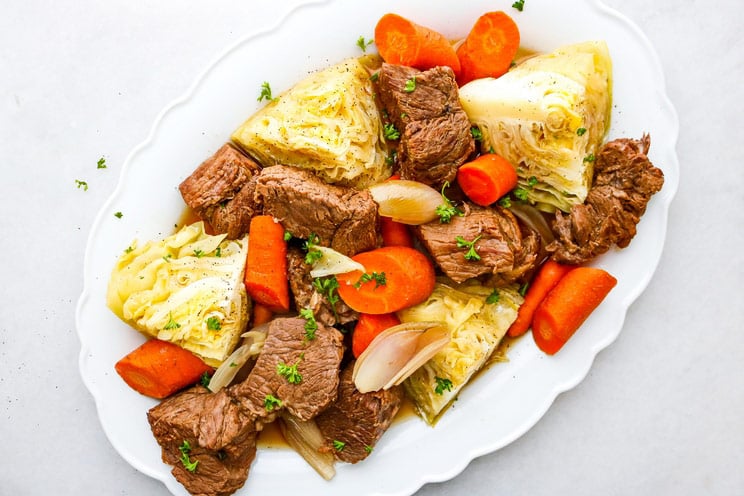 Cook Time:
6 hrs 20 mins
6 hours 20 minutes
Prep Time:
10 mins
10 minutes
Nutrition facts:
19 grams of protein
14 grams of carbohydrates
16 grams of fat
One-Pot Braised Beef with Horseradish & Veggies
Tender braised beef cooks with hearty veggies and a kick of horseradish for a hearty meal that feeds a crowd.
Ingredients
3 lbs. chuck roast

2 T ghee

1 t minced garlic

4 cups beef stock

¼ cup red wine

¼ cup coconut aminos

2 T horseradish

½ t ground black pepper

1 sprig rosemary

2 cups coarsely chopped carrots

½ cup shallots, halved

4 cups cabbage, sliced into wedges

¼ cup chopped parsley
Instructions
Cut the beef into 3 to 4-inch pieces. Blot the beef dry with a paper towel. Heat the ghee in a 5-quart Dutch oven over medium-high heat for 3 minutes.

Brown the beef for 2 minutes on each side in the Dutch oven. Set the beef aside on a plate. Reduce the heat to medium, add the garlic, and cook for an additional 2 minutes.

Stir together the beef stock, red wine, coconut aminos, horseradish, and black pepper in a medium bowl. Pour into the Dutch oven. Add the beef back to the pot, along with the rosemary. Bring the mixture to a boil, then cover and transfer to the oven. Braise at 325°F for 4 hours.

Remove the pot from the oven and add in the carrots, shallots, and cabbage. Cook for an additional 2 hours, or until the beef falls apart easily. Serve hot and garnish with parsley.
Looking for Paleo ingredients? Here are a few we'd recommend:
Ghee (Pure Indian Foods)
Black pepper (Frontier)

You'll Also Love: 20 Easy Paleo Crock Pot Recipes