This comforting beef soup recipe is made with deliciously wholesome ingredients: carrots, onions, celery, tomatoes, sweet potatoes and stew meat!
This simple, hearty soup comes together in just 30 minutes. You can whip up this recipe for lunch or dinner; the flavorful broth is especially comforting on rainy nights. Sweet potatoes and carrots soak up the savory spices as it simmers, while the beef gets perfectly tender.
A few notes: For an even deeper flavor, simmer the ingredients up to one hour. And to thicken the broth, add ½ cup of red wine to the recipe; this also helps bring out the flavors of the vegetables and meat.
Love slow cooker recipes?
Click here to get your FREE copy of our delicious Slow-Cooker Recipes!
If you have time to spare, this beef soup can be made ahead of time in a slow cooker. Simply toss all the ingredients in the slow cooker and set it to low. In 6 hours, it'll be ready eat! It freezes well too, making this beef tomato dish a great make-ahead meal.
Megan Olson
Rainy Day Beef Tomato Soup Recipe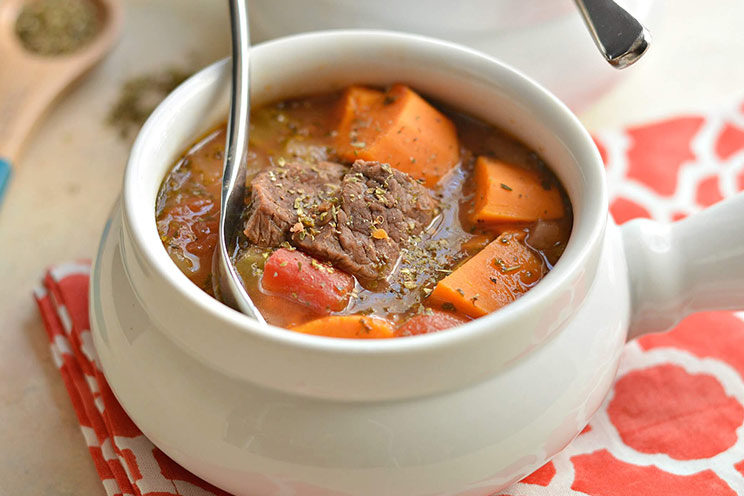 Cook Time:
20 mins
20 minutes
Prep Time:
30 mins
30 minutes
Rainy Day Beef Tomato Soup Recipe
Ingredients
1 lb grass-fed beef stew meat, sliced into 1-inch cubes

1 sweet potato, peeled and sliced into 1-inch cubes

1 small white onion, diced

1 cup celery, diced

1 cup carrots, diced

4 cups beef bone broth

1 14-oz can diced tomatoes

2 T extra virgin olive oil

2 bay leaves

1 T Italian seasoning

1 T garlic powder

Salt and pepper, to taste
Instructions
In a large pot, heat extra virgin olive oil over medium heat. Add diced celery, onion, and carrots. Sauté 4-5 minutes until tender.

Add beef stew meat, sweet potatoes, salt and pepper. Sauté another 4-5 minutes until the beef is cooked.

Place tomatoes with juice in the pot with broth and seasonings. Cover and bring to a boil.

Once the pot is boiling, reduce the heat to low. Simmer on low 20 minutes, allowing flavors to combine.

Remove bay leaves and serve immediately.

(You'll Also Love: 5-Ingredient Meatball Soup with Bone Broth)