Transform ordinary tomatoes into sweet, crispy, bite-sized tomato chips that are full of antioxidants and bursting with rustic flavor. No dehydrator is needed for this oven-baked recipe.
If you love the flavor of sun-dried or oven-roasted tomatoes, you'll love these oven-dried tomato chips. Baked at a low temperature to remove liquid, these tomato chips are delicious by themselves, served alongside salad or pasta, or even as a topping on pizza.
Slices of plum tomatoes are gently tossed in a little bit of olive oil, sea salt, and pepper. To keep it Paleo, the slices are spread onto a baking sheet and sprinkled with nutritional yeast. Nutritional yeast has a cheesy flavor, making it a perfect substitute for grated cheese.
Want to snack smarter and curb cravings? Get your FREE 25 Healthy Paleo Snacks Cookbook here.
Click here to get your FREE copy of our Snack Recipes Cookbook!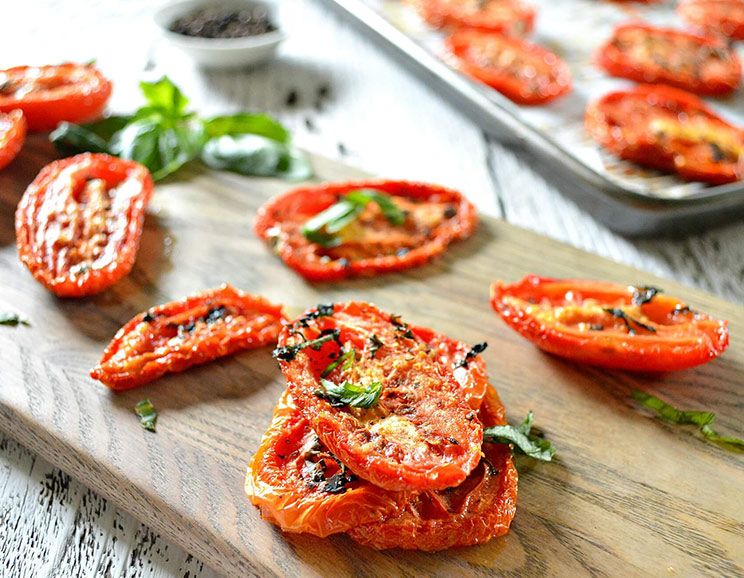 Finally, top with freshly chopped basil. For an even more rustic Italian flavor, you can also experiment with dried thyme, rosemary, and oregano. Place your tomatoes in the oven at 250 degrees, and try to forget about them for 4 hours. Go do something to escape the delicious aroma of slow-roasted tomatoes permeating throughout your house. Otherwise, you'll want to take them out of the oven and devour them right then and there. But don't; it's worth the wait!
After 4 hours, check the tomatoes, but remember that oven times vary. After 4 hours, my tomatoes were just beginning to wrinkle around the edges, but they were still too juicy. So I left them in for an additional 4 hours. Once removed from the oven, the tomatoes were chewy and sturdy with some crispy parts. Let them cool to room temperature, during which they'll shrivel up a little more. Next you can jar them or munch away.
Jennafer Ashley
Oven-Baked Tomato Chips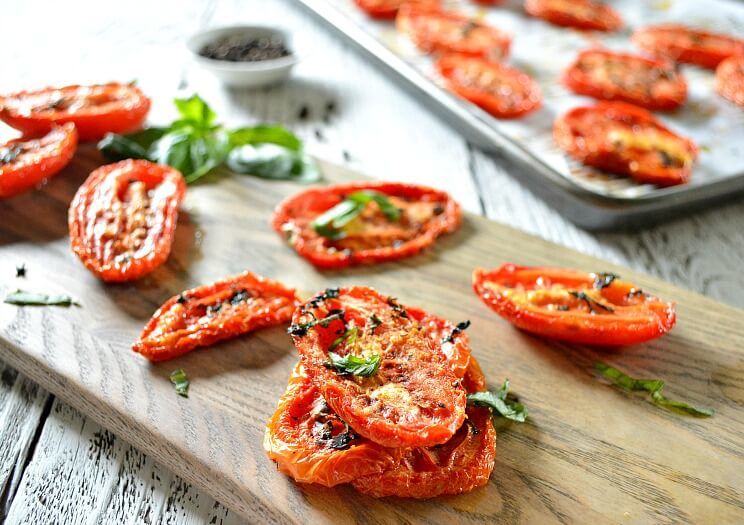 Prep Time:
10 mins
10 minutes
Oven-Baked Tomato Chips
Transform ordinary tomatoes into sweet, crispy, bite-sized chips that're full of antioxidants and bursting with rustic flavor.
Ingredients
2 lbs plum tomatoes (sliced to ½" thickness)

2 T olive oil

2 T fresh basil (finely chopped)

2 t nutritional yeast

Sea salt and black pepper to taste
Instructions
Preheat oven to 250 degrees, and line a baking sheet with parchment paper. In a large bowl, combine tomatoes and olive oil. Season with sea salt and black pepper. Gently toss to coat.

Place tomato slices on parchment paper. Sprinkle with nutritional yeast and chopped basil.

Bake for 6-8 hours. Since oven times may vary, check your tomatoes after 4 hours. If you want a juicier tomato, remove from oven after 6 hours. If you like a chewier tomato, bake the full 8 hours. Allow tomatoes to cool for about 2 hours. Store in an airtight container.
Watch the Recipe Video Below!


(You'll Also Love: Baked Brussels Sprouts Chips)