This hearty Eggplant Bolognese sauce has an incredible depth of flavor.
The tomatoes, vegetables and herbs combine perfectly together to create a rich veggie Bolognese that will satisfy your taste buds.
This twist on the classic dish proves that fresh vegetables can impress. Serve this Bolognese sauce with Paleo noodles like zucchini or sweet potato pasta. Aside from spaghetti style sides, you can also serve this savory sauce with a plate of veggies and a Paleo salad to please a big appetite!
Love slow cooker recipes?
Click here to get your FREE copy of our delicious Slow-Cooker Recipes!
Rebecca Hughes
Paleo Eggplant Bolognese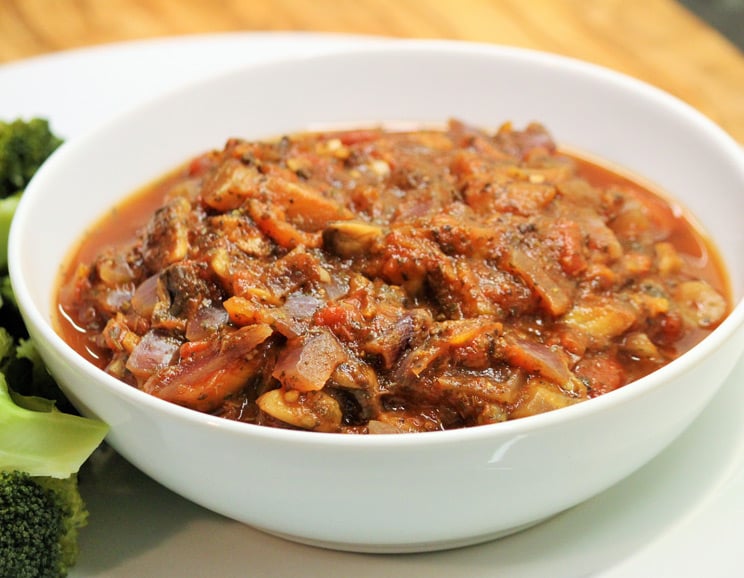 Cook Time:
45 mins
45 minutes
Prep Time:
10 mins
10 minutes
Paleo Eggplant Bolognese
Ingredients
1 eggplant (aubergine), peeled and chopped into cubes

1 onion, diced

2 garlic cloves, peeled and sliced finely or minced

1 carrot, grated

Handful button mushrooms, sliced

1/2 to 1 T olive oil

2 T tomato puree

1 can chopped tomatoes

2 T dried mixed herbs

2 to 3 t dried basil

Water
How to Make It:
1. Add the olive oil to a medium-high heat pan.
2. Add the onion, carrot and garlic and cook for a couple of minutes.
3. Add the eggplant, mushrooms, tomato puree, canned tomatoes, mixed herbs and basil. Stir everything together.
4. Add water so that it just covers the vegetables by 1 inch.
5. Cook the Bolognese on a low-medium heat for 30 to 40 minutes with a lid placed on top but keep a little gap to allow steam out of the pan.
6. Stir occasionally. Add more water if required. The whole mix should reduce to a rich tomato Bolognese.
7. Once cooked, serve with preferred main sides.
(You'll Also Love: Avocado Garlic Sauce)