Cauliflower rice simmers in rich coconut milk with chia and hemp seeds for a bowl of warm, cozy and keto-friendly oatmeal that satisfies.
If you crave the filling flavor and texture of oats but don't want the inflammatory effects of cereal grains, we recommend swapping old-fashioned oats with riced cauliflower. This versatile veggie replaces the chewy texture and easily adopts a sweet flavor with the help of stevia and coconut milk.
Riced cauliflower, which is made by combining cauliflower florets in a food processor and blending until fine and crumbly, creates a texture ideal for creating Paleo friendly "oatmeal".
Looking for low carb keto recipes to burn fat and lose weight?
Click here to get your FREE Keto Breakfast Recipes Cookbook!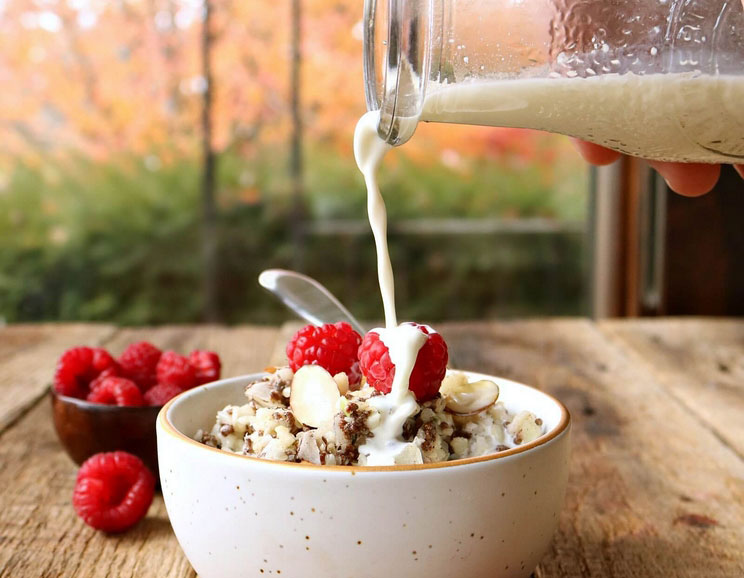 Hemp hearts add to the chewy texture in the "oats", and have truly earned the superfood title. They contain more digestible protein, fiber and omega-3's than flax seed, kale and soy while also being high in calcium, iron and potassium. Chia seeds are added for a chewy, gelatinous mouthfeel similar to oatmeal, while offering up even more calcium than milk!
Other great ways to use chia seeds:
Stir into coconut or almond milk to create chia pudding.
Combine 1 tablespoon of chia with 3 tablespoons of water and allow it to bloom 5-10 minutes. Use as an egg substitute for baking.
Stir into smoothies before blending to thicken.
Start by heating coconut milk in a saucepan over low heat. Once the milk is steaming, add cauliflower rice and stir. Heat 3-4 minutes. Remove from heat and stir in almonds, chia, hemp hearts, coconut flakes, cinnamon and stevia. If you are not following a keto diet, you can also sweeten with a bit of pure maple syrup or coconut sugar. Allow to thicken an additional 3 minutes. Serve hot with a few fresh raspberries or blueberries.
Jennafer Ashley
Easy Low Carb Keto NOatmeal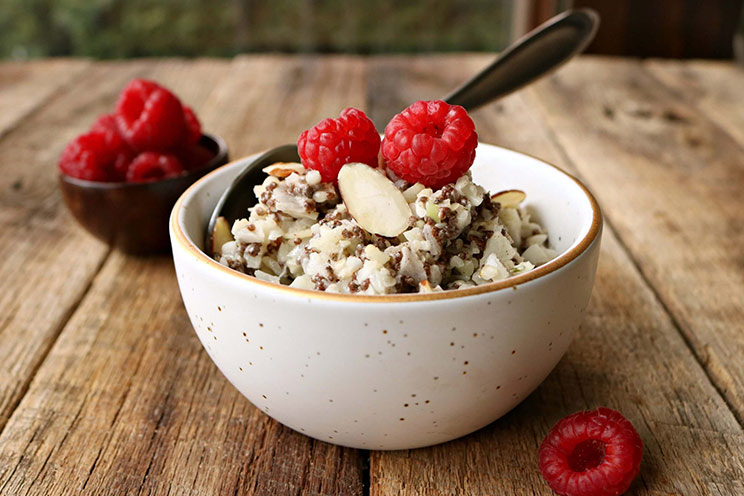 Cook Time:
10 mins
10 minutes
Prep Time:
5 mins
5 minutes
Nutrition facts:
10 grams of protein
8 grams of carbohydrates
19 grams of fat
Easy Low Carb Keto NOatmeal
Cauliflower rice simmers in rich coconut milk with chia and hemp seeds for a bowl of warm, cozy and keto-friendly oatmeal that satisfies.
Ingredients
1/3 cups full-fat coconut milk

1/2 cup riced cauliflower

1 T hemp hearts

1 T chia seeds

1 T unsweetened coconut flakes

2 t sliced almonds

1/2 t cinnamon

1/2 t stevia

3 raspberries (for garnish)
Instructions
Heat coconut milk over low heat until steaming, about 3 minutes.

Add cauliflower rice and heat 3-4 minutes.

Remove from heat and stir in the rest of the ingredients. Let stand 3-4 minutes to thicken.

Pour into a bowl and garnish with fresh raspberries.
Looking for Paleo ingredients? Here's what we recommend:
Coconut milk (Native Forest)
Chia seeds (Viva Naturals)
Unsweetened, coconut flakes (Let's Do…Organics)
Stevia (NuNaturals)

(You'll Also Love: 23 Keto-Friendly Snacks)
Keto is one of the hottest new diets right now - with good reason! It melts fat and trims your tummy fast. With our Keto Sweets cookbook, you can do while still enjoying delicious sweets and desserts!
Enjoy cookies, cakes, and ice
cream and stay in fat-burning
ketosis with this FREE Keto
Sweets Cookbook
Enjoy cookies, cakes,
and ice cream and stay
in fat-burning ketosis
with this FREE Keto
Sweets Cookbook