This keto eggs benedict is a low-carb way to give in to your breakfast craving with a cauliflower-based English muffin!
Enjoy all of the flavor of a poached egg served over an English muffin with smoky Canadian bacon, all smothered in a rich Hollandaise sauce, minus the carbs! Cauliflower rice steps in to create a chewy English muffin-style bread that is perfect for piling with classic Eggs Benedict toppings.
Cauliflower rice holds up well when baked and turned into bread or pizza crust, allowing you to enjoy your favorite meals keto style! A little bit of almond flour and nutritional yeast help bind the cauliflower along with an egg. Macadamia nut flour can be used in place of almond flour. These egg muffins can also be used to create breakfast sandwiches.
Looking for low carb keto recipes to burn fat and lose weight?
Click here to get your FREE Keto Breakfast Recipes Cookbook!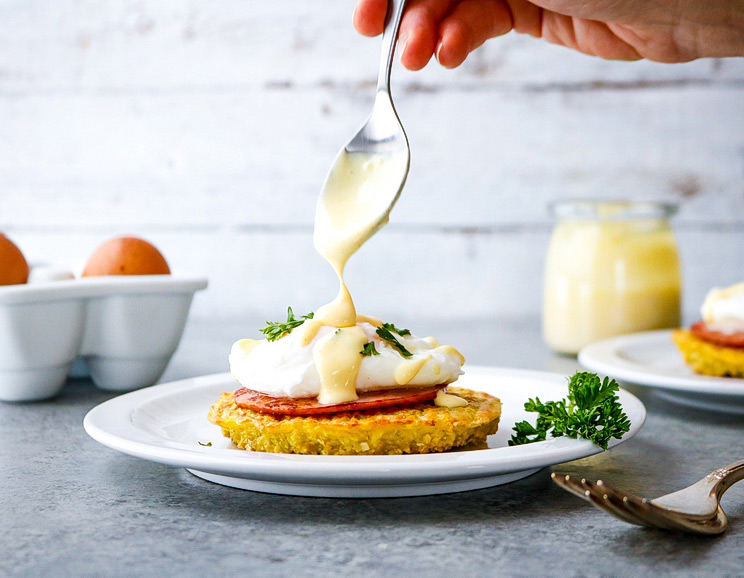 The ingredients for Hollandaise sauce are naturally keto-friendly, with plenty of butter and eggs while being carb-free. Just be sure to use pasture-raised eggs and grass-fed butter to keep it Paleo as well. The sauce is created over a double boiler to heat the eggs without cooking them. The trick is to keep the water from boiling, as you don't want to scramble the eggs, just heat them long enough to thicken. This is also achieved by whisking constantly so the eggs are constantly moving and cooking evenly.
When it's time to serve, layer the cauliflower English muffin with Canadian bacon and a poached egg. Finish with a generous drizzle of Hollandaise sauce. Other great toppings include a couple slices of bacon, sautéed spinach, and a sunny side up egg.
Tips:
Be sure to firmly mold the cauliflower English muffins on a baking sheet so they bake solid. If they're too loose, the egg could spread, resulting in a muffin that isn't round.
If the Hollandaise sauce thickens too much, add 2 to 3 teaspoons of water to thin it slightly.
This dish is best served warm, right after making, for the best flavor and temperature.
Jennafer Ashley
Keto Cauliflower Eggs Benedict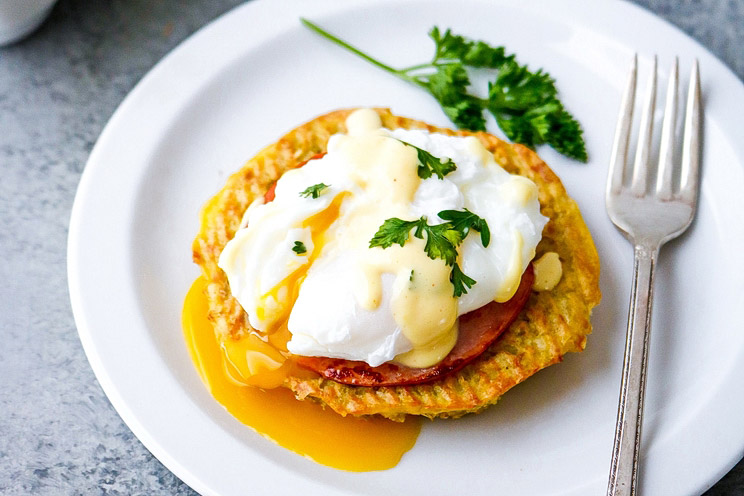 Cook Time:
39 mins
39 minutes
Prep Time:
10 mins
10 minutes
Nutrition facts:
23 grams of protein
6 grams of carbohydrates
67 grams of fat
711 calories
Keto Cauliflower Eggs Benedict
This keto eggs benedict is a low-carb way to give in to your breakfast craving with a cauliflower-based English muffin.
Tools
Small baking sheet

Parchment paper

Saucepan

Medium mixing bowl

Double boiler
Ingredients
For the Cauliflower Hash Browns:
1 cup cauliflower rice

1 large egg

1 T nutritional yeast

2 T almond flour

1/4 t sea salt
For Serving:
2 large eggs, poached

2 slices Canadian bacon

1 T chopped parsley
For the Hollandaise Sauce:
4 egg yolks

1 T lemon juice

1/2 cup unsalted, melted grass-fed butter

Pinch of paprika

1/4 t sea salt
Instructions
Preheat the oven to 350ºF and line a small baking sheet with parchment paper. Combine the ingredients for cauliflower hash browns in a medium mixing bowl and stir well to moisten. Form the mixture into 2 round hash brown patties on a baking sheet. Bake 15 minutes. Flip the hash browns gently and bake for 10 minutes longer.

Heat 1 cup of water in a medium until just barely boiling, about 5 minutes. Place a medium mixing bowl over a saucepan to create a double boiler. Vigorously whisk the eggs and lemon juice in a mixing bowl until thickened and doubled in volume, about 5 minutes. Continue to whisk constantly while heating the eggs. Slowly drizzle in the melted butter until the sauce is thick and creamy, 3 to 4 minutes. The mixture should continue to thicken and double in volume. Remove from the heat and stir in paprika and sea salt. Set the bowl in a warm spot, like on the stove, to stay warm.

Place the cauliflower hash browns on a serving plate and top with Canadian bacon and a poached egg, and drizzle with Hollandaise sauce. Finish with chopped parsley. Enjoy right away.
Looking for Paleo ingredients? Here are a few we'd recommend:
Nutritional yeast (Antyhony's)
Almond flour (Anthony's)
Sea salt (REDMOND)
Paprika (Simply Organic)
You'll Also Love: Mini Keto Egg Burgers with Bacon and Avocado