These fluffy cinnamon waffles will be your new go-to whenever a carb craving strikes. They're full of healthy fat while keeping the carb count low enough to stay keto.
Luckily, low carb doesn't mean low flavor; these waffles have cinnamon and vanilla flavor baked in with the natural sweetness of monk fruit. So heat up the waffle iron – this is one breakfast that's worth waking up for!
The Low-Carb Components Of A Perfect Keto Waffle
Blanched almond flour steps in for wheat flour for an airy, fluffy texture. You can also use cashew or macadamia nut flours.
Looking for low carb keto recipes to burn fat and lose weight?
Click here to get your FREE Keto Breakfast Recipes Cookbook!
Instead of high-glycemic sweeteners, monk fruit powder is used in both the waffles and the glaze. Monk fruit is known for being much sweeter than traditional sugar, so be sure to measure when using. Look for pure monk fruit sweetener that contains no additives.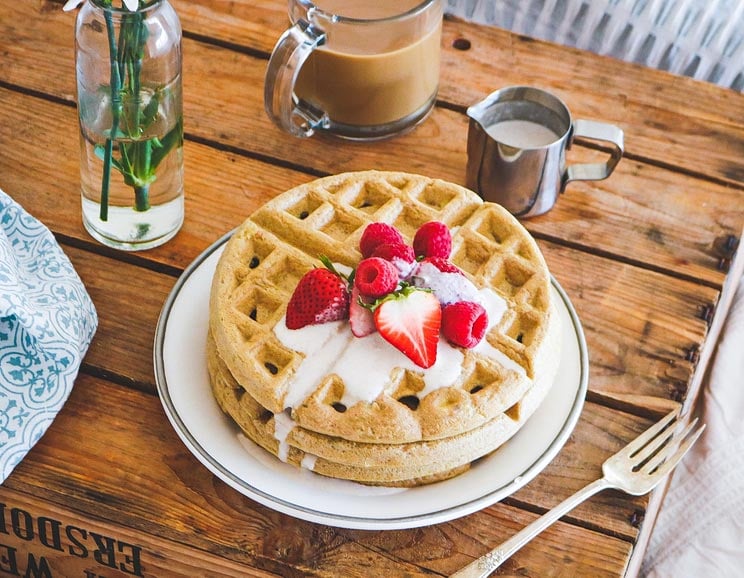 Skip The Maple Syrup
No maple syrup required: A coconut glaze is flavored with cinnamon and vanilla for a creamy topping that makes this breakfast taste like dessert.
Full-fat coconut cream adds thick texture along with coconut butter, which helps to create a glaze-like consistency. Once your pancakes are made, you can dress them up with other keto-friendly ingredients, like toasted unsweetened coconut or fresh berries.
Helpful Tips To Get You Started:
Feed a crowd. This recipe makes four Belgian waffles, great for feeding a group or as meal prep for yourself to have on hand throughout the week.
Have leftovers? Waffles can be reheated in the oven on a baking sheet at 300ºF for 10 to 15 minutes.
Prep ahead. The coconut glaze can be made ahead of time and stored in the refrigerator. When ready to use, heat over medium heat in a saucepan until smooth.
Jennafer Ashley
Keto Cinnamon Waffles with Coconut Glaze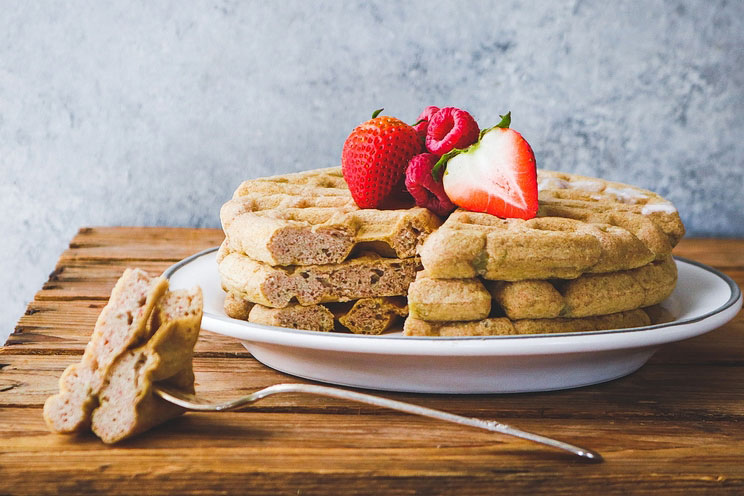 Cook Time:
29 mins
29 minutes
Prep Time:
10 mins
10 minutes
Nutrition facts:
18 grams of protein
12 grams of carbohydrates
37 grams of fat
Keto Cinnamon Waffles with Coconut Glaze
These fluffy cinnamon waffles will be your new go-to whenever a carb craving strikes. They're full of healthy fat while keeping the carb count low enough to stay keto.
Tools
Small saucepan

Medium mixing bowl

Small mixing bowl

Waffle maker
Ingredients
For the Coconut Cream Topping:
1/2 cup coconut cream

1 T coconut butter

1/2 t vanilla extract

1/8 t cinnamon

Pinch of monk fruit sweetener
For the Waffles:
5 large eggs

1/3 cup unsweetened almond milk

1/2 t vanilla extract

1½ cups blanched almond flour

1/8 t monk fruit powder

1/2 t baking powder

1/8 t sea salt

1 T melted ghee for greasing
Instructions
Heat ingredients for the coconut cream topping over medium-low heat in a small saucepan until smooth and steaming, about 5 minutes. Turn the heat off and pour into a small serving dish.

Whisk together the eggs, almond milk, and vanilla extract in a medium mixing bowl until thoroughly combined. In a separate small mixing bowl, stir together the almond flour, monk fruit powder, cinnamon, baking powder, and sea salt. Gradually whisk the dry ingredients into the wet to form a smooth batter.

Heat the waffle maker on medium-high setting and grease with 1 teaspoon of ghee. Once heated, pour ½ cup of batter on the center of waffle maker and close the lid. Cook about 5 to 6 minutes.

Use a rubber spatula to gently transfer each waffle to a plate and repeat with the remaining batter. Grease with more ghee as needed. Serve waffles hot, drizzled with coconut glaze.
Looking for Paleo ingredients? Here are a few we'd recommend:
Coconut cream (Native Forest)
Coconut butter (Artisana)
Vanilla extract (Frontier)
Ground cinnamon (Simply Organic)
Monk fruit powder (Julian Bakery)
Almond flour (Hodgson Mill)
Baking powder (Hain)
Sea salt (REDMOND)
Ghee (Pure Indian Foods)
For more keto breakfast inspiration, check out these 51 keto breakfast recipes to help you burn fat.

Keto is one of the hottest new diets right now - with good reason! It melts fat and trims your tummy fast. With our Keto Sweets cookbook, you can do while still enjoying delicious sweets and desserts!
Enjoy cookies, cakes, and ice
cream and stay in fat-burning
ketosis with this FREE Keto
Sweets Cookbook
Enjoy cookies, cakes,
and ice cream and stay
in fat-burning ketosis
with this FREE Keto
Sweets Cookbook