For an elegantly easy dish filled with protein and veggies, whip up this savory Cauliflower Soufflé!
Made with just seven ingredients, this Cauliflower Soufflé has the delicious flavors of the traditional recipe (without the dairy). Adding cauliflower florets replaces the grains, yielding an incredibly fluffy texture. It's a great dish for sneaking in more veggies!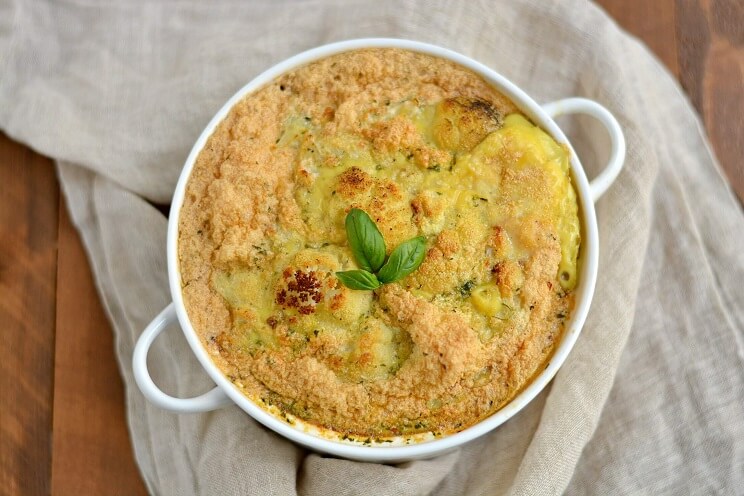 If you're intimidated by soufflés, don't sweat it. Most people worry that their soufflé won't rise in the oven. But the secret lies in making sure you get the eggs just right. In other words, beat the egg whites until stiff peaks form. It usually only takes five minutes of whipping them on high. Once it does, you'll get a beautiful soufflé that rises nicely.
Love Paleo breakfast recipes? Get our free breakfast recipe cookbook here!
From there, the rest is easy. Just roast the cauliflower florets, beat the eggs, fold in the egg whites, mix together, and bake. It's really that simple.
Megan Olson
Easy Cauliflower Soufflé Bake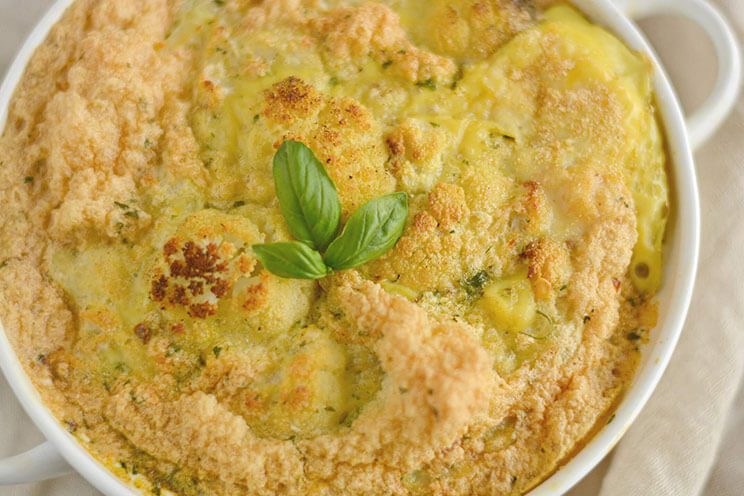 Prep Time:
30 mins
30 minutes
Easy Cauliflower Soufflé Bake
For an elegantly easy dish filled with protein and veggies, whip up this savory soufflé!
Tools
Baking sheet

Parchment paper

2 large bowls

Electric whisk

Round soufflé dish
Ingredients
6 large eggs (room temperature)

2 large egg whites (room temperature)

1 cup unsweetened almond milk (room temperature)

1 medium head of cauliflower (cleaned florets only)

½ t dried parsley

½ t garlic powder

½ t red pepper flakes

Salt & pepper to taste

2 T melted coconut oil (divided)
Instructions
Preheat the oven to 400°F.

Prepare a baking sheet with parchment paper, and place cauliflower florets on it.

Take 1 tablespoon of the melted coconut oil, and drizzle it over the cauliflower florets.

Sprinkle with salt and pepper.

Bake in the oven for 20 minutes (until softened).

Remove from the oven and let cool.

As they cool, whisk together the eggs, almond milk, and seasonings for 4 minutes (until fluffy) in a large bowl.

Using an electric whisk in a separate large bowl, beat eggs whites for 5-7 minutes on high (until stiff peaks form).

Add the cauliflower florets to the egg and almond milk mixture, then fold in the egg whites.

Grease a round soufflé dish with remaining coconut oil, and transfer the egg mixture into the dish.

Bake for 50 minutes (until the soufflé has risen and is brown on top).

Serve immediately.
Tips:
If you don't have an electric whisk, you can still whisk the eggs whites into stiff peaks by hand, but it'll take some elbow grease. Just make sure that you use a clean bowl. (Any dirt or grease will prevent those nice peaks from forming.) Only use your wrist to whisk the eggs, as moving your entire arm gets exhausting pretty quickly.
If you want to give this dish a "cheesy" touch, add one or two tablespoons of nutritional yeast to the eggs. It'll really make the flavors pop!


(You'll Also Love: Blackberry Coconut Soufflé)