Wake up to a protein-packed turkey breakfast skillet to kickstart your morning!
This one-skillet breakfast is big on flavor without the fuss. All you need is 20 minutes and a handful of ingredients!
Ground turkey is the star of this breakfast skillet. Lean and mild, ground turkey makes for an easy healthy option for breakfast. We suggest using a cast iron pan to make this breakfast skillet, but any large pan with a lid will do! Start by sautéing onion in extra virgin olive oil until soft. Then add ground turkey and cook, stirring frequently, until no pink remains.
Looking for low carb keto recipes to burn fat and lose weight?
Click here to get your FREE Keto Breakfast Recipes Cookbook!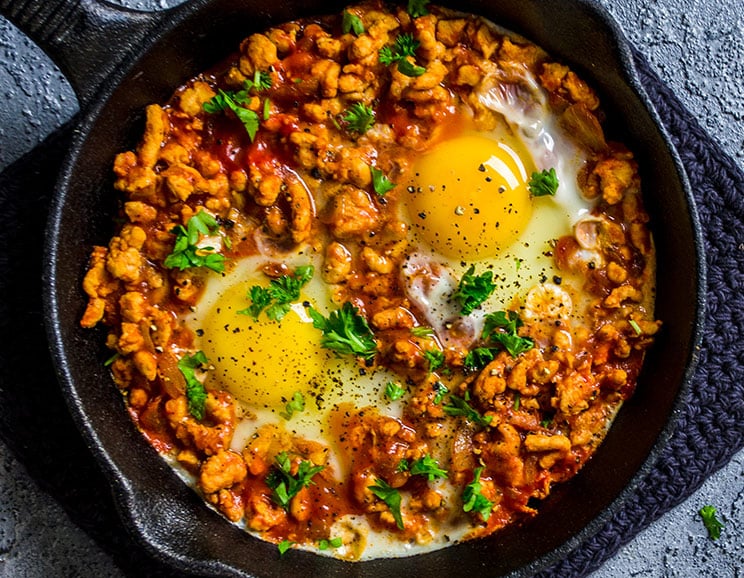 You can easily customize this recipe by adding chopped bell peppers, fresh spinach, or any other quick-cooking add-ins that you have on hand before pouring in the tomato sauce. Cook for another 3 minutes or so to heat up the sauce and let the flavors mingle.
Next, make wells in the turkey mixture and crack an egg into each. Cover the skillet and let the eggs cook until just set. Then scoop it up and eat it while it's hot!
Tip: To save on time, cook the turkey with onions and tomato the night before and store in an airtight container in the fridge. Then all you'll have to do in the morning is reheat and crack in the eggs!
Dina Hassan
Keto Turkey and Egg Breakfast Skillet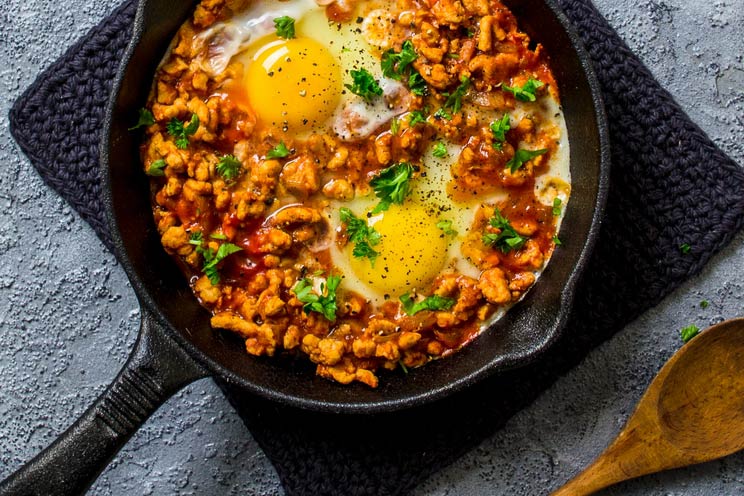 Cook Time:
20 mins
20 minutes
Prep Time:
5 mins
5 minutes
Nutrition facts:
31 grams of protein
14 grams of carbohydrates
20 grams of fat
Keto Turkey and Egg Breakfast Skillet
Wake up to a protein-packed turkey breakfast skillet to kickstart your morning.
Ingredients
1 T extra virgin olive oil

½ onion, finely chopped

½ lb ground turkey

1 cup organic tomato sauce (no sugar added)

2 eggs

Salt and pepper, to taste
Instructions
Heat the olive oil in the skillet over medium heat. Add the chopped onion and sauté until soft and translucent.

Add the ground turkey and cook until fully browned.

Add in the tomato sauce and continue to cook for 2-3 minutes.

Season with salt and pepper.

Make 2 small wells in the turkey mixture and crack the eggs into each.

Cover the skillet and cook for 5 minutes or until the egg whites are opaque.
Looking for Paleo ingredients? Here's what we recommend:
Olive oil (Kirkland Signature)
Watch the Recipe Video Below!


(You'll Also Love: Pumpkin Spice Skillet Brownie for Two)
Eat cinnamon apple-crusted doughnuts… zesty lemon scones… and even breakfast chili all while staying healthy with the Paleo diet!
Enjoy 101 delicious Paleo
Breakfast recipes that melt fat, fight inflammation, and keep
you healthy
Enjoy 101 delicious Paleo
Breakfast recipes that melt
fat, fight inflammation, and
keep you healthy