Slow cook this hearty Hungarian Goulash with spicy-sweet flavors that are full of gut-healing nutrients.
Hunks of chuck roast join carrot and onion for mouthwatering flavor and natural sweetness. Cinnamon, cumin, paprika, and mustard round out the deep spices amping up this hearty stew's flavor profile. It has a mineral-rich bone broth that transforms this dish into a nutritional and flavorful masterpiece.
Bone broth is a key ingredient for keeping this recipe filling and nutritious. It includes plenty of gut-healing benefits that help improve your joint health, boost your immune system, and aid your digestion (just to name a few). Look for it at your local health food store or make your own batch at home for extra superfood qualities.
Love slow cooker recipes?
Click here to get your FREE copy of our delicious Slow-Cooker Recipes!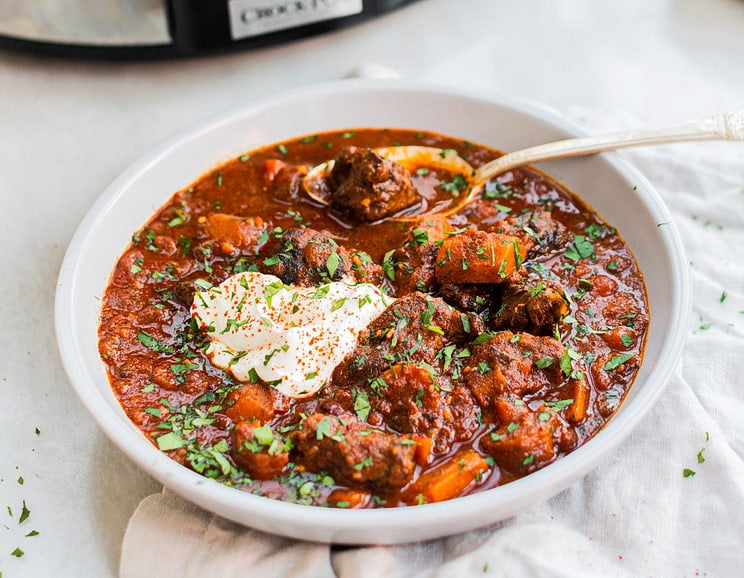 Spices like paprika and cumin offer mild heat, while adding richness and warmth in every bite. Along with adding a deep red color to your dish, paprika also packs in plenty of antioxidants to boost your immunity. Combine it with Dijon mustard to round out the flavors with a hint of tang.
To get started, heat a large skillet on high with coconut oil. Add the cubed meat in batches and sear for four minutes, flipping halfway through. When finished, place the carrots, onions, and tomatoes into a slow cooker and transfer the meat on top. Set the slow cooker to high and stir in seasonings, garlic, mustard, and bone broth. Cover and cook for 4-6 hours or set on low for 8-10 hours (if you prefer richer flavors). Serve warm and enjoy!
Courtney Hamilton
Hearty Hungarian Goulash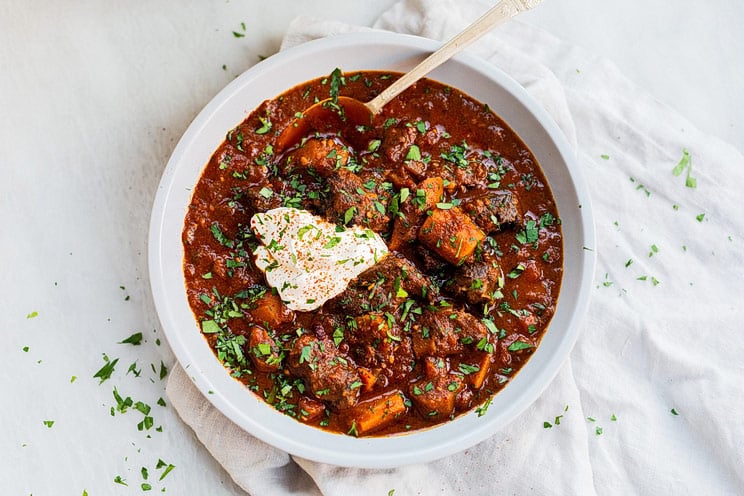 Prep Time:
10 mins
10 minutes
Hearty Hungarian Goulash
Slow cook this hearty Hungarian Goulash with spicy-sweet flavors that are full of gut-healing nutrients.
Tools
Large skillet

Slow Cooker
Ingredients
2 lbs Chuck roast, cubed

4 whole carrots, cut into large chunks

8 oz canned plum tomatoes, crushed by hand

1 onion, chopped

2 T paprika

1 T ground cumin

1 T Dijon mustard

2 T minced garlic

2 t ground cinnamon

2 cups bone broth

Salt and pepper to taste

Coconut oil to brown meat
Instructions
Coat a large skillet with enough coconut oil to line the bottom. Brown the cubes of chuck steak over high heat in batches, about two minutes each side.

Chop the carrots and onion and hand crush the tomatoes (like the Italians do!) Add carrots, onion and tomato to slow cooker.

Add meat, seasonings, garlic, mustard, and bone broth to slow cooker. Stir to combine.

Cook on high for 4-6 hours, or low 8-10 hours. Add salt and pepper to taste.

Serve warm and enjoy!
Looking for Paleo ingredients? Here are a few we'd recommend:
Ground cinnamon (Simply Organic)
Paprika (Simply Organic)
Cold pressed coconut oil (Viva Naturals)
If you liked this simple yet gourmet recipe, you'll love the deliciously easy meals in our Paleo Eats cookbook. Enjoy healthy yet hearty Paleo meals like Mongolian Red Pepper Beef, Pulled Pork, Bacon Bars, and more. Get your copy HERE.