A sweet and savory broccoli salad with a satisfying crunch. Whip this up for summer picnics, holiday dinners or as quick snack for lunch.
Broccoli salad packs a punch of brain-boosting nutrition thanks to its powerful greens. However, most broccoli salads go heavy on store-bought mayonnaise that tend to hide preservatives and low-quality ingredients. In this recipe, the classic broccoli salad is given a refreshing, healthy twist with grain-free, whole ingredients.
Coconut oil is used (instead of less healthy alternatives often found in packaged mayonnaise) along with pasture-raised organic eggs to achieve a super-rich and creamy texture used as the base of the dressing. You can find this simple 5-ingredient mayo here.
Want to go Paleo? Not sure where to start?
Start with this FREE Paleo For Beginners Guide Today!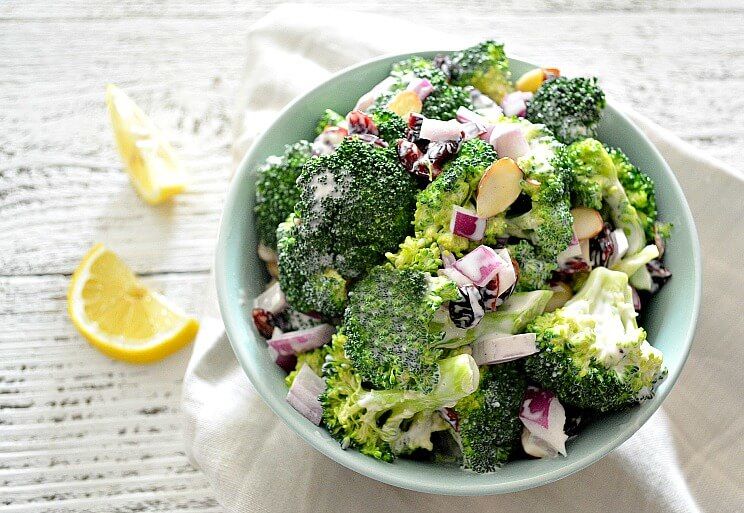 A little pure honey instead of sugar adds a touch of natural sweetness. Once you prepare the mayonnaise, blanch the broccoli to tenderize just slightly. I find that blanching them helps to make the stalks a little less tough and easy to chew. If you like your broccoli to be very crunchy, you can skip this part.
The salad get a punch of color from the purple and green jewel tones of the red onions and cranberries. Since this dish is versatile, it can be served at Thanksgiving dinner and during summer backyard barbecues. Just be sure to make enough – this is one salad that won't have leftovers.
Tip: If you want a boost of protein, chop grilled chicken into bite-size cubes and mix in!
Jennafer Ashley
Hearty Cranberry Honey Broccoli Salad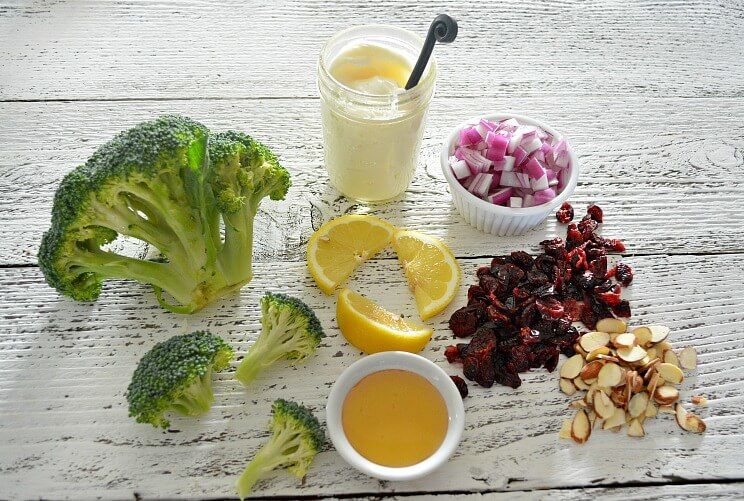 Cook Time:
5 mins
5 minutes
Prep Time:
15 mins
15 minutes
Hearty Cranberry Honey Broccoli Salad
This sweet and savory cranberry honey broccoli salad has a satisfying crunch!
Ingredients
1 head of broccoli, cut into florets

1/2 cup red onion, finely chopped

1/3 cup unsweetened cranberries

1/3 cup sliced almonds

1 cup Paleo mayonnaise

2 T fresh lemon juice

2 T honey

1/4 T sea salt

1/8 T black pepper
Instructions
Fill a large pot with 6 cups of water and bring to a low boil over medium heat. Add broccoli florets and boil 2 minutes.

Strain and immediately place into an ice bath in a large bowl. Chill 3 minutes.

Remove broccoli florets from water and pat dry with paper towel. Place broccoli into a large mixing bowl and add red onion, cranberries and almonds. Stir.

In a separate small bowl, combine Paleo mayonnaise, honey and lemon juice. Season with salt and pepper. Stir well.

Pour dressing over broccoli mixture and stir to coat. Refrigerate at least 30 minutes before serving.
Watch the Recipe Video Below!


(You'll Also Love: Sweet Apple Basil Slaw)