Serve this warm rosemary garlic bread with a herbed dipping sauce for an unbelievable gluten-free appetizer!
We all know that it's quick and easy to whip up banana bread, but quick breads can be savory too. This yeast-free rosemary garlic bread doesn't need time to rise – it goes straight into the oven after mixing.
The end result is a warm and aromatic rosemary garlic bread you can pair with your favorite soup or salad. To bring those earthy flavors to the next level, we serve it with a rich olive oil dipping sauce infused with thyme and rosemary.
Love Almond Flour Recipes? Then you'll love our FREE Almond Flour Recipes.
Click here to get your FREE copy of our delicious Almond Flour Recipes!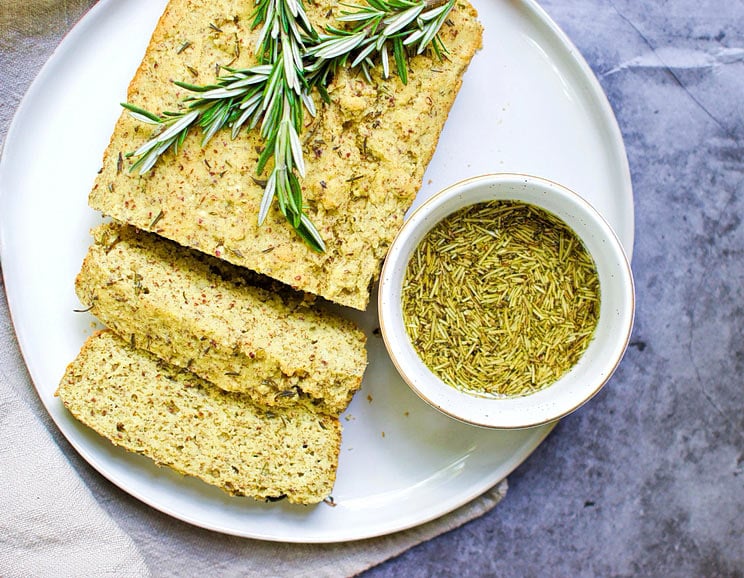 A Few Notes On The Batter
Buttermilk brings a subtle tangy flavor to breads. To keep this recipe dairy-free, we mix almond milk and lemon juice and let it sit for a few minutes. This combination of ingredients tastes similarly and helps create an airy texture as it heats in the oven.
The dry ingredients – almond flour, flaxseed, baking powder, and salt – are sifted together in a separate bowl. This creates a fine, uniform texture that allows the ingredients to evenly combine together.
After the batter is mixed, transfer it to a loaf pan and top it generously with fresh rosemary. If you like, you can toss in extra herbs and spices like basil, oregano, or crushed red pepper for extra oomph.
Helpful Tips To Get Started:
Don't overmix. The batter comes together quickly. Mix until just combined.
Let it cool. Don't skip the cooling time! Let the bread sit for a few minutes after its baked to prevent it from crumbling as you slice.
Make the dip ahead of time. The longer the herbs sit in the olive oil, the more it draws out their flavors.
Danielle Moore
Rosemary Garlic Bread with Herb Dip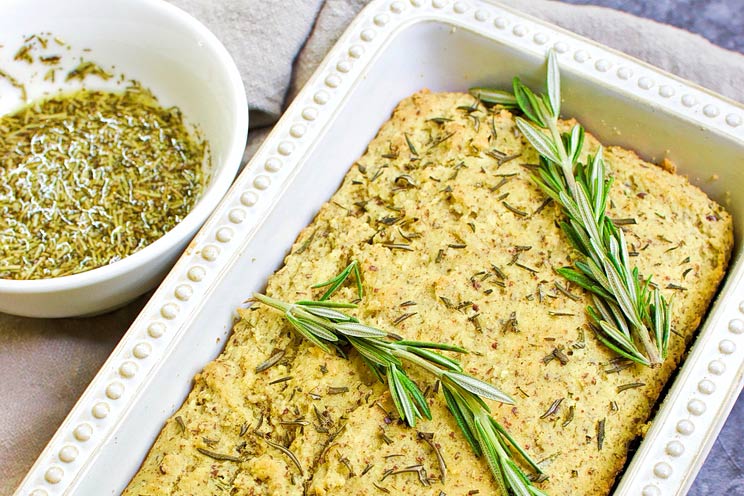 Inactive Time:
30 mins
30 minutes
Cook Time:
32 mins
32 minutes
Prep Time:
8 mins
8 minutes
Nutrition facts:
6 grams of protein
4 grams of carbohydrates
22 grams of fat
Rosemary Garlic Bread with Herb Dip
Serve this warm rosemary garlic bread with a herbed dipping sauce for an unbelievable gluten-free appetizer.
Tools
Loaf pan

Medium mixing bowl

Large mixing bowl

Small mixing bowl
Ingredients
For the Dipping Sauce:
¼ cup olive oil

1 T dried rosemary

½ T dried thyme

1 t coarse sea salt

½ t black pepper
For the Bread:
1 T olive oil

¼ cup almond milk

1 T lemon juice

2 cups almond flour

⅓ cup ground flaxseed

1 T baking powder

½ t salt

4 eggs

3 T olive oil

1 T minced garlic

2 T chopped rosemary, divided
Instructions
To Make the Dipping Sauce: In a small mixing bowl, whisk together the olive oil, dried rosemary, dried thyme, sea salt, and black pepper. Set aside.
To Make the Bread: Preheat the oven to 350°F and grease a loaf pan with olive oil. Set aside.

In a medium mixing bowl, combine the almond milk and lemon juice. Set aside for 5 minutes.

In a large mixing bowl, sift together the almond flour, flaxseed, baking powder, and salt. Whisk in the eggs, olive oil, garlic, and 1 tablespoon of rosemary.

Add the olive oil and lemon juice mixture to the large mixing bowl and stir until completely combined.

Transfer the batter to the prepared loaf pan and top with the remaining rosemary. Bake for 32 minutes, or until completely set.

Remove the bread from the oven and allow it to cool inside the pan for 10 minutes.

Carefully remove the bread from the pan and let it cool on a wire rack for 20 minutes.

Slice the bread and serve it with the herbed dipping sauce.
Looking for Paleo ingredients? Here are a few we'd recommend:
Olive oil (Sky Organics)
Coarse sea salt (AztecSeaSalt)
Black pepper (Frontier)
Almond flour (Hodgson Mill)
Ground flaxseed (Spectrum)
Baking powder (Hain)
For more delicious, simple, and gourmet Paleo snacks created by our amazing team of chefs, check out our Paleo Snacks recipe book! Nosh on tasty bites like Pecan & Banana Mini Bars, No-Bake Hazelnut Brownies, Pomegranate Chicken Bites, and over 75 more ridiculously tasty snack recipes. Click here to get your snack on!